House of horrors featured in Vauxhall
Posted on October 27, 2016 by Vauxhall Advance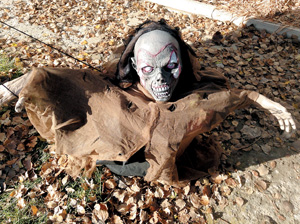 (Photo submitted by Hedy Schlick) HOME IS WHERE THE HORROR IS: For those who want to see Halloween done up right, they have to look no further than a house in Vauxhall on 930-3rd Ave. N.
By Greg Price
Vauxhall Advance
gprice@tabertimes.com
For those looking for a spooktacular time with family and friends, two Halloween enthusiasts have just the thing for you.
"We do a little maze throughout our car port where I dress up in costume and give out to the kids real-sized chocolate bars or a can of pop. If it's little, little ones, I go out and greet them and give them their treat. I always ask if there's an allergy to peanuts, because if there is, I give then something different," said Hedy Schlick, who along with her husband Frank, have been putting their Halloween extravaganza on for Vauxhall residents for numerous years now, and in the process continue to feel like kids again with a time of year that is close to their hearts.
"We've been doing this for 13 years and every year it's bigger than before. We try and not use the same stuff as we did the year before. Some of it we do, but most of it is new."
Located at 930 3rd Ave. N. in Vauxhall, Hedy admits her and her husband are thinking about their Halloween presentation in July, and how to decorate it with cob webs, spiders, zombies, skeletons, tombstones, ghouls, goblins and any other creepy crawlers, along with other fare that may go bump in the dark night.
"Considering we have to put our (Halloween) stuff in storage, we didn't like that idea, so we built a garage just for our Halloween stuff. This year alone we spent $3,000 on Halloween," said Schlick with a chuckle.
"Anyone can go through the maze that wants to. Last year, we had over 200 people show up at the house, and a lot of them left without their goodies because they were paying so much attention to the displays. Maybe they just thought the house was the treat, there's something there that will scare just about anybody."
Schlick encourages people to tour her property at 930-3rd Ave. N. in Vauxhall at around 4 p.m. or later on Halloween on Monday evening/night, as the couple puts on the finishing touches right up to the very day of Halloween.