Different day, same giving spirit for telethon
Posted on November 10, 2016 by Vauxhall Advance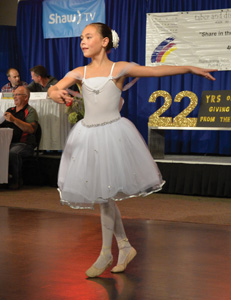 (Photo by Nikki Jamieson) LIGHT FEET: Some of the new acts at the Telethon this year were dancers from local dance studios, such as this young ballerina.
By Greg Price
Vauxhall Advance
gprice@tabertimes.com
There will always be bugs to be worked out when something new is tried, and even with a new day on Saturday, Oct. 29 for the 22nd annual Share in the Experience of Giving Telethon, pledges were plentiful to aid the Taber and District Health Foundation.
"The final tallies are slowly coming in, but the numbers we quote are the ones when we go dark at 8 p.m. (the end of the televised telethon). There is probably another 20 per cent that comes in after until about mid-November," said Dave McKee, fundraising co-ordinator for the Taber and District Health Foundation, adding the televised portion with the telethon in raising funds managed to raise $179,904.
"For making that huge change from Sunday to Saturday, we were not expecting the dollar amount we got, we were expecting it to be lower."
The telethon, this year filmed by Shaw Channel 9, was live streamed on Smart TVs/laptops/I-Pads for the first time and with any new initiative, McKee admitted it is all about the promotion when trying something new.
"A huge majority of the town has flipped over to Telus Optics and they didn't necessarily believe they could pick it up on their mobile devices, Smart TVs, that kind of stuff. It was there, so we have to do a better job with that," said McKee.
"That's a first-year, trying things out sort of thing that can be built upon."
McKee noted the change to Saturday will likely be a permanent one upon further discussion with the Taber and District Health Foundation board of directors.
"I think it's a good idea with how it works out for everyone's weekend," said McKee.
'Wild' Bill Lawson and Peter Seadon were once again MCs for the event which McKee applauded for their hours of tireless service, along with the hours of entertainment that donated their time.
"New this year, we had some young kids that were contemporary dance, tap dance and ballet. It was pretty impressive. Four on the Floor were in from Wrentham," said McKee.
"We had artists who had come back from previous telethons. We thought it was a good mix of performers."
Taber and District Health Foundation board members have their ear to the ground constantly of what they hear are the health needs of Taber and surrounding communities that they can apply the raised funds from the telethon to, which aides the Taber Health Centre.
They help deliver big-city medical services in a small rural setting.
"I think Home Care is looking at another pressure-wound machine, because the one that the Kiwanis Club bought, raising money at their golf tournament (for) a bladder scanner and a pressure-wound machine, they found the one machine was being used so much that another one would be very beneficial," said McKee.
"Instead of people having to be transported by ambulance to emergency to have their wounds treated, home care can do it in their own home. There is a piece of equipment in the autoclave room that needs to be upgraded as well which is around the $80,000 mark.
"There are things on the agenda that looks like there are needs, things like a new ECG machine as well."
Donations are still being taken either at the Taber Health Centre or you can log onto the Taber and District Health Foundation Web site at http://www.tdhf.ca and hit the donate icon.
All donated funds stay in Taber for the benefit of the residents of Taber, Barnwell, Grassy Lake, Enchant, Hays, M.D. of Taber, Turin and Vauxhall.