Life-long volunteer the latest addition to Wall of Fame
Posted on November 17, 2016 by Vauxhall Advance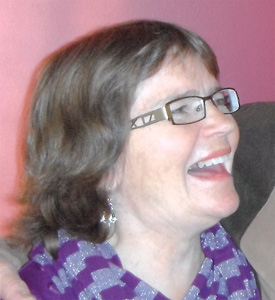 Kathy Wolfer
By Trevor Busch
Vauxhall Advance
tbusch@tabertimes.com
Vauxhall High School's Wall of Fame will be adding two more faces in 2016, and long-time area resident and volunteer Kathy Wolfer has been selected for the prestigious recognition.
Wolfer, who graduated from Vauxhall High School in 1968, passed away in early 2015 after a battle with cancer, but left a sizable mark on the communities she helped and served over her many years of volunteer activities.
"First of all, she's my mom, so I might be a little biased. But she's amazing," said daughter Jen Peterson. "If you spoke to anyone in Hays, they would tell you the same thing. She sat on almost every board in the community of Hays, she has done many volunteer type things for the community of Hays. Growing up, she was very involved with the school, and the sports teams that myself and my brothers and sisters were on."
Wolfer served in varying capacities as a volunteer, including as a Girl Guide leader in Taber, slo-pitch coach, community event organizer, and organizer and teacher for a children's cooking class. She served on the board of the Hays Senior Centre and Civic Centre, Hays Cemetery, and spent time as a Hays Park volunteer in charge of summer students, collecting fees and bookkeeping.
In 2005, Wolfer was selected as an Alberta Volunteer Citizen of the Year.
"For her volunteering alone she deserves more than just this little bit of recognition, but it was also her attitude," said Peterson, who now serves as secretary for VHS.
"She was always friendly, she was always happy, she was always kind. Just a wonderful, wonderful human being, and I can say that really with a straight face. I know she was my mom, and like I said I might be biased, but I think anybody that met her would have the same opinion."
During her time at Vauxhall High School as a student, Wolfer (nee Clifton) was a part of the drama club, and in Grade 11 ran for and won the title of Vauxhall Fair Queen.
After working in various positions following high school, Wolfer started a family in the Hays area and helped operate a farm there.
"You couldn't call Kathy a 'farm wife.' She was a farmer," said Peterson in Wolfer's nomination.
"She would spend hours and hours on the tractor or combine, barely stopping even when it caught fire. She would pull calves and brand cows. Kathy would work hard and long and do everything that needed to be done and still have a warm smile for her family, or a friendly welcome for people who stopped by."
When the Olympics came to Calgary in 1988, she was involved in organizing a torch run for what's known as the "Hays loop." Wolfer played softball and slo-pitch for many years on an adult mixed team from Hays, and she also enjoyed skiing and golf.
"She was really involved with the Hays community, but a big fan of the Vauxhall community as well. She didn't seek out recognition, she was very low key in that way. She would volunteer for things just to get them done, and to know that they were done well," said Peterson.
Vauxhall High School's other Wall of Fame recipient for 2016 is Dave Petek. Both Wolfer and Petek will be honoured at VHS' 22nd Annual Fundraiser on Saturday, Nov. 26. Tickets for the event are $65 for a couple, or $35 for a single, and can be purchased from any VHS student or by calling the high school at 403-654-2145.
Peterson is happy her mother is being recognized for her contributions to the area previous to her death in 2015.
"She was kind, she was thoughtful, she was a hard worker, selfless for sure, caring. There's so many words that could describe her — funny, loving, she believed in magic — she was just amazing."