Renowned flutist performing in Taber
Posted on December 15, 2016 by Vauxhall Advance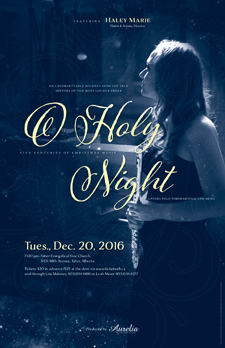 By Nikki Jamieson
Vauxhall Advance
njamieson@tabertimes.com
Flutist Haley Marie goal in life is to make people think differently about classical music.
Performing at Taber's Evangelical Free Church for the last stop of her Christmas tour, 'O Holy Night: Five Centuries of Christmas Music', on Dec. 20, Marie hopes to bring her own unique twist to classic Christmas carols.
"This has really been my life calling, I guess, is to present classical music in totally different ways," said Marie. "This music really isn't as boring or as stuffy as people think it is at all."
Back in the days of some famous classical composers, one did not simply sit down, face the orchestra and listen to the music in silence. People would sit at tables in groups, eat, drink, talk, and walk around while the music was playing, always letting them know what they think of the music — even throwing food at the musicians if they didn't like it. She says that the classical composers of yesteryear are much like the pop stars of today, each with weird quirks and personalities.
"This rockstar lifestyle of Elvis and the Beetles was nothing new by the time they hit the scene," said Marie. "All the big name composers had some kind of story to their lives, and did deal with things such as drugs and alcohol and different eccentricities."
The show, O Holy Night, will feature favourite Christmas carols, with Marie showing the history behind the songs.
"It's Christmas music, it's songs everybody knowns, and that people have been listening to every year for perhaps their entire lives, and nobody knows where this music comes from at all," said Marie. "Some people wrote these carols as they were going through depression, and some people wrote them as they were going through really harsh political times and they were scared. All these stories, and I think hearing the stories behind were this music comes from helps us understand this music more, and it hits home, whenever you hear this music itself."
The way the concerts are structured is the audience would view short videos about the composer preceding the performance, before moving on to the next piece and talking about what life was like back then. Breaking away from the stereotypical stuffy and uppity classical music performance mould that most people have in their mind, her performances are unique in the way they are interactive. Through the use of videos and music, she aims to get her audience to hear the music, and then totally change their perspective on it.
"I had a music history teacher as I was studying music as a teenager, who would tell me all these interesting tidbits about composers' lives and why this piece was written and things like this. So very early on, I got this idea that there is a lot more to classical music then people think."
So don't worry, she doesn't mind if you sing along when your favourite carol is being played. In fact, Marie welcomes it.
"In Mozart's lifetime, concerts were so much different, they were so much more casual, and people would talk and walk around and eat and drink and cheer in the middle of the pieces. It was far more casual, and I say if was good enough for Mozart, it's definitely good enough for me."
Having grown up in Winnipeg, she attended McGill University, where she received her Bachelor of Music, majoring in Flute Performance, and attended Yale's School of Music, where she received her Masters in Music in Flute Performance. Ever continuing her education, Marie has travelled as far away as Europe to take lessons and perfect her craft.
"I stumbled upon classical music accidentally. When I was nine, my parents loved music and they wanted to sign me u for piano music and I said, 'No, I hate classical music, so I'm not going to piano lessons," said Marie. "I got tricked into classical music because in school, we were playing recorders, and I loved that."
Her hard work has paid off over the years, as Marie has received the Gold Medal for Flute Performance from the Royal Conservatory of Toronto, the Governor General's Award at the Winnipeg Music Competition Festival for her musical work and has performed at the prestigious Carnegie Hall not once, not twice, but three times.
"I performed in Vauxhall in May actually, so I did a spring tour over there and it was great. I talked to the people that did the organizational work, and they suggested that I come back to Taber," said Marie. "I thought also it would be a really good and warm atmosphere to end the tour with, just five days before Christmas."
Marie owns her own company, Aurelia Productions. Aurelia is Portuguese for 'golden', because Marie believes that the music and the stories are gold. Founded in 2011, the company has produced a number of shows, which include 'An Evening at the Salon', a cancer fundraiser concert 'Music for Mom', 'The Enchanted Flute' and 'The Men Behind The Music'. The Christmas tour has taken her from Winnipeg to B.C., with the last show taking place in Taber before the winter holidays begin.
O Holy Night goes on Dec. 20 at 7 p.m. at the Taber Evangelical Free Church.
Tickets are $20 and are available by calling Lois at 403-654-4166 or Leah at 403-634-1077. Tickets can also be bought by logging onto http://www.ticketweb.ca. Tickets are $25 at the door.