Town looking to further participation in pheasant festival
Posted on February 16, 2017 by Vauxhall Advance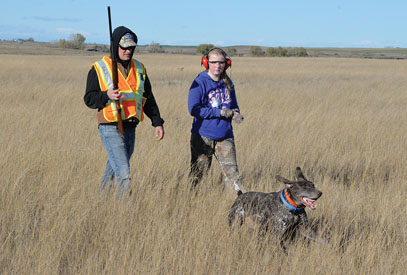 (Photo by Trevor Busch) ON THE HUNT: Lindy Foote, along with mentor Blair Seward, took part in the Taber Pheasant Festival novice hunt east of Taber in 2016.
By Nikki Jamieson
Vauxhall Advance
njamieson@tabertimes.com
Vauxhall town council wants to see more local businesses get involved with the Taber Pheasant Festival.
During their regular Feb. 6 meeting, Vauxhall town council discussed what level of sponsorship they wanted to go for the 2017 Pheasant Festival, after receiving information on this year's festival.
"We haven't set our budget yet, so it makes it a little easier if we do it now instead of later," said Margaret Plumtree, Vauxhall mayor.
Last year, council had voted to decrease their donation of $1,500 as a silver sponsor of the festival to $500 as a bronze sponsor, as they felt they were not getting enough bang for their buck in terms of tourism.
Council was also concerned about getting the pool built and paid for at the time, said Plumtree at Monday's meeting.
This past festival however, councillors felt there were more people coming through town.
"Buddies I used to work with in the oil patch come down, and man, they were everywhere out there," said Martin Kondor, Vauxhall councillor.
"There's a lot of people coming to town. It'll be interesting to know how many people… actually come here."
Plumtree floated the idea of getting the Vauxhall Business Society to consult with the local businesses and look into how many hunters came into town during that week. She also remarked on how as long as the town has a representative sitting on the board for the Taber Pheasant Festival Committee, something tends to happen in the Vauxhall area.
Last year, about 750 hunters descended upon the Municipal District of Taber for a week of pheasant hunting and activities ranging from dog demonstrations to a culinary event. There were 40 sites to hunt from that were filled everyday with teams of eight hunters.
The event has gotten so popular that there is a lottery to get in, said Coun. Christie Sorenson, whose husband has participated in the festival.
"Once, maybe twice," said Sorenson, of her husband taking part in the Pheasant Festival. "It got so big they had to do a lottery kind of thing to it."
The Canadian Badlands has also worked with the pheasant festival committee in order to duplicate it in the form of the Settler and Highway 41 Pheasant Festivals.
Although Vauxhall council noted that pheasant festivals were getting huge, they were the only group from Vauxhall sponsoring the event.
"If we combine with the Vauxhall businesses, and become more of a sponsor to it, if they're getting a benefit from it right," said Kondor. "If they see a benefit, maybe they'll be willing to combine with us."
"Or sponsor independently," said Richard Phillips, Vauxhall councillor. "You look and there's Taber businesses there that are sponsoring, hotels, grocery stores and restaurants and so on. And the town of Vauxhall is a low-key sponsor by itself, and if Vauxhall businesses want to be sponsors themselves, let them."
Joerg Klempnauer, attending the meeting on behalf of the Vauxhall business society, spoke up and said he will bring it to the VBS board for discussion.
Council passed a motion to table the matter for now, until after the next VBS meeting.
The Taber Pheasant Festival was first held in 2011, and 700 pheasant-hunting enthusiasts tend to flock from all around Alberta and the surrounding regions to the Municipal District of Taber during that time. This influx of hunters tends to boost the hospitality industry in the Town of Taber and area.
The seventh annual Taber Pheasant festival will take place Oct. 21-28, 2017. Over 5,100 pheasants will be released on 40 sites in the area.
Gold sponsorship for the festival requires a donation at least $2,500, silver sponsorship requires anywhere from $2,499 to $1,500 and bronze sponsorship is anything below $1,499.
Other sponsorships level include Novice Shooter sponsor ($2,500), Culinary sponsor ($2,500) and Banquet Sponsor ($5,000 plus).