CCMA nominee tells students to be bigger than that
Posted on February 23, 2017 by Vauxhall Advance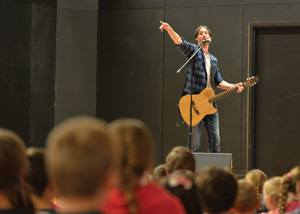 (Photo by Nikki Jamieson) ENCORE: Two-time CCMA nominee Ryan Laird performed at Vauxhall Elementary during the BiggerThanThat! program that visited the school last week, to spread inspirational and anti-bullying messages.
By Nikki Jamieson
Vauxhall Advance
njamieson@tabertimes.com
When Ryan Laird was a kid, like many others his age, he wanted to have a lot of friends.
Problem was, he was starting a new school when he was in Grade 6. However, the school had a talent show coming up, so Laird decided to enter it and sing. He figured that once the other kids heard him sing, they'd want to be his friend.
"I thought it went really good. I thought I was going to have lots of friends afterwards. But, that's not what happened, because there was a group Of people at that new school, who decided to make fun of me after that talent show was over. They said my voice wasn't really good, and I should just give up on my dream of being a singer. And that really hurt my feelings a lot," said Laird. "Because I was really shy, I didn't talk to anybody about it, I didn't know what to do. But because I didn't say anything about it, I continued to get picked on, and picked on, and picked on, every day. I almost did give up on my goal of being a singer."
But one day, someone came up to him and told him it was OK to ask for help. They took him to some trustworthy adults, and he told them what was happening, that he was being bullied by this group of kids, and the bullying stopped.
Now, 20 years later, Laird is a two-time Canada Country Music Award nominee and recording artist. And he's using that platform to speak out against bullying as part of the BiggerThanThat! program, which visits communities across Canada to promote bullying prevention and inspirational messages in schools.
Having visited Enchant School the day before, Laird was at Vauxhall Elementary School on Wednesday, Feb. 15, to speak to Vauxhall and Hays elementary students about setting goals and not letting bullying bring you down.
"If every day is going great for you, keep it up. But if you ever have a problem, or know somebody who is having a hard time and you want to help out, it's a really good thing to communicate, and tell a trusted adult you can go to."
Asking the students who a trusted adult could be, students threw out suggests such as parents and teachers. Laird reiterated he learned if he ever had a problem, by going to a trusted adult an talking about how he felt, it helped solve his problems.
Laird stressed the importance of being an up-stander, or someone who stands up for others when they need help, and asked students how to be an up-stander, with one student suggesting that they tell bullies to cut it out or telling a trusted adult that someone is being picked on. He asked students to be respectful when online or using social media, especially when talking to another person.
"It's really important to remember they're a real human being and a real person that has real feelings. So just like when we're at school, when we go online, we have to remember also to treat people with respect, and be nice to them, the same way we'd treat them in real life."
In addition to having a lot of friends in grade 6, Laird had a lot of other goals in life. For instance, since he was young, Laird had wanted to be a country music singer. To make that goal come true, he did things like learn to play the guitar, went to music college, and even moved to Nashville, Tenn. — because he was told if he wanted to make it in the country music business, he had to go to Nashville.
Coming from a beef farm just outside Fergus, Ont., moving to Nashville was pretty daunting, as he didn't know anybody there. But he packed up his guitar and moved there, because he wanted to make his dream come true. Three hundred songs later, he decided that he had to do something to make himself stand out from the thousands of other aspiring country music artists in Nashville.
"If I was going to stand out from all of them, and try to get discovered in Nashville, I've got to do something a little bit unique, a little different, that maybe nobody else had done before, just to get noticed, so I thought really heard about that. And I want to let you guys know too, that if you ever have something in your life that's a little bit different, a little bit unique, it can be a really good thing."
In 2008, Laird decided to rent a billboard, and on the sign was a picture of him holding a note addressed to Taylor Swift, that read; 'Hey Taylor – I LOVE your music. Will you produce my album?'. His website was listed on the billboard, and it was placed right outside her studio office in Nashville. He hoped Swift would read it and help him make his music dream come true, just like hers had.
"When I put the billboard up in Nashville, there was some people that told me at first they thought it was a really bad idea. They said I should not put up that billboard, because no one else had ever done something like that, so why would I think I could do it?"
But two weeks later, Laird got a message from a fan on his Facebook page, telling him to check this clip out. The clip was of Swift doing an interview, saying she had seen the billboard, and thought his music was great and to would be awesome to work with him.
"Before she did that, not a lot of people knew who I was yet. I had been working really hard in Nashville writing a lot of songs, but nobody knew my music yet or knew who I was. But after Taylor talked about me on the news, a whole bunch of new people discovered who I was and my music, and I even got a chance, to make my own CDs and get some of my songs played on the radio after that," said Laird.
"So I wanted to let you guys know, that there were some things that I had to do along the way, of making my goal come true of getting my music on the radio, and getting to be an artist. And the first thing I realized that I always had to do was  — and this is something that you guys can do in your lives to, in fact I really want you to do it — is I had to believe in myself a lot. Because along the way, there was some things that were really hard to do. And some people even weren't very nice along the way."
Laird asked the students what their goals were and what they could do to help them come true. One student wanted to be a chef, and said she could ask her mom to teach her how to cook. Another student wanted to be a farmer or rancher, and was going to save up his money for it and work hard. Another student wanted to be a Youtube star, and would achieve that by spreading the word and having confidence.
"Whatever your goal is that you're thinking about, always believe in yourself."