M.D. gets look into Cornfest 2017
Posted on February 23, 2017 by Vauxhall Advance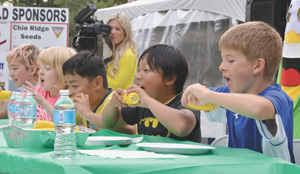 (Advance File Photo) TASTY KERNELS: Kids chow down during the corn-eating competition during recent Cornfest celebrations.
By Nikki Jamieson
Vauxhall Advance
njamieson@tabertimes.com
During their regular Feb. 14 council meeting, the Municipal District of Taber council was visited by Cornfest chair Mark Garner, in a delegation on behalf of Taber and District Chamber of Commerce.
"We are here first of all, to say thank you," said Garner.
"For all the support you've given us for the stage you've given us over here. We appreciate all the gravel that you purchased on our behalf, and we're pretty proud of that project. And I think you folks should be pretty proud of it too, as well as the town. And although we formally gave the little key the other night to the Town  of Taber, I think you guys have a fair claim to that also."
Representing the chamber to discuss Cornfest 2017, Garner was hoping that the M.D. council could help them out on a few items, especially since this year, they have a few changes planned.
Last year had marked the first year that Cornfest featured a parade. Kicking off the start of the festival on the Thursday afternoon, it was considered a success, despite the sudden downpour.
"On the parade, the only negative one I heard was from all the seniors," said Bob Wallace, MD. councillor. "They couldn't watch the parade from their senior's facility. They're not that mobile, so I would make that request."
That concern was brought up with the Cornfest parade committee already, according to Garner. They are changing the route, and are planning on staging everything in the western part of town, utilizing the LDS church's parking lot. This change would then take them past Clearview Lodge.
A midway is still a go for this year, but the craft show will be extended to run on both the Friday and the Saturday. The car show is still on, with over 200 vehicles expected to attend. More vendors are also expected to attend, as the town is upgrading a transformer to allow for greater electrical capacity.
There will be a change to the fireworks show. Although the show itself will be shorter, it will instead take place on both the Friday and Saturday, with a big part of the reason being due to the windy weather nearly cancelling last year's display, and the committee is taking a few notes from Barnwell's firework displays to make theirs better.
"It's every bit as impressive as Cornfest, in my opinion. So I spoke to the fire works people, and it's the same company out of Calgary that does both, and they told me the difference, so we're going to incorporate some of those differences in our fireworks show this year," said Garner.
"Instead of a low-level ground show — which the fellow in Calgary said you could buy at any gas station almost — out in Barnwell, they use what is called a Professional Pack, and all the fireworks are attached together, they go up simultaneously, boom-boom-boom-boom-boom, at the same time. A lot more percussion. Which is really impressive, when you go out to Barnwell, it goes for 20 minutes, you kind of feel the impact of it, so we're going that route this year."
A portion of 50th Street will also be shut down for the festival, from noon on Thursday to Saturday night. The committee is blocking off 50th Street from 48 Avenue to 50 Avenue from vehicular traffic, leaving pedestrians free to traverse the area.
Town and M.D. staff will have to park somewhere else on the Thursday and Friday, but the committee is getting designated parking spots for them, and handicap parking will be added to the north side of Confederation Park. The footprint of Cornfest also needs to grow to accommodate the entertainment and vendors.
Vehicles will still be able to exit the highway at the 50th Street intersection and turn right onto 47 Avenue, but safety concerns and congestion are the main reason of what had prompted the barriers.
"We got permission from the town to close down 50th (Street) during Cornfest," said Garner. "It's such a hazard there, that we are just deathly afraid that someone is going to get run over. The traffic backs up there for 10 or 15 deep, and then you have people cross and then a couple of people drive through, and the last thing we need is to see some little six-year-old boy get run over by a big Dodge Dually."
Garner asked if the M.D. would be willing to provide them with the needed 21 sets of barricades on Thursday morning, as well as pick them up after Cornfest is over.
Garner also inquired if the M.D. would be willing to provide some man power for the unloading and set up tables and chairs. Although their workload has been cut in half by the installation of the new permanent stage, which has made the set up and take-down for the festival easier, there is still a lot of work to do. Coun. Tom Machacek had already volunteered to deliver the trailer with the needed items to the location.
"With the addition of that stage, that has really helped us, now that we don't spend the whole day setting up a rickety old stage that's dangerous, you know — not that didn't serve us well for a lot of years, but this is way better and way safer."
There will also be a new feature added to the Cornfest lineup. Garner revealed that this year, they are trying to get stunt motorcycle jumpers to perform, and asked council if they could loan them snow fences so they may block off a jump area of about 850 feet both ways. Council advised that they consult with the town to mark off where their infrastructure, such as water lines and under-ground powers lines, are so they don't hit them. They also said that although they could supply the fence, they would prefer the town would put it up for liability reasons, as they would know where everything is,
M.D. Reeve Brian Brewin asked if Garner thought about putting a "cultural side" to Cornfest. Although Cornfests of the past have seen Japanese, Filipino and Native dancers perform, Brewin asked if they could get more in.
"Traditionally, after opening ceremonies, in the past few years, we've had a local dance company come in do tap and jazz and that kind of thing," said Garner.
"We're going to shake that up this year and I've asked the Filipino community if they'd come in and do traditional dance and all sorts of musical things. So they'll be doing that."
"But why can't you have three hours of cultural things? You can have your Native dancers, and you can have your Japanese dancers, and you can have your Filipino (dancers)," said Brewin. "There's so many options that might be able to go there, to incorporate the culture."
A few spots for Saturday morning are still available to be booked for the stage entertainment.
Cornfest this year will take place from Thursday, Aug. 24, to Sunday, Aug. 27.
"We think of this as the Taber Cornfest; yes it is, but there's four partners in this, it's not just the town's baby, it's not just the chamber's baby, or the M.D.'s. There's four partners in this, and that's the chamber, the Town of Taber, the M.D. of Taber and the generous sponsors who donate to make this thing happen," said Garner.
"And I don't think we ever want to forget that."