NAFTA reworking not as simple as Trump thinks: Shields
Posted on May 11, 2017 by Vauxhall Advance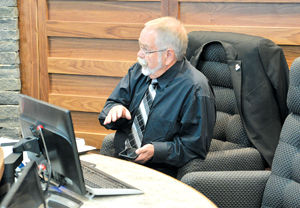 ADVANCE FILE PHOTO.
By Trevor Busch
Vauxhall Advance
tbusch@tabertimes.com
With trade rhetoric emanating from the Trump White House increasingly targeting Canadian industries such as dairy and softwood lumber, speculation on when the North American Free Trade Agreement (NAFTA) will fall under the gun is mounting.
Bow River MP Martin Shields is convinced it might not be a simple matter for President Donald Trump to lower the boom on the agreement.
"It's a trade document that's not as easy for Trump to monkey with," said Shields during a roundtable discussion with Municipal District of Taber council last week. "He has to have a 90-day notice out of Congress to look at NAFTA, and Congress are dragging their feet. They won't drop the 90-day notice, and he's been pushing them."
Election prospects in Mexico could serve to hamper Trump's wall-building agenda, according to Shields.
"There's the Mexican election coming up in less than a year. That could cause a problem, because there's a very left-wing guy that's running for president down there. If he's elected, it's going to be a tougher job to deal with Mexico on building a wall."
Many Republican representatives from northerly states that have strong trade ties with Canada are leery about opening up NAFTA, asserts Shields, and could prove to be a stumbling block to overcome for the Trump administration.
"The mid-term elections in the States are soon after that, and there's a lot of Republicans that trade in states very close to us. There's a lot of elected House and Senate members that trade along that northern border of the States that NAFTA is good for them. They're not too excited about opening up NAFTA. So Trump could have a challenge in getting this thing opened up and negotiated. He can do lots of things with executive orders, but it's going to be tougher to get this opened."