Crowson running for M.D. council
Posted on September 28, 2017 by Vauxhall Advance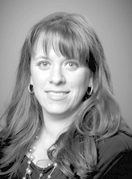 By Cole Parkinson
Vauxhall Advance
With election races starting all across Alberta, a new face has come forward to run in the M.D. of Taber council race.
Jennifer Crowson has added her name to the list of candidates running for Division 5 which is the Hamlet of Hays and surrounding area within the M.D.
Crowson, who is also a part of the Horizon School Board, brings plenty of board experience as well as a passion for politics.
"I'm a political nerd, if that's what you want to call it. I have a passion for politics and I'd like to be able to represent residents of my division and be their voice," said Crowson.
While she hasn't always been interested in politics, the passion has ramped up over the last several years, especially since joining Horizon.
"Definitely over the last 10 years more so, I think my passion grew as I grew with the school division as well. I actually started working for the Town of Vauxhall quite a few years ago and I was in charge of all the election stuff. That's when I looked at politics being a career option," said Crowson.
Connecting with the residents in Division 5 is something Crowson is hoping to accomplish during her run.
Since she lives in the community with her family, she wants to have a strong connection to those in the division and she hopes to give them a strong voice within M.D. chambers.
"I'm an everyday Joe kind of person, I live in the community and I volunteer lots of time. I'm raising a family, so I love rural life and this was always a priority for me to be able to live in a rural atmosphere," said Crowson. "I'm a strong voice, anything I've ever set my mind to I've accomplished. I'm really good at goal setting and seeing a goal through to the end."
Crowson admits that she doesn't have any big concerns within the M.D. of Taber, she hopes to hear from the people on what they would like to touch on moving forward.
"To be fair, there is no major issue that is burning a hole in my pocket. I'm here to represent the people of my division and their voice, so I've been hitting the ground to see what their priorities are and moving forward how I can be a voice for them. I would like to learn and grow on the municipal side of the government," said Crowson.
One issue that seems to be on the minds of everyone in the Taber area is the relationship between the Town of Taber and the M.D.
While improving the relationship remains important, Crowson thinks having positive relationships with all involved with the municipality is equally important.
"I haven't sat on council so I can't really have an opinion, I don't know the history. Moving forward I think having a positive relationship with all government, wrap around services, be it fellow municipalities, school boards and or wrap-around services for our community members be it mental heath, public health and social services."
While the campaign has already started, Crowson is also still focusing her attention on the Horizon School Board.
Balancing the two may be a juggling act at times, but she feels she's well prepared to be on two boards at the same time.
"I think there may be times where I have to remove myself from decision making because there may be a conflict. But as far as time management, as I said before, I've been a community member. I've volunteered a lot of my hours and given up a lot of my responsibilities and roles that I've sat on that has actually freed up a substantial amount of my time. So I think moving forward, I will be able to manage my time wisely and put my time where it needs to be. I have the support of the current school board of trustees to also pursue being a municipal councillor," said Crowson.
With election day still a few weeks away, Crowson has already hit the streets to visit with the people and hear their concerns.
Shyness isn't something that affects Crowson, so she is happy to be out and talking to the community.
"I feel like it's going well, I'm going door to door and have had good responses. I'm not a shy person, I'm a people person. I love working with people, talking with people and I like listening to what their concerns are. One example would be in our community, there's a lot of people that have farmed here for many years and may not actually be Canadian residents so they are not able to vote in our election. But I still feel that their voice is important, if they have priorities then they should also be heard even if they can't vote," said Crowson.
As election day draws near, Crowson is just looking forward to whatever the future might bring her way.
"I'm looking forward to what the next few weeks will bring."