Training never stops for M.D. regional firefighters
Posted on October 12, 2017 by Vauxhall Advance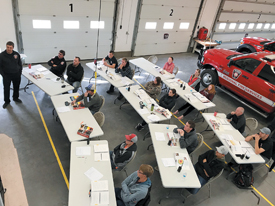 ADVANCE FILE PHOTO
By Greg Price
Vauxhall Advance
As many steps as the Municipal District of Taber Regional Fire Service has taken in its first year of service, even more are being taken in the quest for further training.
"We are still working on different aspects of our training. Our Vauxhall rescue is going to become our technical rescue vehicle," said Brian Schafer, fire chief for the M.D. of Taber Regional Fire Service. "That's water rescue, rope rescue, confined space rescue that we'll be branching off into as well. We have fire departments that we are going to train people in each department. That way, collectively as a group we can attend these calls. So if a call happens to come out of Enchant, we can send a vehicle up there and some trained people on both sides to help with an operation in whatever we are doing."
Schafer and Municipal District of Taber Fire Department deputy chief Kirk Hughes went to Colorado for a Crude by Rail Emergency Response Course.
Schafer has no railroad tracks where he is as the Vauxhall regional fire department chief, but overlooking the five departments that encompass the M.D. region, it is absolutely necessary training given how ugly train derailments can get.
"It was good for me to experience that. If there is a big derailment like that, chances are I am going to be involved helping with command and structure and organization. You need to know what to do before that happens," said Schafer.
The last scenario they did in the Colorado training, there were 40 people from across Canada and the United States participating and all 19 railway cars lit up for a simulation.
"There were simulated explosions and the whole works. It took one incident commander and four separate chiefs breaking groups into 10 per group to put these fires out. It was pretty amazing," said Schafer. "The crude cars, there's the whole danger aspect of it. All the vapour that comes off of it to cause the explosions. You are there to cool the cars to avoid all that. Once they explode, you may get a chain reaction."
You have to look no further than the Lac-Mégantic (Quebec, 2013) rail disaster to find out how devastating those chain reactions can be in train derailments. An unattended 74-car freight train carrying Bakken Formation crude oil derailed downtown, resulting in the fire and explosion of multiple tank cars. Forty-two people were confirmed dead and more than 30 buildings in the town's centre were destroyed. All but three of the thirty-nine remaining downtown buildings had to be demolished due to petroleum contamination of the townsite. Initial newspaper reports described a one-kilometre blast radius.
"There are 60 kilometres of rail running through Barnwell, Taber and Grassy Lake and those are very populated areas," said Schafer. "They were telling us at the course, in Quebec there were 80 fire departments there and 1,000 firefighters to fight that fire. You look at our area, that's a lot of fire departments to pull in."
There is a three-year plan for the M.D. with its regionalization of fire services between the M.D. department, Vauxhall, Grassy Lake, Enchant and Hays.
The number of volunteers that have stepped forward Schafer is quite pleased with and a third class has started its Level I, Level II and Hazmat 472.
"Between the start of September and by the end of March, we will have another 24 people through our program. Of our 93 volunteers, we will have in the high 80s those that are Level II certified," said Schafer.