M.D. gives thanks to retiring councillors
Posted on October 19, 2017 by Vauxhall Advance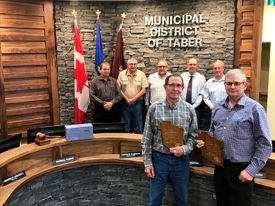 PHOTO SUBMITTED.
By Cole Parkinson
Vauxhall Advance
While some councillors are heading to the M.D. council chambers for the first time, two have retired from their chairs.
Both Duff Dunsmore, councillor for Division 6 (Enchant area), and Dwight Tolton, deputy reeve and councillor for Division 7 (Vauxhall area), have decided to call it a career in terms of being board members for the M.D. of Taber.
With the regular meeting on Oct. 10, it marked the last time the two will be at the table for their respective divisions.
The meeting also gave the M.D. staff and the rest of the council members a chance to give thanks to the two departing serving members.
"Thanks for everything you've done over the years, it's much appreciated. I appreciated working with you and certainly your heart and soul has always been in what's been best for the M.D. of Taber," said Brian Brewin, reeve for the M.D. of Taber, in regards to Tolton stepping down from the council.
Tolton had been on M.D. council for 10 years which included five as the deputy reeve.
While he's leaving, he was quick to remind everyone in the room of how much he enjoyed his time in council chambers.
"I would like to first thank council, an awesome group to work with. Even though we were adversaries at times, it was passion and that's all it was. The staff has been like family and most of all the residents have been really supportive over the years, so thanks," said Tolton.
Dunsmore, on the other hand, had been with the council for seven years but he echoed much of the same sentiment as Tolton.
"I feel the same way, it's been a pleasure working with these guys, nothing's hard when you get along. The staff, we forget how great our staff is at this place and it makes our job easy so thank you very much," said Dunsmore.
A point was brought up as to how much the former Division 6 councillor Cecil Wiest helped with Dunsmore's transition into a councillor role even though things weren't always easy.
"The experience that he had he shared that with me. Sometimes it was difficult because we all know Cecil and he still had an agenda but we worked with it," said Dunsmore.
Brewin had a chance to chime in with how much of a benefit it was to have Dunsmore on the M.D. council.
"I want to thank you very much for everything you've done for the Enchant area. I got to be honest with you, when you took over from Cecil I thought you were going to have a pretty hard job but you were the right person. You had a good teacher there also. So again, thank you for your time and commitment that you've put into this municipality. We'll miss you, thanks Duff."
The next time council meets two new councillors will fill the Division 6 and 7 seats as both were elected by acclamation.
Murray Reynolds will be the new representative for Division 6 and Leavitt Howg will take over in Division 7.