2017 Vauxhall Year in Review
Posted on January 4, 2018 by Vauxhall Advance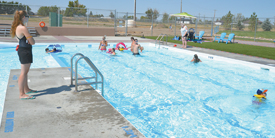 ADVANCE FILE PHOTO
With some ups and some downs throughout the year we look back with an open mind to what happened in 2017.
January 5: In Taber provincial court on Dec. 20, a 50-year-old local man was sentenced on two counts of theft under $5,000 and a single count of failure to appear in court.
Alan Gregory Phillips was sentenced to 60 days of incarceration and one year of probation by Judge G.R. DeBow. Phillips had pled guilty to the charges earlier in 2016, which were adjourned for sentencing to Dec. 20 to allow for the preparation of a pre-sentence report.
A mounting movement against Notley's NDP provincial government will be making its way to the Taber Community Centre Auditorium on Saturday as part of Stand Up for Alberta. "We are the original grass roots movement where we started in September when the announcements came out of the oilsands. And gradually all these other things have come out and popped up like Bill 6 and associated bills," said Julie Franz, who comes from a farm family and is a co-organizer of the Stand Up for Alberta movement.
January 12: The Vauxhall Business Society has enough signatures to become a chamber of commerce. With 38 businesses signing up to become members of the soon to be established Vauxhall and District Chamber of Commerce (VDCC) last month, the VBS exceeded the 30 minimum needed. "It's good for Vauxhall and area to get this going and have a future, because VBS, in our opinion, had very little mandate, where we could work in. And it was only focussed on the Town of Vauxhall and the businesses there, so our membership was kind of handicapped by the area set aside for us as the Vauxhall Business Society," said Joerg Klempnauer, VBS president. "So I think this is a good step forward."
As session starts in the beginning of 2017, Little Bow MLA Dave Schneider will be stepping into a new role within the Wildrose Opposition. "Our caucus has had a Shadow Minister cabinet shuffle, I am now the Critic for Agriculture and Forestry," said Schneider. "I look forward to continuing the good work of the fellow MLA (Rick Strankman, Drumheller-Stettler) that had this role before me." At the end of 2016, the Wildrose party produced an independent report, by their Equalization Fairness Panel.
January 19: The future of the Hays Solar project is now in the hands of the Municipal District of Taber's Subdivision and Development Authority. On Monday, a Development Hearing was held for the Hays Solar Project, one of three solar projects being proposed for the Municipal Distinct of Taber. On behalf of C&B Alberta Solar Development ULC (CBA), BowMont Capital & Advisory Ltd. and Canadian Solar Solutions Inc. have partnered together to jointly develop a solar power plant in the hamlet, better known as the Hays Solar Project.
It is a cultural exchange with the Land of the Rising Sun. While there may be language barriers at times, there is the love of baseball that binds Japan with southern Alberta, as four elite youth baseball players have made their way to Vauxhall from Japan.
January 26: It was a love of baseball that first bound a Japanese exchange these last couple of weeks to the Vauxhall Academy of Baseball, but perhaps the love of each other was the lasting impression as cultures collided.
Four players from an elite baseball program/school in Sendai, Japan, have been training with the Vauxhall Academy of Baseball these last couple of weeks, while also taking in all that southern Alberta had to offer.
It's been said that close only counts in horseshoes and hand grenades. While Vauxhall's 2017 New Year's baby may not have arrived on New Year's Day, Jan. 9 was close enough to claim the coveted title — at least as the stork flies. Arriving at the Taber Hospital at 11:01 a.m., Westen James Peter Pepneck weighed in at six pounds 15 ounces and was 21 and a quarter inches in length. A first child for proud parents Anna and David Pepneck, Westen arrived one day prior to his due date on Jan. 10.
February 2: There is plenty of push back expected over the recent decision by the provincial government regarding the establishment of park boundaries in the Castle area as well as an end to off-highway vehicle (OHV) use in the parks. Premier Rachel Notley and Environment and Parks Minister Shannon Phillips were on hand in Pincher Creek to make the announcement in establishing the Castle Provincial Park and the expanded Castle Wildland Provincial Park, which they noted will save 103,000 hectares of land from disturbance and development. The Castle area is home to more than 200 rare or at-risk species along the eastern slopes of the Rocky Mountains.
Little Bow MLA Dave Schneider has faced quite a few challenges during the Fall 2016 session of the Alberta legislator. The Wildrose party has the challenge of being the official opposition to a majority government whose political leanings are on the other side of the spectrum. So although they had introduced plenty of amendments to the bills, not many of them got through.
February 9: A delegation from Rowland Seeds arrived at a Vauxhall council meeting Monday night to discuss beetles. After a delegation in October 2016 voiced concerns about an increase of flour beetles in the community, Vauxhall council had written a letter to Rowland Seeds relaying those concerns. According to the agenda of council's Nov. 7, 2016 meeting, Rowland Seeds had written back to the town, however, the letter was not included in the agenda package. In response to these concerns about being a potential source of an infestation Rowland Seeds had launched an investigation.
A former Vauxhallite is about to take on a very exciting life experience as she travels as part of Team Canada after her team won the gold medal game of the 2017 Canadian Junior Curling Championships. Chantele Broderson, team third, is going to be joining her teammates Kristen Streifel (skip), Kate Goodhelpsen (second) and Breanna Bilassy (lead) in Gangneung, South Korea for the 2017 VoIP Defender World Junior Championships.
February 16: Vauxhall town council wants to see more local businesses get involved with the Taber Pheasant Festival. During their regular Feb. 6 meeting, Vauxhall town council discussed what level of sponsorship they wanted to go for the 2017 Pheasant Festival, after receiving information on this year's festival.
The process of creating a local chamber of commerce has hit a snag. But don't worry, all that is needed is a few more signatures to smooth it out. Originally believing all they needed was a list of at least 30 names to indicate support for joining a Vauxhall and District Chamber of Commerce (VDCC), the Vauxhall Business Society collected 38 signatures pledging their interest in the VDCC in December 2016. The organization believed they were on the right path to move forward in getting the chamber up and running by March. However, they received a new set of instructions late last month, indicating there were a few other items needed before they could incorporate as a chamber.
February 23: When Ryan Laird was a kid, like many others his age, he wanted to have a lot of friends. Problem was, he was starting a new school when he was in Grade 6. However, the school had a talent show coming up, so Laird decided to enter it and sing. He figured that once the other kids heard him sing, they'd want to be his friend. "I thought it went really good. I thought I was going to have lots of friends afterwards. But, that's not what happened, because there was a group Of people at that new school, who decided to make fun of me after that talent show was over. They said my voice wasn't really good, and I should just give up on my dream of being a singer. And that really hurt my feelings a lot," said Laird. "Because I was really shy, I didn't talk to anybody about it, I didn't know what to do. But because I didn't say anything about it, I continued to get picked on, and picked on, and picked on, every day. I almost did give up on my goal of being a singer." But one day, someone came up to him and told him it was OK to ask for help. They took him to some trustworthy adults, and he told them what was happening, that he was being bullied by this group of kids, and the bullying stopped. Now, 20 years later, Laird is a two-time Canada Country Music Award nominee and recording artist. And he's using that platform to speak out against bullying as part of the BiggerThanThat! program, which visits communities across Canada to promote bullying prevention and inspirational messages in schools.
A request to the federal government for three-year funding of the Youth Employment Program in Taber has been denied. But that does not mean those that the program has helped are not going down without a fight to see if it can be saved with some campaigning to reverse the decision.
March 2: Theatre goers are sure to feel like they just got a hole-in-one if they take in the upcoming Par for the Corpse, a play production by St. Joseph's Catholic Church. Par for the Corpse takes place at an exclusive golf resort where everything is peaceful and relaxing, that is, until a bus load of singles on a match-making vacation arrive and one of the clients turns up dead. The fun begins as the staff of the resort and the other singles try to unravel the facts of the case, while all the time trying to keep themselves safe…and alive.
The sun was shining on the latest developments for the proposed Vauxhall solar project last week. At the Feb. 21 Municipal District's of Taber's Subdivision and Development authority meeting, a development hearing for the Vauxhall Solar project was held with representatives from BowMont Capital Advisory Ltd. and Canadian Solar Solutions Inc., who have partnered together for the project on behalf of CB Alberta Solar Development ULC (CBA), pleading their case.
March 9: The Vauxhall Academy of Baseball Jets Awards/Scholarship Fundraising Banquet proved a rousing success once again on Saturday at the Vauxhall Community Hall. The 11th annual edition featured numerous   recognized with scholarships, many highend sports memorabilia being auctioned off and none other than former Toronto Blue Jays great Jesse Barfield as the guest of honour. The rocket-armed right fielder of the 1980s sat down with master of ceremonies Keith Miller for a question and answer period as the very personable Barfield charmed the crowd with his diamond wisdom and sly humour along the way.
With this winter's ice season cut short, town council is facing the question of how to get ice ready again for next winter. During their regular March 6 meeting, Vauxhall town council discussed the issue of the broken chiller for the town's arena and curling rink. On Thursday, Feb. 23, the chiller had failed, causing the ice facilities to shut down and sent groups scrambling to find suitable alternatives or cancelling events.
March 16: In a battle of 2A titans, the top-two seeded teams in the south zone gave fans the highlight game of the tournament as the Vauxhall Vikings boys basketball team earned the silver medal in an epic 86-84 loss to topranked Willow Creek at Lethbridge College on Saturday.
With dropping sales figures compared with previous years for their annual lottery in 2017, STARS Air Ambulance is trying to drum up last-minute support in the lead up to a March 22 deadline. "The trends show that we are significantly behind where we were last year, which was a particularly tough year for the lottery. Last year, the last ticket was sold the day of the cut-off date," said Fatima Khawaja, a spokesperson with STARS. "This year marks the 24th STARS Lottery in Alberta, and with the vital support of each of you, we have been so fortunate to sell out all of our previous 23 lotteries. STARS was founded through grassroots support of Albertans and we are hopeful they will help us be there for the next patient. That's why we are urging Albertans to purchase their lottery tickets."
March 23: Members from the Taber 4-H District had a stupendous showing at the recent Regional 4-H Communications Event held on Saturday, March 11 at Lethbridge College. It was a competitive afternoon with exceptional speakers and presenters from all the districts in the Southern 4-H Region. The results for the Taber District were, as follows: Junior Public Speaking – 3rd place – Christopher Mills, Retlaw Prairie 4-H Beef Club Junior Presentations – 3rd place – Ryker Van Der Wielen, Hays 4-H Club Intermediate Presentations – 2nd place- Jessie Ferguson, Retlaw Prairie 4-H Beef Club Senior Public Speaking – 3rd place – Maegan Vissers, Retlaw Prairie 4-H Beef Club Senior Presentations – 3rd place- Femke Muller, Hays 4-H Club Congratulations to all members who participated in Regionals.
Vauxhall's sunny disposition has been attracting the attention of solar companies. During their regular March 20 meeting, Vauxhall Town council reviewed a contract between them and solar energy company Moose Power, to install a series of solar panels on town land. The Advance was unable to obtain a copy of the contract, as it is still under review by both parties. The land in question the solar panels would be on is not within town boundaries, but rather on a piece of town-owned land northeast of town, a mile outside town limits.
March 30: Local community-minded youth were honoured at the APEX Youth Awards last Wednesday evening, in a gala event that saw four admirable candidates take home prestigious bursaries for their hard work in their communities. An impressive 23 nominees were recognized at the dinner in their honour and thanked for their accomplishments and community service. At the end of the night, four of them were presented with $1,500 bursaries, sponsored by four local businesses (Legacy Dodge, Avail LLP, Grower's Supply Ltd. and South Country Co-op). The two runners-up were also awarded bursaries of $250 from the APEX Committee.
The scale of the problem of inactive oil and gas wells in Alberta is an issue that largely flies under the radar, and remains a situation that needs to be rectified if the problem is to be addressed. "In Alberta today, there's roughly 89,000 inactive oil and gas wells," said Brent Nimeck, an independent researcher who spoke recently at the Action Surface Rights Association annual general meeting in Taber. "Currently in Alberta there's no legislation that says we have to clean these wells up or do anything with them. Once they've been listed inactive they can stay in such a state indefinitely."
April 6: With the recent surge of solar companies vying to get into southern Alberta, the Municipal District of Taber council has two words of advice for their ratepayers; buyer beware. Coming off of reading Jack Dunsmore's director of planning and infrastructure report during their regular March 28 meeting, the M.D. of Taber council expressed some concern over the influx of solar in the area on private property.
HALO air ambulance is seeking support from the province to reach greater heights in service. The Municipal District of Taber council received a copy of a letter sent to the provincial minister of health, Sarah Hoffman, by HALO chairman, Dale Thacker, during their regular March 28 meeting. The letter sought to clarify to Hoffman the position that HALO plays in the province's air ambulance programs and clarify some misconceptions about the program.
April 13: A second handibus could lead to more ridership in the Municipal District of Taber. During their regular March 28 meeting, the Municipal District of Taber were visited by Paul Primeau, president of the Taber and District Handibus Association, who came to make a budget presentation. Starting off by talking about the growing population of seniors in Alberta, Primeau said that according to Transport Canada, older Canadians use public transportation more then anyone else. However, those living in rural areas tend to not have access to that infrastructure. Primeau cited statistics saying that in the next ten years, the population of those 65 years old and older will increase by 40 per cent, and that figure will double in the next 20 years.
Keeping rats out of Alberta has been an epic battle waged with deadly seriousness over the years. But with beady-eyed rodentia seemingly at bay, the province has now switched a vigilant eye to aquatic invasive species. Considering the potential economic implications of an invasive mussel infestation, it shouldn't be surprising that irrigation districts in Alberta are approaching the situation with equanimity.
April 20: Get your engines started, legal drag racing is coming to the Vauxhall airport. During their regular April 11 meeting, the Municipal District of Taber council received requested information about a proposed drag race put on by the Street Wheelers Car Club on M.D. property. Council first discussed the proposed race during their regular Feb. 28 meeting, when they received a letter from the Street Wheelers Car Club. Accompanied by their treasurer, Dean Parker, they requested permission from the M.D. to host a drag race at the Vauxhall airport in September. Council had approved the request, pending they hear back from the airport committee and insurance. Since then, they have had a chance to receive feedback from the airport committee and users of the airport.
A small snag was found when the Vauxhall Cemetery Committee requested the town's input on the placement of a new columbarium. During their regular April 3 meeting, Vauxhall town council received a request from the Vauxhall Cemetery for input on the location of a new columbarium in the local cemetery. The committee's preferred location for it is along the edge of the south end of the cemetery, at the bottom of the main path of the eastern entrance. Although at first glance, it is a good location for it, except for one small detail; that spot is not on townowned land.
April 27: People will be dancing the night away in Vauxhall this Canada Day. During their regular April 20 meeting, Vauxhall council had received a request from the Vauxhall Agriculture Society to block off a street on Canada Day.The Ag Society puts on a very successful demo derby for Vauxhall's Canada Day celebrations, but in conjunction with the 150 celebrations, they want to do something a little different. Once the demo derby has wrapped up, the Ag Society wants to host a street dance, from 7-11 p.m., and asked for council's permission to close a portion of 3 Avenue North in front of the Vauxhall Legion.
Taking the moniker of a recent tournament to heart, the Vauxhall Academy of Baseball Jets have proven themselves Best of the West. The Jets would post an impressive 5-0 record in the annual tournament in Kamloops, which spanned April 12-16.
May 4: While the water may be back on, there are still questions concerning what happened. "As you're aware, the plant had issues. So that caused four major breaks within town," said Cris Burns, CAO for the town, during the May 1 regular meeting of Vauxhall council, on what had happened at the Vauxhall Water Treatment Plant. On the morning of April 27, around 9:30-10 a.m., the town received word of four water main breaks — one by the watering shed at the ball diamond going into the parking lot, one by the Wendy's Drive In parking lot where the semi-trucks park, one by Rowland Seeds right across from the town shop and the biggest one by Bow River Gas Co-op going into the research station.
Accessing rural broadband Internet has been a topic of some concern for Municipal District of Taber council, and recent decisions at the federal level appear to be closing in on making this a reality. "So the government has just rolled a number into the next year and the next budget of $500 million," said Bow River MP Martin Shields, speaking at a round-table discussion with M.D. council last week. "They've rolled it over from another year, and haven't spent it." Reeve Brian Brewin pointed out that with the Canadian Radio-television and Telecommunications Commission (CRTC) decision to declare broadband Internet a basic service, this should mean good news for rural residents in the riding.
May 11: Long term parking and obstructed views are prompting safety concerns about an important intersection in Vauxhall. Vauxhall peace officer Jason Schreiber came to Vauxhall town council during their regular May 1 meeting to discuss the parking issue along 1st Street North. The road running along the eastern edge of town is a popular stopping place along Highway 36 for heavy truck drivers, but weekend-long parking there is causing safety issues.
With trade rhetoric emanating from the Trump White House increasingly targeting Canadian industries such as dairy and softwood lumber, speculation on when the North American Free Trade Agreement (NAFTA) will fall under the gun is mounting. Bow River MP Martin Shields is convinced it might not be a simple matter for President Donald Trump to lower the boom on the agreement.
May 18: With a target date for marijuana legalization now set for mid-2018, Bow River MP Martin Shields is warning municipalities to brace for a new liberalized environment. "The marijuana is the big piece out there in the sense that although it's got a separate piece of legislation, it's I believe the one that will affect municipalities the most," said Shields, who spoke at a recent roundtable discussion with Municipal District of Taber council.
Although the end of April proved turbulent for the Vauxhall Regional Water Treatment Plant, it has been nothing but calm waters for May. During their regular May 9 meeting, the Municipal District of Taber discussed the recent events at the plant. With a new Uninterrupted Power Supply (UPS) unit in place, there should be no more problems with system pressure, at least in the near future.
May 25: By this time next year, Alberta may have just one conservative political party. On Thursday, May 18, Wildrose leader Brian Jean and PC leader Jason Kenney signed an agreement in principal that establishes the process for the two parties to combine into one under the banner of the United Conservative Party.
Paved roads appear to be a hot topic in the Municipal District of Taber. During their recent annual general meeting, residents brought up road maintenance with the M.D. of Taber council. One resident wanted the M.D. to set the record straight on Highway 513, a road that runs between Highways 36 and 877 south of Highway 3, as from what he heard, the province had basically dumped the majority of responsibility for the highway into the M.D.'s lap. Stressing that it was actually in pretty good shape, his concern was that the M.D. would have to turn the secondary provincial highway from a paved road back into a gravel one due to maintenance costs. Reeve Brian Brewin assured him that was not going to be the case, rather quite the opposite.
June 8: Those who have joked that no one will want the job if the riding got bigger, are in for a rude awakening in Little Bow. On May 25, the Electoral Boundaries Commission released its interim report to the Alberta legislative assembly. Under the Electoral Boundaries Commission Act, the commission must review provincial riding boundaries after every second election, with any changes coming into effect before the third election occurs. The report noted that although the province's population has grown, the increase has favoured some parts of the province rather then others. As such, they recommend that four ridings in the northeast of the province be consolidated into three, combine five electoral divisions into four in the central west area of the province, combine seven southeast ridings into six and add three ridings to the Calgary, Edmonton and Airdrie/Cochrane areas.
When M.D. of Taber residents get a chance to sit and chat with their elected councillors, you bet there will be some pretty hot topics on the table — such as the newly launched M.D. fire service. During the recent Municipal District of Taber council's annual general meeting, councillors found themselves in the hot seat as residents quizzed them on the fire service. Last year, controversy was sparked when the M.D. announced they would be terminating the current fire services agreement with the Town of Taber, giving the required one-year notice to the town and creating their own rural fire service in its place.
June 15: Boiled, mashed or shredded, it doesn't matter — most people like their potatoes fresh. But after years of being exposed to the elements, the Town of Vauxhall's iconic mascots, Sammy and Samantha, have slowly surpassed their best before dates. And nobody likes a rotten potato. Vauxhall town council is currently eyeing a refurbishment of the town sign and mascots to improve aesthetics and banish their faded appearance.
July 7: Solar power production is now regulated throughout the Municipal District of Taber. During the afternoon portion of their regular June 28 meeting, the M.D. of Taber council conducted a public hearing for the Solar Energy Systems amendment in their Land-Use Bylaw.
July 14: For those hankering for a good piece of pork; worry no more. The 12th annual Vauxhall and District Foodgrains Growing Project BBQ and Pig Roast is coming up next week, so be prepared to come with a big appetite. "It's a chance for the community to hang out and enjoy a good meal," said Tim van der Hoek, director of the Growing Project.
July 21: How the Vauxhall Spurs baseball club will do at the upcoming districts in Great Falls, Montana is anyone's guess if this past week's American Legion 'A' play is any indication. The Spurs finished its regular season at an impressive 23-8, but those losses are littered with teams near the bottom of the standings. Case in point, a busy six-game.
July 28: Any fears of the needed consistency to win the northern district championship for the Vauxhall Spurs baseball club were quickly erased as the Spurs ran the table to a 4-0 record to earn a berth at State later this week. Staying clear of the loser's bracket and being able to conserve pitching in the grueling nine-inning format heading into the championship, the difference showed as the Spurs dominated on the way to a 14-4 win over the Medicine Hat Knights in a game that was mercy ruled in seven innings.
August 4: Sunny Vauxhall could soon harness that power for its homes. Bowmont Capital & Advisory Ltd. and Canadian Solar Solutions Inc. have partnered together, on behalf of C&B Alberta Solar Development ULC (CBA), to jointly develop a solar power plant located near Vauxhall. The proposed site, better known as the Vauxhall Solar Project, is located just five kilometre northeast of town, in an ideal spot just one and a half kilometre away from an electrical substation.
August 11: Baseball lovers descended on Vauxhall last weekend for the Jets Stadium Society's Slo-pitch Tournament. While it was the second year the event was managed by the society, the 30-year history behind the Vauxhall tournament had spectators and players alike all to eager to play ball.
August 18: Amidst the threat of rain, an open house for a proposed solar power site near Vauxhall opened its doors on Aug. 9. The open house, hosted by Bowmont Capital & Advisory Ltd. and Canadian Solar Solutions Inc., who partnered together on behalf of C&B Alberta Solar Development ULC (CBA), to jointly develop the Vauxhall Solar project, aimed to share information on the site to residents of the area.
August 25: The Fraser Institute recently released its popular Report Card on Alberta high schools, the most easily accessible tool for parents to compare the academic performance of their children's schools. The Report Card on Alberta's High Schools 2016 rates 307 public, private, separate and charter schools based on five academic indicators generated from grade 12 provincewide testing, grade-to-grade transition and graduation rates.
September 1: One topic that has plagued rural Alberta for a long time is high-speed Internet, or rather the lack of. As part of a visit from Bow River MP Martin Shields to Vauxhall town council during their regular meeting on Aug. 15, Mayor Margaret Plumtree asked about what was being done about high speed Internet in rural Alberta.
September 8: The second annual Mennonite Slo-Pitch League allstar games proved just as much of a success as the first one in its spirit of giving along with also spreading awareness. "It went very well. I wasn't exactly sure the kind of response we would get for raising food for the local food bank. But I parked my truck inside the stadium parking lot there and we filled up the box with a layer of food," said Frank Klassen, organizer of the all-star games that went at Jets Stadium in Vauxhall in late August.
September 15: Another fall brings another promise of a good school year for Vauxhall Elementary School. "The start of our year has been excellent. What we really want to focus on this year is numeracy. We, of course, do everything with literacy still, but we just want to get better teaching numeracy to our students with best practices with math instruction," said Dale Cummings, principal at Vauxhall Elementary School.
September 22: Concerns over locally proposed solar projects have some residents expressing dissatisfaction over their proximity to the sites. During their regular Sept. 13 meeting, the Municipal District of Taber met with a delegation, made primarily of White Ash Road residents who would be living in proximity to the proposed Taber Solar Project, something they were not particularly happy about.
September 29: A new Chamber of Commerce could start operating in the Vauxhall area next year, but first local businesses have to give it the thumbs up. The Vauxhall Business Society will be voting on becoming a Chamber of Commerce for Vauxhall and area, but before they vote on it at their annual general meeting in November, they want to make sure they have the community's support.
October 6: Vauxhall firefighters have a new set of guidelines when it comes to fighting fires. During their regular Oct. 3 meeting, Vauxhall fire Chief Brian Schafer met with town council to discuss their new operating guidelines. "It's probably taken about two years to do this; hit and miss everywhere," said Schafer.
October 13: With about four months until the launch of the Municipal District of Taber Regional Fire Service, the M.D. is partnering with Taber Police for emergency dispatch services. During their regular Sept. 27 meeting, the M.D. of Taber council accepted a memorandum of understanding with the Taber Police Service regarding fire dispatch calls.
October 20: Although the controversial Taber Solar Project was the focus of the meeting, a few issues with the Vauxhall Solar Project got cleared up as well. During their regular Oct. 11 meeting, the Municipal District of Taber welcomed a delegation of concerned residents and representatives from BowMont Capital Advisory Ltd. and Canadian Solar Solutions Inc., who partnered together on behalf of CB Alberta Solar Development ULC (CBA), to discuss the proposed project five kilometres north of the town of Taber.
October 27: Lethbridge will be the site of 11 different rallies on Saturday, Nov. 5 as part of the Alberta-Wide Rally movement. The Alberta-Wide Rally is a grass-roots movement created by Albertans concerned about various issues, including the recent farm and education bills, but will be predominately the 'Climate Leadership Implementation Act,' or what is commonly referred to as the carbon tax.
November 3: A nation-wide movement made its way to Vauxhall on Tuesday to raise awareness of the plight of persecution of Falun Gong practitioners in China, resulting in the slaughtering of its followers for their organs in a lucrative billion-dollar market.
November 10: The group in charge of the local curling rink is requesting help making ends meet this year. During their regular Nov. 7 meeting, Vauxhall council reviewed a letter from the Vauxhall Curling Club, asking the the town for financial assistance this year.
November 17: Recognizing Remembrance Day (Nov. 11) as a legal holiday was the subject of a Private Member's Bill introduced earlier this month in the House of Commons. On Nov. 2, Colin Fraser, Liberal member for West Nova, introduced Bill C-311, An Act to amend the Holidays Act (Remembrance Day).
November 24: Vauxhall Queens girls volleyball team were definitely the Davids among the Goliaths at 2A south zone competition last week at Lethbridge College. The Queens' slingshot proved to be plenty of forward progress and determination stemming from two straight tournament victories prior to zones.
December 1: Taber/Vauxhall RCMP are taking part in the safe roads initiative for National Road Safety Week, December 1 to 7.
Motorists can expect to see an increased presence of RCMP officers on Taber and area roads during this week and for the remainder of December. Taber/Vauxhall RCMP officers will begin the month by taking part in National Road Safety Week, December 1-7 and the National Impaired Driving Enforcement Day on December 3.
December 8: The numbers are in for the Horizon School Division's budget update, and they aren't quite on budget.
Presenting the fall budget update to the Horizon School Board during their Nov. 29 meeting, Phil Johansen, associate superintendent of finance and operations, informed the board that projected revenues for the 2016/2017 budget had fallen short.
December 15: Bow River MP Martin Shields believes the federal Conservative Party's leadership campaign needs to significantly narrow the field of candidates before any one representative resonates with the party. Set for May 27, 2017, the leadership election will be selecting a replacement for former Prime Minister Stephen Harper, who stepped down from the leadership in 2015 after suffering defeat at the hands of Trudeau's Liberals.
December 22: Preparations are going really well, according to Marco Chouinard from NORAD Tracks Santa for this year's annual NORAD Tracks Santa worldwide event, which tracks the whereabouts of the jolly old elf throughout Christmas Eve.
"We've already started prepping the op centre we are going to use — the NORAD Tracks Santa Operation Centre. We're making connections with all our volunteers. Like last year, we're probably going to have over 1,500 volunteers who will make this wonderful thing possible on Dec. 24," he noted.