Reeve Brewin reflects on year that was
Posted on January 18, 2018 by Vauxhall Advance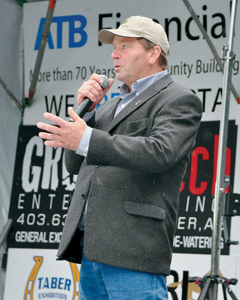 (Advance File Photo) M.D. of Taber Reeve Brian Brewin
By Cole Parkinson
Vauxhall Advance
cparkinson@tabertimes.com
Last year brought several changes to the Municipal District of Taber including a new council but now they have a chance to focus on 2018.
With five of seven councillors being brand new, the new councillors are still learning on the fly but with 2018 coming fast and furious, they need to be ready for anything.
One of the main projects the M.D. is gearing up for is negotiations of the Intermunicipal Development Plans and Intermunicipal Collaboration Framework.
"We expect 2018 to be a busy year in many ways. The M.D. of Taber intends to complete the negotiation of Intermunicipal Development Plans and Intermunicipal Collaboration Framework agreements with its six rural neighbours. We have already completed this process with the Town of Vauxhall and the Village of Barnwell. We will begin the work on negotiating the Town of Taber and M.D. of Taber IMDP in early 2019," said Brian Brewin, reeve for the M.D. of Taber.
A point Brewin highlighted for 2018 was the need to include everyone located in the M.D. and allow them to have their say in the matter.
Whether they are senior citizens, people of disability or anything in between, Brewin is confident in improving the exchange of information between the two parties.
"Collectively we must not forget those in our community whose voices are not as loud as others — the aged, the sick, the disabled, the hungry, the newcomers. We will need to work to ensure that those who are in the position of responsibility to address the needs of these individuals and groups are aided when necessary and held accountable when required," said Brewin.
With a budget already approved for 2018, Brewin says the diminishing returns from the ever important oil and gas industry has played a big role in how much they can afford to budget.
"This year the council approved a deficit budget (after the non-cash expense of amortization). The downturn of the oil and gas industry in recent years has over the past 3 years resulted in less revenue each year for municipal operations. We have not increased property taxes to make up for all of these revenue losses — instead we have economized, reduced, reallocated and focused on identifying and funding core municipal services," said Brewin. "We have been successful in this regard and we recognize the flexibility, diligence and dedication of our municipal staff. We expect 2018 to be a year filled with opportunity in the field of development and economic development. The world is hungry for what we produce here and as a municipal organization we will seek to facilitate the growth of agricultural processing and related industries through practical land use policy and property tax policy which will be an incentive to growth."
During the 2017 election campaign, one of the many issues that were focused upon was the condition of roads throughout the entirety of the M.D.
Brewin says they will continue to target road conditions to make sure the transportation system is able to continue operations.
"Transportation continues to be a huge priority for us. We will continue our longstanding goal of rehabilitating our road network to ensure that it is capable to facilitate the transportation of goods to market. Local road bridges remain a priority — we will be frequent visitors to Edmonton lobbying for funding to replace 50-year-old structures," added Brewin.
Residential and commercial industrial growth within the smaller populated centres will also be an M.D. focus in 2018.
"We continue to plan for residential and commercial industrial growth within our municipal hamlets. In 2018, work will be finalized on the Vauxhall industrial park and the next phase of residential development in the Hamlet of Grassy Lake. All of our communities are well situated for continued growth as water and waste water capacity is in place to facilitate new development," said Brewin, who was also adamant that work with the other organizations across the M.D. will be progressed in 2018. "We will continue to work collaboratively with other organizations including irrigation districts to facilitate future growth of the agricultural industry. We appreciate the relationships with our municipal neighbours — we commit ourselves to seeking collective solutions and opportunities where they are sensible and practical to do so."
While 2018 is still in its infancy, the M.D. council is excited to see what the year will bring.