Stellar cast to give heads up performance at St. Joseph's
Posted on February 15, 2018 by Vauxhall Advance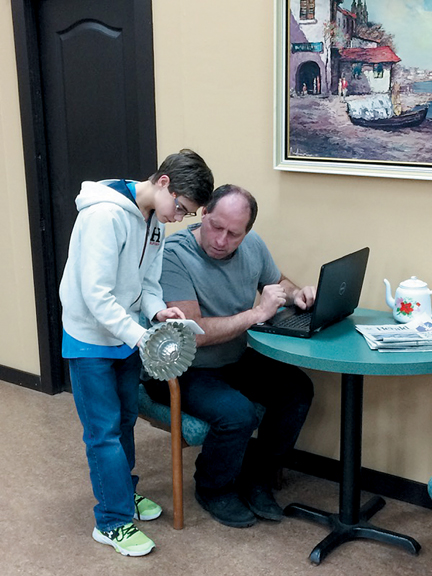 PLAYSTATION: Gabe Dunn and Ron Huvenaars feature prominently in St. Joseph's newest performance, which runs March 8-10 and March 15-17.
By Greg Price
Vauxhall Advance
gprice@tabertimes.com
The eighth annual play at St. Joseph's Church in Vauxhall is fast approaching and this year's production should leave everyone laughing.
When a film crew shows up in town to begin shooting a movie, many people are excited about them being there.
But there are also many who are completely opposed and stir up a lot of trouble to let them know they are not welcome.
In the comedy, Two Heads Are Better Than One, the debate of 'to film or not to film' rages as all sorts of oddball characters try to solve their problems.
"Everyone loves a good comedy, so I started in the summer time and read through scripts I have or order some new ones," said Boyd Dunn, director of Two Heads Are Better Than One. "You think of what would fit for the year coming up and you don' know who is going to audition, it's different every time. We have some new people and always some people that are in there like a dirty shirt because they love it so much."
The cast of 11 women and 10 men include many who have been involved in other St. Joseph's comedies: Cindy Kurek, Kathleen Klemen, Lien Van Hal, Alana Johnson, Dirk Geerligs, Sharon Dunn, Ron Huvenaars, Lorry Vanden Dungen, Erwin Claassen, Shawna Wiest, Shane Virostek, Rita Leask, Bob Gould, Bea Gould, John Van Hal, and Erik Vanden Dungen as well as several newcomers: Daniel Wiest, Shaelynn Going, Blair Schafer, Gabriel Dunn, and Chantal deVries.
"Every community has something special and in this town they have an old covered bridge and the film crew wants to film part of the movie there, but there are a group of people that don't want any part of it. They don't want to risk it being damaged," said Dunn in giving a taste of the plot of Two Heads Are Better Than One.
Rehearsals began in January and cast members are looking forward to performances.
"This is a fundraiser for our church hall addition and, as always, we very much appreciate the support we have gotten from not only Vauxhall, but also many other surrounding communities. We hope everyone will come out to St. Joseph's Church Hall to enjoy an evening of laughs," said Dunn.
The annual St. Joseph's Church play has been set in several different venues like hospitals, game shows or hotels. Two Heads Are Better Than One is set in a house as the venue for the second time in the eight-year history the church group has run a play for its fundraiser.
"This play made me laugh a lot when I first read it. It also has a larger cast which allows more people," said Boyd, adding the wide variety of cast allows newcomers to dip their toe in the shallow end of the acting pool first with smaller parts to get their confidence up. "It's nice to have that opportunity for people to get their feet wet and try it. This particular play we have some teenagers/high school students which is really nice, which we don't always have teens involved. With the experienced people and the new people, it's a really nice mix and we are having so much fun, it's just an excuse to play."
The show runs March 8-10 and March 15-17. Each day there are 7 p.m. showings with a special 1 p.m. matinee showing on Saturday, March 17. Doors open a half hour before each performance.
Tickets are $15 for adults and $10 for students, and are available at Hometown Hardware and Gifts at 507 2nd Ave. N. (403-654-2924). Out of towners can call to reserve tickets to pick them up the night of the production.
"We've had people come from all over. We appreciate it so much of all the support from the surrounding communities. We've had people come from Bow Island and friends and family members (of cast) come from Edmonton, Calgary, Airdrie — all over the place," said Dunn. "We've had such good support. As a fundraiser, we have the fun of developing community through this. It's not just in our church community, but it's the whole community. It's a great way for people to come and have fun and we raise a lot of money towards our building fun."