Assessment freeze worries MLA
Posted on March 8, 2018 by Vauxhall Advance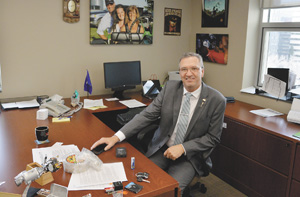 ADVANCE FILE PHOTO.
By Cole Parkinson
Vauxhall Advance
cparkinson@tabertimes.com
With the Government of Alberta freezing Assessment Year Modifiers, Little Bow MLA Dave Schneider has some concerns with how things may shake out further on down the road.
Minister of Municipal Affairs Shaye Anderson's Guidelines for Linear Property, Machinery and Equipment, Railway and Farm Land was approved in late 2017 with the bulletin outlining the 2017 assessment year modifiers were released at the same time.
"The municipal affairs minister has frozen assessment year modifiers, so this is basically on any of your tax. Here's a good example for M.D. of Taber, that M.D. receives quite a bit of money from the province and it's always been called linear tax based on their infrastructure regarding oil and gas and such. That money was always kind of determined to be sent back to those communities that have this infrastructure in place because there is increased traffic, heavier traffic and they have to continue to work on roads etcetera. It basically offset the costs that were going to be incurred by those municipalities," said Schneider.
Both pipelines and wells will remain the same for the 2018 tax year at 0.971 and 1.175 Assessment Year Modifiers respectively.
Other municipalities around Alberta have been vocal in their distaste of the freezing of the modifiers.
According to westlocknews.com, Westlock County is looking at a decrease of $400,000 in projected revenue due to the frozen year modifiers.
The county also sent a letter to the Minister protesting the freeze.
Other municipalities who have reported losses due to the Assessment Year Modifiers include Athabasca County and Woodlands County.
"The minister has frozen that and now what happens with that is, if you talk about a power pole or something that was set in 2010, well it cost a certain amount of money to set it then, in 2018 we would look at that and determine its value based on today's cost. As the economy grows and the cost of things go up, also goes up is the value of your infrastructure. The amount of money you would receive from the province would be in today's dollars," added Schneider.
With the lack of funds, Schneider says the larger municipalities have become more agitated.
"Now I know that little municipalities within, like the M.D. of Taber and Vulcan and Lethbridge, spread their money around into these little municipalities in different agreements and those little municipalities rely on, as part of their income. They're even becoming vocal because now their revenue stream is starting to dry up."
The question from municipalities becomes when will the freeze thaw and how much is it going to affect municipalities in the long run.
So far nothing has been formally announced but Schneider says he'll be watching closely.
"We haven't gotten any answers to that yet, even the AAMDC (Alberta Association of Municipal Districts and Counties) have started to weigh in on it and how it's going to affect both rural M.D.'s and counties. It's one that we're watching, we haven't heard anything from the ministry but it's all frozen and nobody will say for how long." 
The next AAMDC meeting will be take place in March and the hope is for Minister Anderson to be in attendance.