Schneider gives well wishes to ag industry
Posted on March 15, 2018 by Vauxhall Advance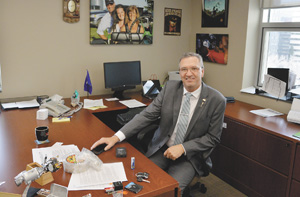 ADVANCE FILE PHOTO.
By Cole Parkinson
Vauxhall Advance
cparkinson@tabertimes.com
While 2018 is still young, Little Bow MLA Dave Schneider is hopeful for a successful farming season for southern Alberta.
After last year's extremely dry and hot summer, Schneider hopes to see more moisture especially in the areas without a ton of irrigation.
"Down in the irrigation country, by the look of the snow pack in the mountains — I can see them from my window —it doesn't look like there is going to be any shortage for the irrigation districts. I haven't seen anybody saying 'you aren't going to be able to get as much water' so I mean if it happened to be as warm as it was last year in that area (Municipal District of Taber) where there is irrigation, I think they saw record amounts of sugar beets come off, nothing would necessarily happen to an irrigated area. The dry land guys like us, where I live, I don't think we had two inches of rain all year. This snow, while it looks good for moisture, in my career as a farmer, I've always thought while the ground is frozen when the snow got here, so if the snow melts and the ground's still frozen it's just running down the ditch," said Schneider. "We're certainly looking forward to enough moisture, potentially, to get a crop seeded which is always a good start. There will be more requirements for rain throughout the season without question but farmers are pretty optimistic. It won't be the first and it won't be the last."
On top of the moisture, there are still several government initiatives that have come under fire in the ag sectors of the province.
Some of the biggest talking points in the Alberta agricultural circles still revolve around the highly debated Bill 6 that was introduced in 2015.
"Occupational Health and Safety is the one portion of the Farm and Ranch legislation that has not been resolved yet. I think the round tables have submitted what they have, so this legislation was passed in 2015 and all of 2016 we sat down at these round tables. The things that came out of the discussions were getting back to the government and they've been adopted, some of them, as far as employment and labourer concerns. The one that hasn't come to fruition yet it Occupational Health and Safety," said Schneider.
Farmers were encouraged to send in their comments on the recommendations by Feb. 26 in order for their voices to be heard on what they like and don't like .
Even three years later, Schneider still doesn't see the bill coming into effect any time soon as there are still pieces unresolved.
"Those recommendations outlining how government legislation could apply is on Alberta government's ag website. All of the proposed intentions for government, what they could see coming, are listed and anybody has the opportunity to go and look at them and make comment. Those will be gathered with what the recommendations are and we'll see yet. We're now into 2018 and we still don't have those. I know that the biggest portion of farms in Alberta are family farms so they are exempt from this kind of stuff but those guys that aren't they've known since the fall of 2015 that it was coming but it just never seems to get here. The health and safety book is a monster so I think they had to go through every portion of that to see if it applied. It's a big job for certain but we're still waiting for that."
Another big topic in Alberta is the carbon tax and Schneider isn't a fan of the impact the tax will have on farmers.
"As we stand in the house and we're told that it's such a small amount of money that shouldn't effect anybody but when you're an ag guy and you grow your grain and sell it, you don't have any ability to pass on those costs. If you are using a truck to haul your cattle or haul your grain, those things happen, those guys aren't exempt of the fuel so you get all of those costs thrown back at you. It's something that we always want to bring up. These guys are price takers and they don't have any way to pass that on," added Schneider who also stated that one of his constituents had a bill total $23,000 higher than before with the added tax.
One of the issues Schneider hopes farmers are aware of is changes in applying for carbon credits.
"It's apparent that farmers that traditionally have applied for carbon credits, there will be a change coming up this spring and they will have to be registered with an aggregation company prior to May 1 of 2018 or they won't be able to claim credits. It's all tied to the Conservation Cropping protocol, the government's way of saying farmer's have a the ability to claim carbon credits. I mean in the years past farmers could pick an aggregator and apply their records to that organization later on in the year or sometimes they would just apply every three or four years. The government is now trying to get more of a handle on what's going on. They're making the changes so that it can have a better opportunity to forecast how much carbon is being emitted and carbon is being sequestered," said Schneider.
While any farmer who has registered in the past seems to have been notified of the approaching deadline, Schneider was adamant that farmers who haven't applied before would need to consult an aggregation company.
"At this point I think there are only three aggregation companies that are listed on the website anyway," said Schneider. "I talked to a relative of mine who applies and he said that he did receive an email that said he had to be registered by May 1 of 2018 so it appears that if you have used the program in the past, you've probably been notified. If you haven't, you'll need to hook up with one of these three aggregation outfits."
With any change comes push back from certain people who don't agree with the revision but Schneider says he hasn't seen an negative feedback.
"I talked to another constituent who said 'well, I just gave it to a consultant and he did it every year.' All he knew is he got a cheque in the mail every year, it wasn't much but he didn't have to bother with the paperwork. Nobody has called the office about this so I don't know it's a big, big deal. It's just one of those that you'd like to make sure everybody knows about so there isn't an issue after May 1," added Schneider.