Clearview Lodge enhancements made possible through twin health foundation grants
Posted on March 29, 2018 by Vauxhall Advance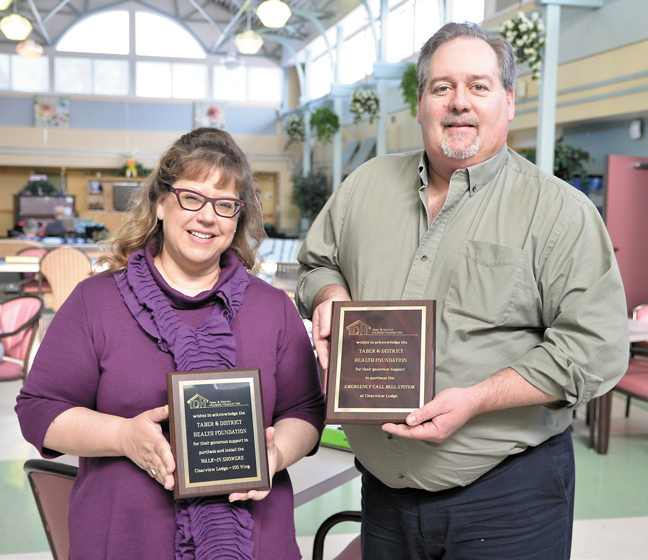 LODGE LOVE: Kerry Van Ham and Tim Janzen are all smiles, showing off the plaques at Clearview Lodge that commemorate funding Clearview Lodge was given with the help of Taber and District Health Foundation for two separate project upgrades for the facility. PHOTO BY GREG PRICE.
By Greg Price
Vauxhall Advance
gprice@tabertimes.com
Taber and District Health Foundation's reach keeps helping the elderly of southern Alberta.
Clearview Lodge received its plaques of recognition with a funding infusion it received for two separate initiatives.
Approximately $40,000 was put towards a tub replacement project.
With increased safety for the seniors at the facility in going in and out of a stand-up shower that has seating if needed as opposed to climbing in and out of bath tubs in sitting positions, it aids careworkers as well.
"It happened in the 100 wing. It was replacing the tubs for more functional showers with seating ability for them which increases safety for seniors as well," said Kerry Van Ham, chairman of Taber and District Health Foundation.
There was also $75,000 put towards an upgraded emergency call system.
The needs of the facility were identified with the help of Tim Janzen, CAO for Taber and
District Housing.
"We would like to thank the Taber and District Housing Foundation and Mr. Janzen for bringing this to the board's attention. One of the goals for the health foundation is to generally administer the property for maintaining and enhancing healthcare initiatives in Taber, Barnwell, Grassy Lake, Enchant, Hays, M.D. of Taber and Vauxhall," said Van Ham.
"The board viewed that this project fit very well into the scope of the mandate and it also gave an opportunity for this project to touch every resident in one of those communities. There are many residents from Clearview that are from the Taber and M.D. area."
The new upgraded emergency call system allows workers to directly talk to the Clearview Lodge resident, even before someone gets to the room.
"We've really upgraded the reliability of the system," said Janzen, noting the old one was decades old. "It had failed previously. We were getting false positives. One weekend, one alarm went off over a hundred times and we are required to follow up every call. Over a three-hour
span, one room had called us a hundred times."
"And then we have to prove we dealt with those calls. We approached the health foundation and we made a special capital requisition in 2016 for the full system."
The new emergency call system also reaches outside the building envelope.
"If people happen to be walking outside the perimeter of the building, we will also know where they are. Previously, we just knew what room had hit the alarm, but the person might not be in the room," said Janzen. "So now, we can locate the person as well."