M.D. continues to deal with overland flooding
Posted on March 29, 2018 by Vauxhall Advance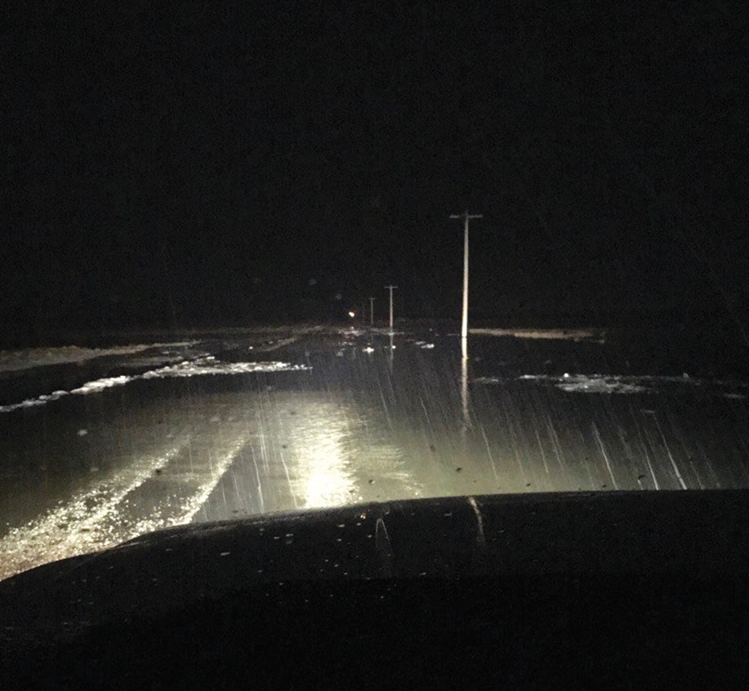 ADVANCE FILE PHOTO
By Cole Parkinson
Vauxhall Advance
cparkinson@tabertimes.com
With the Municipal District of Taber still under a local state of emergency for overland flooding, M.D. council and staff are stressing patience as they continue to deal with the issues throughout the region.
As heavy snow was coming down yesterday morning, it wasn't all bad news for staff dealing with the flooding. With the colder temperatures, it slowed down some of the running flood waters.
"Right now the cold weather is our friend so it's kind of stopped the water from running and gives time to equalize. Right now a lot of the problems are culverts just can't keep up with the quantity," said Brian Brewin, reeve for the M.D.
The amount of snow presents some additional challenges, though, as staff continues to pump water, especially with plus temperatures expected on and off.
Brewin feels for the M.D. workers as they can't seem to catch a break as the week's snowfall will be added to the already large totals of water.
"The last thing we need, our poor guys are going to have to push snow back into water that they're trying to pump," added Brewin.
Certain areas have been hit harder than others but the M.D. are keeping track of the entire area.
So far the area south of Taber has seen some of the worst of the flooding.
The M.D. is reporting there is severe overland flooding south of the Oldman River between Chin and Grassy Lake.
"It's probably south of town still but it's moving further and further east. We had, around Stafford Estates, down there we had some problems last night with water coming down the coulee," said Brewin. "We tried to evacuate people there, we had a centre set up at the Heritage (Inn) and only one ended up coming but we offered it. Most people went to friends."
Vauxhall has yet to see much flooding, but Brewin says there is a chance they will see their fair share moving forward.
"Vauxhall is starting, there's a couple roads there that are in the early stages right now. Certainly there is some concerns in some of the hamlets. Ginger (Rose, director of hamlets and utilities for the M.D.) is around there and pavement is always the first to (accumulate snow),"
he said.
Floods are also being reported to have started in areas north of the Oldman River from Retlaw south to the Oldman.
The M.D. have stressed that people travelling should be cautious when driving on roadways being impacted with overland flood waters which may not be barricaded as of yet.
While roads are certainly an area of concern for the M.D., right now their main focus is on houses that have been or are in danger of flooding.
Moving forward, Brewin wants M.D. citizens to know the entire M.D. team is working tirelessly to correct the flooding.
"We need to stress people with land concerns please hold off. Right now our focus is trying to protect property and houses. That's the number one message, please have patience we'll get the houses dealt with and make sure they're safe."