Slingerland announces nomination run
Posted on April 19, 2018 by Vauxhall Advance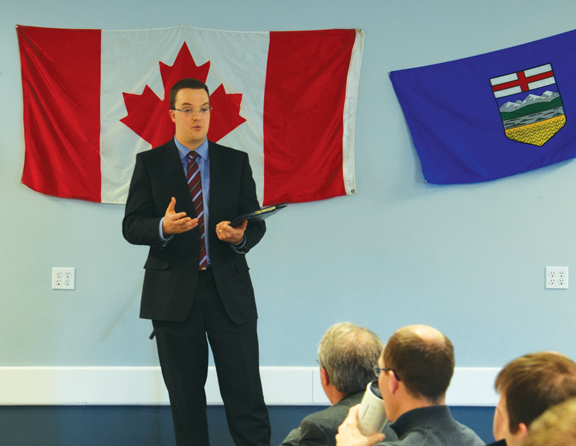 ENTERED: Coalhurst educator Marc Slingerland kicked off his campaign recently to become the first UCP nominee for the Cardston-Siksika riding at the Picture Butte Community Centre. ADVANCE PHOTO BY NIKKI JAMIESON
By Nikki Jamieson
Southern Alberta Newspapers – Coaldale
A Coalhurst principal has thrown his hat into the United Conservative Party nomination race.
Marc Slingerland, the principal of Calvin Christian School outside of Coalhurst, announced his intention earlier this month to become the UCP candidate for the new Cardston-Siksika riding in the 2019 provincial elections.
Kicking off that run at the Picture Butte Community Centre, Slingerland said that a critical value of local decision-making and a government not overstepping its bounds has not been represented well by the provincial government, stressing the importance of having a consistent set of values throughout every part of life, including in government.
Slingerland said that he could draw from the skills and experience he gained over the years as a principal and use them to represent his constituents' values to the province, which were in three main categorizes; family, liberty and opportunity.
Family, he said, was the "bedrock of society," and criticized apparent government overreach into family life.
"If there are not strong families, you don't actually have a society. It's families who make communities, it's families who run businesses, who do agriculture, who pass on values that underlie our common life, as a society — hard work, responsibility, compassion, all of those things are learned first at home," said Slingerland.
"A government that undermines or that diminishes the importance of family, or the ability of families to bring those values across in a consistent way to their children is a government who is sowing the seeds of its own destruction."
Liberty, he said, was needed for families to raise their children according to their own beliefs. Slingerland said that fundamental freedom was under attack, along with the common-sense ideals that made Alberta so successful, by "progressive identify politics," such as those in the provincial government.
Opportunity was something government was responsible to provide, argued Slingerland, saying that government's decisions effect what opportunities were available for its citizens. He called running deficits in the long term a "moral issue," arguing that money spent paying down the provincial debt took money from other areas, such as health care in the province, and changes such as "sudden dramatic changes in policies such as minimum wages," affect the structure of Alberta's economy.
Slingerland stressed that although some views cannot be compromised on, part of politics is working together to come to an agreement. He pledged to do so while representing the view of his constituents and the values of those living in his riding.
"My vision for Cardston-Siksika and for Alberta as a whole, is one of strong, stable families with liberty, to educate their children according to their own beliefs, and responsive local communities, with opportunity for all individuals, of any race, any religion, any political inclination, to pursue and achieve their dreams and make meaningful contributions for society, experience economic success, to leave a legacy for the future."
Slingerland, who had grown up in the area and has Masters degrees in science and education from the University of Lethbridge, made the decision to try his hand for the UCP nomination late in 2017, when Bill 24 was discussed and passed.
Bill 24's — or Act to Support Gay-Straight Alliances — mandate was to strengthen rules among gay-straight alliances in schools, including granting students the right to start one and preventing schools from outing a student to their parents should they join one.
Critics of the bill argued that it undermines the role of parents in a student's education and violates religious freedoms.
"As the principal of an independent school, that was the clearest example as to that point of a government tendency that had already been there, of undermining parental rights, undermining religious freedoms, and I couldn't take it anymore," said Slingerland, who has taught at Calvin Christian School since 2007. "I decided I couldn't just sit by and try to make the best of it in my own community, but I had a responsibility to try to improve the situation in the province for all Albertans."
Although the idea behind the bill was to promote safe and caring environments in schools, Slingerland said that Alberta Education collects information from every school in the province, and "consistently, we are above the provincial average in providing a safe and caring environment."
"We do that by reflecting our own community in ways that are responsive to our parent body and the needs of our community, and what Bill 24 did was remove the flexibility of different schools to meet those needs in our own way, and it basically said, 'Minister (David) Eggen can reach in, past locally-elected school boards, and he will decide exactly what the policy has to be, he will decide exactly what the solution has to be, with no flexibility, no room for debate, and that is not any way to run a democracy," said Slingerland.
"Local people need freedom to build institutions like schools that reflect their values and to do that in a way that's true to their own beliefs. So Bill 24 undermines much of that."
Voicing his support for Slingerland, former Little Bow MLA Ian Donovan, said that during his tenure as MLA, he would often seek advice from Slingerland in regards to school issues, as he would give "balanced" advice, laying out what different sides of the argument would think.
"He brings such a good value, and a good base, to what we need for a candidate to become the next MLA in this riding," said Donovan. "I know Marc will be an excellent MLA when he gets the nomination.
"I know he's one to listen — he's listened to me for more hours than he's probably prepared to talk about — but on other things than just school. Marc's a good friend, I'm just very thankful to be part of this, and I'll be more thankful then anything when we get the nomination, and we go to the next step from there."