M.D. of Taber continuing to deal with flooding aftermath
Posted on May 3, 2018 by Vauxhall Advance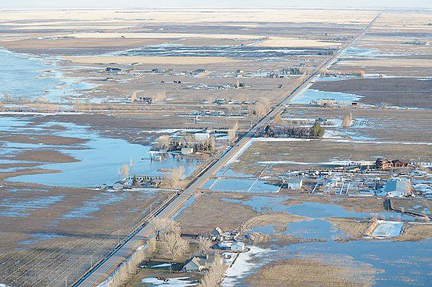 ADVANCE FILE PHOTO
By Cole Parkinson
Vauxhall Advance
cparkinson@tabertimes.com
As the Municipal District of Taber continues to deal with overland flooding and the effects of all the water, M.D. staff is formulating a game plan for moving forward.
During council's regular meeting on April 24, M.D. staff gave an update as to where they were with the restoration of infrastructure.
"We've started to look at the data that we've collected out in the field and it's quite a bit. As a matter of fact we have 724 logged concerns and issues. Right now we're sorting through that data to look at the damages, quantify the damages, evaluate the damages and come forward with a solid plan of action for council to show what the damages are so we can make decisions on the timelines, as well as if additional assistance is required," said Craig Pittman, public works superintendent.
While water certainly wreaked havoc on roads throughout the M.D., staff and council know it is equally true for farmers in the area.
With the amount of water on fields across the region many farmers were delayed in starting their season.
They also realize that in order to get farmers into their fields they will need to be able to access them from roads, with many in bad shape.
"If it is the only point of access, what we hope to do is give access. Whether it be single lane access or whatever we are able to do to make sure the functionality is still there for our ratepayers, that's one of our priorities right now," added Pittman.
Situations may be frustrating for farmers and the travelling public at large, but council realizes some access is better than none.
"It's not perfect, but it's access for now," said Reeve Brian Brewin.
Roads across the M.D. are in various conditions and staff is working tirelessly to fix the issues that present themselves.
Throughout the weeks ahead, graders will be running for most of the day to get roads back into safe driving conditions.
"We've been working the grader trucks from 7 a.m. to 7 p.m. the last couple of weeks, Monday to Thursday. We're trying to get caught up on some of those smaller washouts and we can address that. We've opened up another 10 miles yesterday and as we start to pick up on those portions, that will open up more access for people. We don't have anything completely restricted, at this point there are a few intersections and some chunks of land that people will have difficulty getting through with the water. In some cases they can't farm the land anyway just because it is under water," stated Jeremy Wickson, director of public works.
Even with it being the start to the farming season, staff has been focused on making access to houses their number one priority.
Focus will be shifted to those roads for land access as soon as possible but staff stresses patience in moving forward.
"There are some areas out there unfortunately some of the farmer landowners are going to have to make a detour to go around and that's directly for safety reasons. There are some culvert washouts that I believe you can't open up.They're going to have to be patient in some areas, there's just not enough time to fix some of it before they start working," said Jack Dunsmore, director of planning and infrastructure.
Another hurdle staff has had to jump over is the fact full evaluations of damages to infrastructure are still ongoing.
Around 20 to 30 per cent of the roads in the M.D. had been closed during the worst of the overland flooding, though the number has dropped quite a bit in the recent days.
"We are actively working on getting these roadways opened up and safe for the travelling public. In order to come with a game plan we still need to do some further evaluation. We're still travelling roads, collecting data and then we'll start prioritizing and using our forces to get those areas fixed," said Pittman.
Culverts are also seeing a big focus from staff.
While they don't have an official number of culverts in the M.D., they estimate there is well over 1,000.
"We're doing what we can to look at these areas of high flow to look at the culverts in our evaluations to determine if there has been erosion around the pipe," said Pittman. "There's thousands of culverts out there. We're in the process of collecting that data so we do have a quantifiable number associated to that."
On top of maintenance for all of the culverts, they have also had to buy several new ones.
"We've replaced anywhere between 300 or 400 in the last five years alone," added Wickson.
After the latest event, council also believes more culverts are needed in the future as flooding is always a concern come spring time.
"We also need to prioritize culverts, we need to put some more in over the next few years. It's a good time to recognize some points where culverts are needed," said Brewin.
One potential addition to culverts some residents have asked for are bigger culverts.
While staff was fine with adding more, they weren't in favour of adding bigger culverts.
"My opinion on that is, all in all, what happened out there was a lot of the culverts took the water, they just couldn't take as much as came down with snow in the ditches and all that.
Don't matter how big the culverts are in some areas," continued Dunsmore.
The impacts on areas downstream are the biggest concerns with larger culverts.
"The bigger you go, the more water that comes at the people downstream," said Dunsmore. "We have to remember what's downstream of the bigger culvert people always request."
"Sometimes holding it upstream is good," added Brewin.
While the M.D. have done all that they can during the state of emergency, Dunsmore says that this year's flooding has been difficult to get ahead of.
"This was an event, I don't care who you are, you couldn't have planned for it. There was some much water that came down at everybody, not just once."