M.D. flooding repair aftermath has price tag attached
Posted on May 24, 2018 by Vauxhall Advance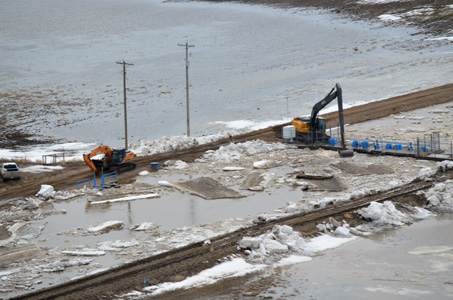 ADVANCE FILE PHOTO
By Cole Parkinson
Vauxhall Advance
cparkinson@tabertimes.com
As the Municipal District of Taber continues to combat the effects of overland flooding, they have shifted some of their focus to provincial funding to offset some costs that have been sunk into their efforts.
While the process has already been started by M.D. administration, consultant and former MLA Jack Hayden, was present in council chambers to provide assistance to their effort in securing some additional help from the Alberta government.
"We're probably in it for a couple million dollars and we were able to meet with a couple MLAs (Grant Hunter and Dave Schneider). I'm not 100 per cent convinced the province is going to come up with the funding," said Reeve Brian Brewin.
Rough estimations of damages are somewhere between $1 and $2 million dollars but staff still hasn't been able to do a full assessment on the damages across the entirety of the M.D.
Hayden was brought in to provide some assistance and he has already made contact with ministers in the Alberta government.
Though he has made contact, there is no guarantee the funding will come.
They did receive disaster recovery program funding back in 2011 under similar conditions, though.
"Usually disaster funding goes through Municipal Affairs so Derrick (Krizsan, CAO for the M.D) is already on top of that. I went and met with Brad Pickering, the deputy for Municipal Affairs, to talk about the funding. He (Krizsan) used the line that 'well there seemed to be money for Calgary and High River when they flooded, so we need to talk about this seriously'. In the meeting with Brad he said we'll have to take a look at what happened and what kind of damages but he wasn't real optimistic that there was any rush to be proactive on the funding. Having said that though, Minister Shaye Anderson actually called you directly during the flooding. They are aware of the situation and know that it's serious," said Hayden. "I also met with Deputy Minister Barry Day, who is (Alberta) Transportation. Barry suggested to me that you also send him a copy of whatever application you are doing."
With no guarantees of funding coming the M.D.'s way, council has tried to point out to the government they were on top of the overland flooding early on.
"I think one of the messages that we're trying to get out there is a lot of what we did was proactive. Had we not gone out there and opened up some of these canals and channels, without a doubt they would have went over. And then what would have been the cost?"
"I don't know what would have happened if St. Mary's River Irrigation District main canal would have breached and right now we're faced with a June or July startup for irrigation. We've got potato plants, we have a sugar factory and everything else that relies 100 per cent on irrigation," added Brewin.
During the entirety of the local state of emergency the M.D. have been working with neighbouring municipalities, including the Town of Taber and all three local irrigation districts.
On top of the municipalities and irrigation districts, the M.D. have been working closely with Horizon School Division.
"This has been a cooperation between irrigation districts, municipalities, probably almost unprecedented," said Brewin.
Taber Irrigation District have estimated about $1 million in damages while neither Bow River Irrigation or St. Mary's Irrigation have provided estimates to the M.D.
With how quickly the M.D. reacted to the flooding, they believe they cut the overall costs by a significant margin.
Had they not been so quick, the costs could have been a lot bigger.
"By us being proactive, I truly believe that we probably (cut it) to a tenth of what it could have been worth and that's not even talking economic downside of it. Did we have a few issues? Yes, but we had the irrigation districts in there and they figured they will be able to supply water in two to three weeks, which is huge for us," said Brewin.
As the local state of emergency continues in the M.D. they hope to secure funding sooner rather than later.
Hayden says that including a number of different ministers in a letter could be of real benefit.
"I think it might be worth the while to do a letter and include a number of ministers because of the cooperation with the irrigation districts. I would also suggest you put a copy to Shannon (Phillips, Minister of Environment) because it's her backyard and she knows of some of the battles that have been going on down here."