New built cabins helping with Bible camp
Posted on June 28, 2018 by Vauxhall Advance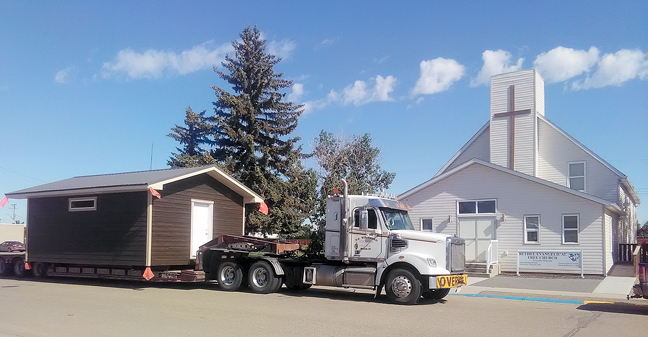 CABIN FEVER: Two church congregations have helped with the construction and transport of two cabins as part of the Vision 75 campaign for the Southern Alberta Bible Camp. PHOTO SUBMITTED
This past winter, Vauxhall Mennonite Brethren Church and the Bethel Evangelical Free Church of Vauxhall had the privilege of constructing two cabins for Southern Alberta Bible Camp (SABC).
These cabins were built as part of the Vision 75 campaign at SABC, which involves making space for another 448 campers every summer. The cabins are the initial two of six being built by member churches across southern Alberta.
SABC is operating at capacity and has experienced record attendance numbers over the past three summers. On top of that, there are hundreds being turned away because of a lack of space.
The Vision 75 campaign will address the many aspects required to add these additional campers.
The MB Church and the Bethel E-free Church constructed the two structures at their locations within the Town of Vauxhall over the past few months. The cost of building materials and labour for these cabins were all provided by those attending the aforementioned churches.
Constructing the cabins included framing the structure on a steel I-beam skid, installing windows and doors, electrical, roofing, siding, insulating, and flooring. The process occurred over many workdays, which involved volunteers of all ages, from children, adults, through to grandparents.
The cabins were then transported to SABC on Thursday, June 14, via a 50-ton crane and semis with drop deck trailers.
Southern Alberta Bible Camp is a youth-focused Christian camp whose purpose is to challenge, encourage and inspire campers spiritually and physically to help equip them for life and to develop Christian leadership in young adults.
An invite has been made to celebrate 75 years at SABC on Saturday starting at 2 p.m. where everyone is welcome.
The event is free with camp activities, music and fireworks. The 75th anniversary celebration takes place at Southern Alberta Bible Camp. See details and directions at http://www.sabc.ca/events/celebrate75.