M.D. council looking to mitigate future overland flooding
Posted on July 12, 2018 by Vauxhall Advance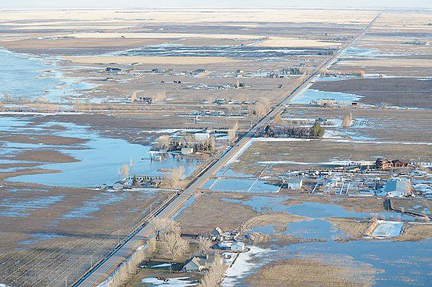 ADVANCE FILE PHOTO
By Cole Parkinson
Vauxhall Advance
cparkinson@tabertimes.com
As the Municipal District of Taber continues to game plan to mitigate further potential floods in the future, M.D. staff has been busy working on numerous different projects.
During the M.D.'s regular meeting on June 12, councillors were informed on a drainage study revolving around a few different high impact flood areas across the region.
With repairs for this spring's flooding still on-going, staff has been doing their best to nail down a few of the areas in the M.D. that would benefit from a stormwater study.
"We sat down with staff and came up with some of the hot spots from this last flood we had over the spring. We identified about four different areas that we think should be looked at to do some studies on stormwater drainage, melt, rain, whichever. We do have the opportunity to get something done, there is funding out there under the Community Resiliency Program to help do some of this but I believe that is a September deadline for those, so it's a fairly short timeline," said Jack Dunsmore, director of planning and infrastructure for the M.D. "We would have to have something similar to Township 8 Range 16 (drainage project). An engineering report, study, cost estimate to get the process started anyway so we do have a fairly tight timeline."
The studies would offer staff and council some options for what could possibly be done to minimize any flooding events that could potentially impact the M.D. again in the future.
M.D. staff believes that getting an engineering consultant contracted to do the studies would be a step in the right direction to help them mitigate a number of issues they face during flooding from snowmelt and stormwater.
Four areas, Stafford Lake, east of Taber, north of Taber and north area of the M.D. near the Bow River, have been highlighted so far, with work hoping to get started on half in the near future.
"Out of the four different areas, we have talked to the Stafford Lake people who have had issues down there and that is something I would recommend looking at to get something done as soon as possible. They will all take a water act approval to get some of this done," said Dunsmore. "The one east of Taber is another hot spot area. The other one up by section four, that's one that has been identified by some landowners in your area, Tamara (Miyanaga, M.D. Coun.). That's something we could possibly look at. We have had one landowner come in to sit down and talk with us for quite awhile. Some of the people on the one south and east of Taber are definitely interested in working with the M.D. of Taber to try and improve some drainage."
The furthest north project has issues related to ditches being filled in, which leads to further drainage issues.
"The furthest one up north is a hot spot area up in the Bow River Irrigation District and there was some substantial drainage issues up there. Some of the issues come by the ditches being filled in in all of the areas, they used to take stormwater for drainage and now they aren't there anymore. There are several areas and several issues attributing to this but without getting something from an engineering consultant, we would not be able to get any real chance of government funding," continued Dunsmore.
Prior to this discussion, $100,000 had been set aside for future drainage studies.
While there is money available to move forward, Dunsmore didn't have a cost estimate without any of the engineering done.
Even with money set aside for these types of projects, there are still opportunities to get funding which the M.D. hopes to acquire.
Prioritizing the areas and getting a report together is needed in order to apply for funding under the Alberta Community Resiliency Program.
"It's not going to go away. This is going to continually come back on us, so if we can get some kind of funding to help us, it makes sense to me," said Reeve Brian Brewin.
Dunsmore agreed finding ways to finance the projects would be the best course.
"Without funding, some way or another, it's too costly other than putting it back onto the residential owners. We've tried that before on Township 8 Range 16, we kind of got shot down fairly quickly. The opportunity is there, it's just a short window," he said.
Applications for the Alberta Community Resiliency Program has a deadline of September 30.
Dunsmore also recommended moving forward right away on two of the four, with work being done on the last two shortly after.
It would also afford them a chance to get a good representation of what needs to be done at the two they would be applying for.
"I wouldn't try going after all four of them at this point. I would try to prioritize a couple of them and get started. Going after all four of them right now before September is too much of a chore," said Dunsmore.
"My recommendation from my point of view would be Stafford and the one just east of Taber initially. And continuing work on the other two as well, of course."
Of the four, the Stafford Lake area was hit the hardest throughout the overland flooding.
Talks with nearby landowners have already begun and everyone is in agreeance that something needs to be done to avoid this kind of event from happening as bad as it did.
"The one place that did get slammed pretty hard has had water in there before from rain. You could have something in there developed and designed to possibly take the majority of that water that came down, there would still be some that got by. The key to that whole Stafford Lake one is to slow the water down up on top. We have talked to the landowner of the land on top and they are more than willing to work with the M.D. of Taber to do something to slow down and retain. We talked to the local engineer out there and he explained the whole concept," explained Dunsmore.
Looking ahead though, it's hard to imagine an event as severe as this years.
"What we just went through, the 30 plus days, was far and above your normal," said Dunsmore.
Council voted unanimously for staff to move forward with the projects and applications for funding.