Taber Food Bank seeks assistance with area donations
Posted on July 19, 2018 by Vauxhall Advance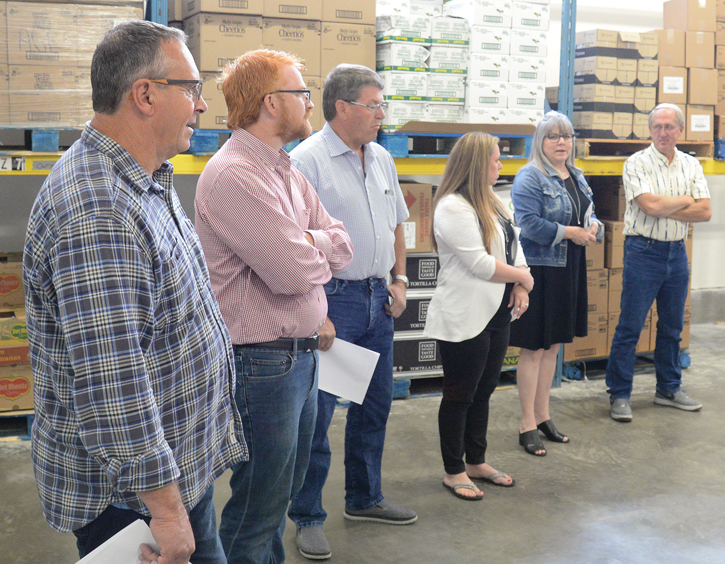 COUNCIL TOUR: Municipal District of Taber councillors (from left to right) John Turcato, Leavitt Howg, Murray Reynolds, Jennifer Crowson, Tamara Miyanaga and Merrill Harris all attended a tour of the Taber Food Bank earlier this month. ADVANCE PHOTO BY COLE PARKINSON
The Taber Food Bank is continuing to try to bring awareness to the issues they face in regard to low stock.
While many people think of a food bank as only a place where people in need received food products, they also provide those with general products such as toilet paper, hygiene products and other household items.
In fact, these types of items are often the lowest stocked and are usually the most requested.
So far in 2018, from January to May 31, they have given out 711 total hampers with an estimated cost of $142 per month.
They served 1,109 adults for an average of $222 a month and 588 kids for an average of $118 a month.
In 2017, they handed out a total of 1,778 hampers with an average of $148 a month while serving 2625 adults and 1,429 kids for $218 a month and $119 a month, respectively.
Food insecurity also continues to be a problem across Canada.
According to the Taber Food Bank, thirteen per cent of Canadians live in a state of food insecurity, which means they do not have reliable access to adequate amounts of safe, good-quality, nutritious food.
The root cause of hunger in Canada is low-income which consistently affects more than four million people at any given time.
Over 850,000 Canadians turn to food banks for help with more than one-third of them being children and youth.
The Taber Food Bank currently serves not only Taber but surrounding areas as well.
For areas served, Taber is at 80.72 per cent, Warner is 2.45 per cent, Coaldale is 1.58 per cent, Enchant is 1.01 per cent, Vauxhall is 6.62 per cent, Lethbridge is 6.62 per cent, Grassy Lake is 1.15 per cent and Bow Island is 0.72 per cent.
The Taber Food Bank relies on donations, whether they be food or monetary, from the community.
Throughout the year, they hold several food drives and several fundraisers to try and help offset the times when they run low.
In 2017, they received 437,064 pounds of food for an average of 36,422 per month.
In 2018, through May 31, they have received 122,271.5 for an average of 24,454 per month.
Volunteers are also essential for the food bank.
Throughout 2017 they had 2,350 total hours recorded, though they state that there are many more that didn't.
In 2018 through to May 31, there has been 2,281.
They also share food with organizations around Taber and other communities including Safe Haven, Kid Zone, Central School, Streets Alive, Feed the Need, Lethbridge Soup Kitchen, the Taber Public Library and several other food banks.
Since May 31, 2018, the Taber Food Bank has already shared 11,939 pounds of food.
If you need to use the Taber Food Bank, you are encouraged to set up a meeting to work out the details.
All clients who meet with the food bank staff are entered into their Link2Feed System which allows them to effectively to collect client data and create personalized reports on their demographic.
In order to access the Taber Food Bank, a government ID, proof of income and a list of their eligible expenses. All information then goes into the system and if a client is left with less than $500 ($100 per child) for the remaining month, they are eligible for a hamper every 30 days.
There are cases (terminal patients) where hampers are accessed every two weeks.
To volunteer at the Taber Food Bank, you can get in touch with at 403-223-1833, by email at taberfoodbanksociety@gmail.com or visit at 5512 48th Avenue.