Alberta kicks in for rural busing
Posted on August 2, 2018 by Vauxhall Advance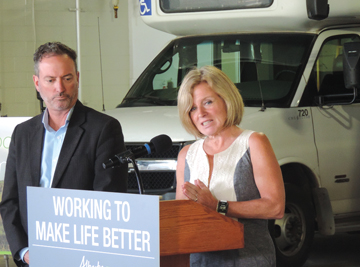 TRANSPORTATION NEEDS: Premier Rachel Notley describes a new provincial pilot project last week that will see a bus route established between Medicine Hat and Lethbridge to serve communities along the No. 3 Highway this fall. Medicine Hat Mayor Ted Clugston (left) said the route could provide low-cost travel and his staff will administer the program and accept private sector bids to operate the route. ADVANCE PHOTO BY COLLIN GALLANT
By Collin Gallant
Southern Alberta Newspapers – Medicine Hat
The province will put in $700,000 to set up a privately-operated bus service between Medicine Hat and Lethbridge, with stops at nine towns on Highway 3 as well as Redcliff, Premier Rachel Notley announced last week.
The two-year pilot project, announced at the City of Medicine Hat's bus barns during the premier's visit, also involves a similar project near Red Deer.
Two other programs in the Grande Prairie area and Camrose were laid out in June, and this month Greyhound announced it would end Western routes in October.
Notley said that while the Alberta Transportation program was announced last spring, it will form the basis of a larger strategy to address gaps left by Greyhound.
"It's very concerning for us as a government," said Notley. "Many Albertans in smaller communities are frustrated with a lack of public transportation, and that's led to a sense of isolation."
The Highway 3 route will expand a public transportation option to 40,000 rural residents, according to a release, including college students and seniors who may need to travel for medical appointments.
In the meantime, premiers in Western Canada and Ontario have asked Ottawa to work with Greyhound to extend its Oct. 31 exit date, while a larger strategy is developed.
Since transportation is a federal responsibility, she said, developing routes between Alberta and Saskatchewan is difficult.
Details of the regional service still need to be determined but could see three trip daily services on weekdays begin in November, according to transportation officials.
Shuttle and coach service along Highway 3 has proved a tough go. Greyhound cut the route years ago to cut costs, and a private operator closed its trips in 2017.
Mayor Ted Clugston said Medicine Hat, which wrestled last year with a cost-cutting plan for transit inside the city, would not contribute financially to the pilot, but he sees value in exploring more transportation options in the region.
"The private sector has had trouble making a go of it, so we're not sure of how well it will work," said Clugston. "This government has shown a lot of support for public transportation."
Local city staff will prepare a request for proposals from private sector operators to run the route that would likely be based at the downtown transit terminal.
Various stops for busing are planned for Seven Persons, Burdett, Bow Island, Grassy Lake, Taber, Purple Springs, Barnwell, Cranford and Coaldale.
It will also track back to Redcliff, where talk of securing regular Medicine Hat Transit routes has circulated for years.
Redcliff Mayor Dwight Kilpatrick, who was on hand for the announcement, said the inter-city service isn't the continual municipal service many of his citizens would prefer.
But it marks progress on a lingering issue.
"We've always said that we need bus service in Redcliff and this will be a good test," said Kilpatrick.
Bow Island Mayor Gordon Reynolds said volunteers now run a service to help seniors and those with medical appointments reach destinations in major centres.
"The need in our community is mainly for seniors," said Reynolds. "We'll be part of the network and that's terrific. Frequency and cost will be the things that build ridership, and we'll certainly help promote it."
Cypress County Reeve Richard Oster said it's a new service for Seven Persons residents, but he was awaiting more details.
In a release, Lethbridge Mayor Chris Spearman applauded the plan that addresses "a lack of public transportation between communities along this busy route."
Al Kemmere, president of the Rural Municipalities of Alberta organization, said transportation service links rural areas to other much needed services.
"These are four unique situations," said Kemmere in a press release. "We can't have a situation one pilot and that's the solution for everyone… and we have to be prepared to see what works and what doesn't."