Koersen settling into new position with health foundation
Posted on August 9, 2018 by Vauxhall Advance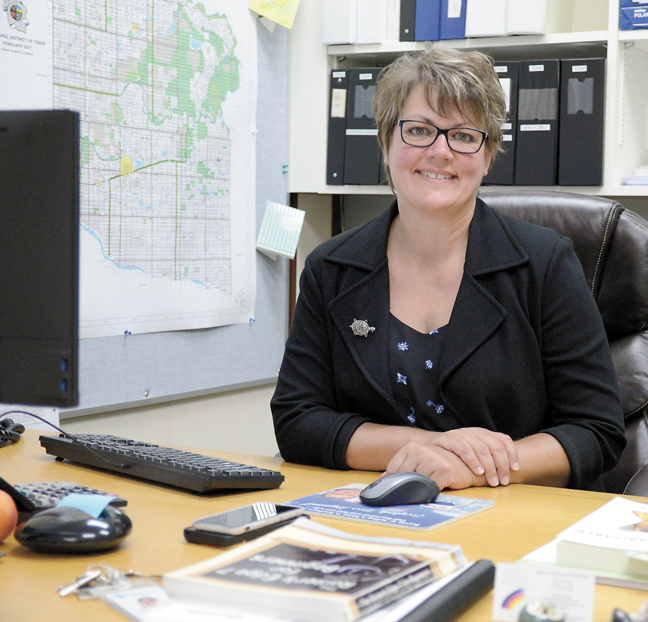 HEALTHY WORK ETHIC: Vicki Koersen was officially announced as the new fundraising co-ordinator for the Taber and District Health Foundation in late July. ADVANCE PHOTO BY GREG PRICE
By Greg Price
Vauxhall Advance
gprice@tabertimes.com
Vicki Koersen has moved on to her next challenge in helping her community and surrounding areas.
Koersen has taken on the role as fundraising co-ordinator for the Taber and District Health Foundation, replacing the long-time service of Dave McKee who has decided to retire, after being involved in the foundation since 1996.
"I used to work in the city (school district) and I don't work full time now," said Koersen, who previously served as the Taber Food Bank Society president, having been involved in the organization for eight years, and added family dynamics made the position more appealing to be closer to home. "When they approached me, it made for a really good fit. I have more time for my family and other organizations I volunteer with, with increased flexibility. I've been in this town for 11 years and I have volunteered from the get go. This is another way to give back to my community."
The Taber and District Health Foundation has been busy doling out its funds to improve health-delivery services in the Taber and Vauxhall areas.
Since the invent of the Taber and District Health Foundation 'Share in the Experience' Telethon which is entering its 24th year in 2018, it has raised over $6 million for its health centre.
"That's for things like the hospital, Linden View, Clearview, Vauxhall Prairie Rose — all that has benefited from the money that has been donated through the telethon and the charity golf tournament. The charity golf tournament this year raised the most it has ever raised at $45,000," said Koersen. "That went towards an AER (Automated Endoscope Reprocessor). Those are used to decontaminate colonscopes from colonoscopies. They do about 697 scopes every year which is to check for colon cancer and those types of things. That machine was $89,000 for the reprocessor — this was Year Two of a three-year commitment to raise funds for that."
Other recent purchases have included four stryker beds and mattresses, software for radiology, a TV for the lab, acute monitors for the ER, and bilirubin metres for nurses. The Taber and District Housing Foundation approached the health foundation to see if they could help out with tubs at Clearview Lodge and Prairie Rose Manor.
"All of that comes to $136,468.61. That is just since I started transitioning to the position back in February and that's not all of it. That's just recent memory of what we have been purchasing," said Koersen. "The money people are donating, it's going to many different things to improve our health care."
Koersen noted she has some big shoes to fill, taking over from McKee who helped the Taber and District Foundation realize its potential in aiding healthcare needs in rural Alberta.
"He was here for a long time doing many wonderful things. He knows the ins and outs. The transition hasn't always been smooth. Dave has all that knowledge in his head and I don't have that knowledge," said Koersen. "But a new challenge is always a good thing which is what also appealed to me. I like to make relationships with people in my community, but this is a whole different way in doing that. Unlike the food bank, it's a different type of clientele with people accessing our healthcare and for different reasons."
Community fellowship has been in Koersen's blood since her days in Cremona, just north of Cochrane, 20 years ago. Koersen volunteered with Calgary Community Kitchen and was the rural development co-ordinator for outlying communities.
"We started up community kitchens and I was their person who would do it out in the country. We did spots in Airdrie, Carstairs, Cremona. I started a bread run to Calgary. Instead of them throwing it away, I would have it in my garage for people —almost a mini food bank in my garage years ago," said Koersen. "I've volunteered with FCSS, swim clubs. I've always done a bunch of things."
With Koersen officially announced in her new position in late July, she has noticed there are many misconceptions when it comes to the overall funding made available by the province for healthcare.
"The misconception is that Alberta Health Services has a big pot of money and they are doling it out where they see necessary. However, when you get into rural healthcare, you want to specialize for your community," said Koersen.
"That may not be a priority for Alberta Health Services who sees other projects happening in other communities. So if you have a limited amount of money for specific projects and you have communities wanting to fundraise for specific equipment, that is where foundations come in. We need to fill that gap, because what we want in our community may be completely different than say Lethbridge, Calgary, Bow Island or Raymond. We commit to doing this for our community."
Taber and District Health Foundation keeps constant communication with healthcare professionals in the area to see where their greatest needs are for its rural residents.
"We work with the site manager, we work with the doctors and the other staff to find out what their immediate needs are," said Koersen. "We have been finding out there is equipment that is 30 years old, equipment that was brought in when we first built the hospital, but it needs to be replaced. It still works, but not working as well or the technology has changed. We need to upgrade some systems and that's where the fundraising comes in to help our people."
As Koersen continues to become more comfortable in her new role, she noted she feels like her feet are completely under her after the 2018 telethon in early November. She will have some new challenges to the telethon that her predecessor did not have.
"The telethon has to change this year. Shaw is unable to continue their service for us, they have had to downsize, and because of that, they have not been able to do some of the community events they do," said Koersen. "I can't say exactly how it's going to be. What is going to come up is different, but the same with all the great work it does. It's all in the works. It has changed from a weekend, to a weekday."
Koersen is very proud and happy to be in her new position as fundraising co-ordinator for the Taber and District Health Foundation. She encourages everyone to drop by for a visit to keep the lines of communication open. The foundation office is open Tuesday to Thursday from 8:30 a.m.-4 p.m.