Two-vehicle collision on Highway 36 claims life of male driver
Posted on August 16, 2018 by Vauxhall Advance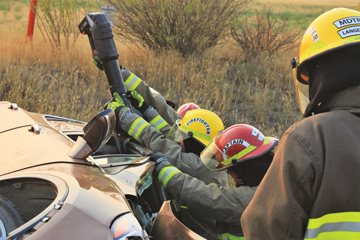 ON CALL: Municipal District of Taber firefighters were on scene early last Friday morning where two vehicles collided on Highway 36. PHOTO SUBMITTED BY GREG SCHNEIDER
Shortly after 6:40 am on Friday, August 10, 2018, Taber/Vauxhall RCMP members along with the Municipal District of Taber Fire Department, M.D. Community Peace Officers and EMS attended to the scene of a two-vehicle collision on Highway 36, approximately six kilometres north of Taber, Alberta.
An SUV was travelling northbound on Highway 36 when it collided with a pickup truck travelling southbound on Highway 36.
The collision occurred between Township Roads 102 and 104 north of Taber, and both vehicles had only one occupant.
The male driver of the southbound pickup truck was initially airlifted from the scene by HALO helicopter due to life-threatening injuries but unfortunately succumbed to his injuries and was pronounced deceased en route to hospital.
The driver of the SUV was transported to hospital in Lethbridge with serious injuries.
Highway 36 was closed for several hours due to the collision and investigation. A collision analyst attended the scene.
All contributing factors into the collision are being considered and the investigation is ongoing.