M.D. council updated on Cornfest
Posted on August 23, 2018 by Vauxhall Advance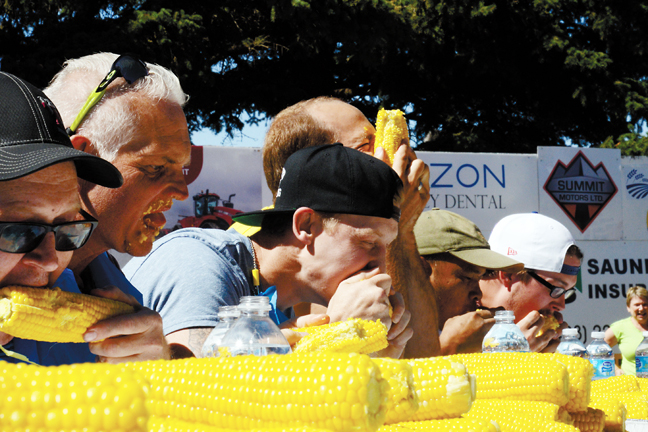 ADVANCE FILE PHOTO
By Cole Parkinson
Vauxhall Advance
cparkinson@tabertimes.com
With Taber's Cornfest kicking off tomorrow, the Municipal of District of Taber was given a brief update on how things were shaping up for this year's edition.
During council's regular meeting on August 14, Taber and District Chamber of Commerce board member Tom Machacek was in council chambers to provide some additional information.
In regard to this year's setup, he said that things were getting started a bit earlier than in years past.
"We're going to start setting up on Wednesday," stated Machacek. "We used to always set up on Thursday but everything's getting earlier and earlier now."
Festivities this year will be fairly consistent with prior years. The Third Annual Cornfest Parade will kick things off on Thursday at 4 p.m., while a variety of different musical acts will be hitting the Cornfest Stage starting Thursday and throughout the entire weekend.
"It's getting tougher to find those big acts and big attractions. The motorbikes were one, that Dr. Von Houligan is coming back and setting up his big tent again. He's like a one-man circus act. It should be good," added Machacek.
Friday will see the vast majority of weekend activities kick-off as Dr. Von Houligan will begin performing, the Angels in the Outfield slo-pitch tournament will begin, and the Cornfest Bull-A-Rama goes down.
Saturday's activities meanwhile will feature the 26th Annual Town of Taber Fun Run, Gear Lords Car Club Show N' Shine, and the Corn Eating Contest. Council had inquiries into how many people the chamber was expecting during the entirety of the festival.
"I don't know. The one year, when the car show was still downtown, they took a picture from a roof and they had a block of people. They counted 1,400 people on that block and that was just at the car show and it wasn't even the whole car show," said Machacek.
For overall numbers though, they estimate they bring in around 8,000 or 9,000 everyday during Cornfest.
"We think it at least brings in our population every day and that's the town's population so 8,000 or 9,000. I think that is fairly accurate," answered Machacek. "To be normal, it would be to pull in our population over the whole three or four days and I think we do that almost every (Cornfest) day."
"I wouldn't be surprised if it wasn't more, honestly. I was thinking 9,000 or 10,000," said Reeve Brian Brewin.
Another big factor touched on by council was the dedication of all the volunteers that help make Cornfest happen each and every year. While not always at the forefront of attendees, council was sure to give their thanks to each and every person who donates their time to Cornfest.
"It's one of those things that you don't realize how much work goes on behind the scenes. All of the stuff doesn't just happen," added Brewin.
For further information on Cornfest, check out The Taber Times' annual Cornfest section.