Projects aplenty for M.D. of Taber
Posted on September 20, 2018 by Vauxhall Advance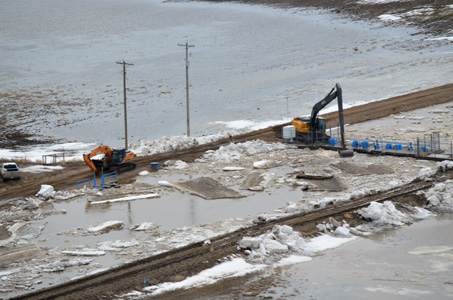 ADVANCE FILE PHOTO
By Cole Parkinson
Vauxhall Advance
cparkinson@tabertimes.com
As summer comes to a close, the Municipal District of Taber has gotten a plethora of results back for tenders, requests for quotes and requests for proposals.
During M.D. council's regular meeting on August 14, councillors were updated by staff on some of the numbers they received for upcoming work around the region.
"On August 3, we opened four quotes for the Enchant industrial lot servicing which includes servicing for sanitary, sewer and water and we received four quotes back," said Craig Pittman, director of planning and infrastructure.
Ground Tech Enterprises submitted a quote of $185,650 plus GST, RCB Excavating submitted for $397,282.77 plus GST, Porter Tanner Associates submitted for $407,700 plus GST and F. Miller Excavating submitted an incomplete quote based on mandatory requirements of the terms of service.
The construction would be required to be completed prior to November 30 of this year and staff recommended awarding the work to Ground Tech Enterprises.
A motion was made to approve the staff recommendation and was passed unanimously.
The M.D. also received quotes back for their Township Road 11-0 culvert replacement.
"This is a result from the flood from the spring, so it is one of the projects on the initial list. It's the correction line north of Taber, about a mile east of Highway 36," stated Pittman.
Two quotes were sent to the M.D. from In-Line Contracting Partnership for $44,750 plus GST and Syn-Core Directional for $84,589 plus GST.
"We did some cost comparisons for open cutting for this culvert replacement versus a bore underneath the roadway. It came in a little bit cheaper than our initial investigation to do a bore," explained Pittman, who also said the lower cost for boring was a bit surprising.
The original estimate was set at $51,750 including engineering.
The staff report also stated funding would be mainly through the municipal budget but the project was included in the application for the Disaster Funding Program.
With council questions about the quality of the contractor, Pittman was confident in their abilities for this project.
"They did some of the work underneath Huckleberry, so we deem them to be a competent contractor," he said.
A motion was made to award the work to In-Line Contracting and was approved unanimously.
Further work in the M.D. was the result of this year's flooding in the spring and they sent a request for proposal for work at Stafford Lake Resort.
With how the current drainage system is set up, it couldn't handle the overland flooding that occurred during the spring as water ran through the coulee, over the road allowance and through residential property.
"There is a pile of water that comes down that coulee from three different directions. We sent it out to two different firms for proposals," explained Jack Dunsmore, former director of planning and infrastructure and M.D. contract worker.
The RFP was sent to two consulting firms, ISL Engineering and Land Services ($37,929 plus GST) and Stantec ($63,312 plus GST), to come up with a plan of how best to approach future flooding issues in the area.
With the work needing to be done due to flooding, council questioned if additional funding would be available for the project with the biggest issue being timing.
"We could apply for funding to get some of this done throughout the Community Resiliency Program but that will take time," added Dunsmore.
Meanwhile, staff did feel there would be a chance of getting funding through the Disaster Funding Program.
"We may be able to get a portion done with all of the erosion the water did coming down through the coulee but by making the enhancements and improvements, they are not fundable under the Disaster Program," said Dunsmore.
Staff had two options for council to proceed with which was to either do nothing at all or to start the engineering based on the proposals submitted.
A motion was put forward to start the engineering work and was passed unanimously.
After a request from the Enchant Senior Centre for assistance in repairing a damaged sidewalk, staff had received two quotes.
Murray Bexte Construction came in at $7,970 plus GST and Horizon Contractors at $17,376.
The reason for such a big gap between bids was due to how each contractor was going to tackle the project.
"There's a slight difference in scope of work which is why you are seeing a big gap in cost there. One is including a core out with base gravel going in while the other is using native material and compacting it to put it in place," said Pittman.
A motion was moved to award the work to Bexte Construction and was passed unanimously.
Eight tenders were received in regard to bridge file 80155/ Bow River Irrigation District drop 5 replacement (Enchant area).
Tender totals came from VHL Construction $2,478,873.75 including GST, Volker Stevin Highways $2,819,106.28 including GST, Everest Construction Management $2,894,706.50 including GST, Degraaf Excavating $3,054,137.50 including GST, BYZ Enterprises $3,089,130 including GST, Nitro Construction $3,297,960 including GST, DCL Construction Services $3,999,198.75 including GST and CWP Constructors $4,717,591.13 including GST.
For the M.D.'s cost though, they would be on the hook for 25 per cent of Schedule B costs as the other 75 per cent would come from the Strategic Transportation Infrastructure Program.
Looking at VHL Construction, which came in as the lowest bid, Schedule B costs would be $546,288.75, though additional costs would come forward.
"As we go into Schedule B, we would be looking at $546,288.75. When we include GST, engineering and there is talk of a percentage of mobilization for the contractor, we end up around $635,000," stated Pittman.
Staff also say the tender is ready to go and both BRID and the M.D. would need to sign off on the work.
A motion was made to accept the tender on the condition that BRID does as well.
The motion was unanimously approved.
The last of the tenders received by the M.D. of Taber was around the Hays/Grassy Lake paving projects which were originally put off due to the flooding but were brought back for 2018 due to MSI allocation.
"We decided to put these two projects together to get better pricing based on quantities," added Pittman.
Two tenders came in at $1,043,220 excluding GST from Brooks Asphalt and Aggregate and $1,207,077.50 excluding GST from McNally Contractors.
"Our engineer estimates were $1.373 million, so a bit below engineer estimates which we were very happy about," stated Pittman. "It's always a bit of a gamble on late tendering processes but it was a good competition. We had three contractors at our pre-bid meeting and I feel this is a very fair price."
With the projects now intertwined, Deputy Reeve Merrill Harris wondered which area would be more expensive or if the financials were split right down the middle.
While Dunsmore and Pittman weren't entirely sure how the financials were split, they had an idea of the amount of work needing to be done in both hamlets.
"There's more work in Grassy to dig the main street down and rebuild it back up," answered Dunsmore.
"There would be more asphalt in Hays," said Pittman.
Dunsmore was also surprised with the numbers that came in for the paving projects as prices are usually higher come this time in the summer.
With the majority of tenders for paving projects going out in late winter/early spring, he was pleasantly surprised by both tenders.
"I think you got very fortunate tending this late in the season getting those kind of prices," he said.
The contractor would then be required to finish the work before October 31 of this year.
A motion was made to award the work to Brooks Asphalt and Aggregate and was approved unanimously.
Coun. Leavitt Howg was absent from the meeting.