MP Shields discusses rural crime
Posted on September 27, 2018 by Vauxhall Advance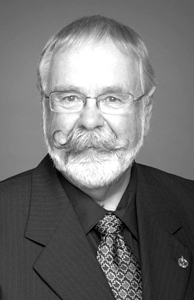 Bow River MP Martin Shields
By Cole Parkinson
Vauxhall Advance
cparkinson@tabertimes.com
As rural crime continues to be a hot button issue throughout the country, the Municipal District of Taber was able to get a few updates from Bow River MP Martin Shields.
With Shields in council chambers during their regular meeting on September 11, they had a chance to ask a few questions in regard to rural crime and what has been happening at a federal level.
Shields has been to several rural crime roundtable discussions across the region to help identify concerns in the area.
"The RCMP, from what I've learned in these meetings, are understaffed. Their detachments are not staffed fully," said Shields.
He stated sick leaves, maternity and not enough recruits to replace departing officers as reasons for the low staffing levels in detachments.
While the Taber/Vauxhall detachment is at full staffing levels and even running surplus members at times, according to Sgt. Gord Yetman, many others across Canada are not.
Across Canada in May 2017, there were 69,027 police officers while only 18 per cent of those were employed by the RCMP, according to Stats Canada.
"That's a problem they have in the sense of filling that manpower that they need for the position available. They are running about 85 per cent nationally in filling their positions," added Shields.
Council also pointed towards the judicial system for reasons why rural crime continues to see big numbers, especially with repeat offenders.
"We seem to have a revolving door, a guy could be caught today and by this evening he is doing it again," said Coun. John Turcato.
Shields has noticed the same thing and highlights the fact court dates are so far apart, it gives the offender plenty of time in between to go out and commit more crimes.
"That's the problem, they get charged and out the door they go. They aren't going to get convicted because the court date is so far down the road you can do more robberies in between that court date," he said.
Shields also pointed out the number of people entering the court system for the first time continues to grow.
With the added amount of work to be done with the continuous flow of new offenders, it is hard for the judicial system to keep up.
"They can't deal with the number so they make a deal and get them out on bail," continued Shields.
While the number of court cases is increasing, Shields points to the lack of judges as another big issue for the judicial system.
In Alberta as of September 1, 2018, there are 18 total Court of Appeal judges and 92 Queen's Bench judges federally appointed with four vacancies and seven vacancies respectively, according to the Office of the Commissioner for Federal Judicial Affairs Canada website.
It also states they had 997 judicial applications received from October 2016 to October 2017 with 129 of them being highly recommended.
"The number of judges that are being appointed are not even replacing the number that is retiring. We have a problem that we don't have enough judges and the support staff that goes with them," said Shields.
While not as public as it is in the United States, Shields also brought up amendments to Bill C-71 which is around acts and regulations in relation to firearms.
The amendments to the Firearms Act comes in two parts which deal with a variety of things.
Part one, among other changes, includes removing the five-year period that applies to the mandatory consideration of certain eligibility criteria for holding a license, requires, when a non-restricted firearm is transferred, the transferee's firearms licence be verified by the Registrar of Firearms and that businesses keep certain information related to the transfer and to remove certain automatic authorizations to transport prohibited and restricted firearms. Part two, among other changes, revolves around restoring the application of the Access to Information Act and Privacy Act to the records related to the registration of non-restricted firearms.
Shields wasn't a big fan of what the federal government was putting forward in regard to firearms moving forward.
"None of us are in favour of illegal weapons for illegal purposes, rural crime for example. The piece of legislation out there, as far as we read it, has nothing to do with illegal weapons and illegal crime. If you use a weapon for illegal crime, there should be a penalty for that, and severe," said Shields. "This particular government doesn't view it that way."