Retlaw 4-H club off to busy start
Posted on November 15, 2018 by Vauxhall Advance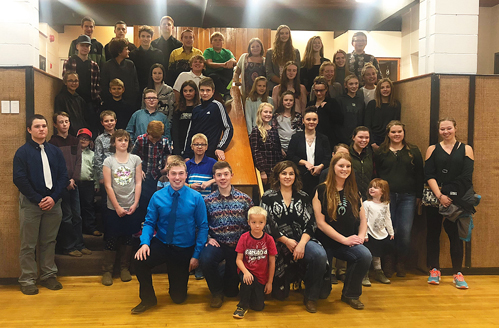 GROUP PICTURE: Members of the Retlaw Prairie 4-H Beef Club at a regional celebration at the Taber Community Centre Auditorium. ADVANCE PHOTO SUBMITTED
By Chelsey Mills
Club Reporter
The Retlaw Prairie 4-H Beef Club held its re-organizational meeting on Oct. 1 at St. Joseph's Catholic Church Hall in Vauxhall.
This year we are offering beef, sheep, horse and pheasant projects. We have 28 registered members and are looking forward to a great year.
Members and leaders of our club were recognized for their accomplishments at the regional level. Two of our leaders, Dorthea Mills and Jodi Howg, were awarded their five-year certificates. Horse Project members Cody McClelland (Senior), Cheyenne Gamache (Intermediate) and Megan West (Junior), each received first place for their record books in the Regional Horse Record Book Competition. Other members were highlighted for regional judging, 4-H scholarships and for participating in the Farming Smarter Conference. It was a great night of recognition and a wonderful supper.
Our beef project members weighed in their steers Nov. 3, 2018 at South Wood Stock Farms. We weighed in 10 steers, two heifers and a club spare. The steers all looked fantastic and we are off to a great start. Special thank you to Ryan Van Hal for the use of his facilities and for helping us with our weigh in.
Our club reps were present at the Remembrance Day Ceremony to lay a wreath on behalf of our club. Katherine Delanoy, Vane Ferguson and Jackson Wetherelt were on hand to represent Retlaw Prairie 4-H Beef Club.
Our horse project had their first ride and all members were leveled based on their experience and riding ability. Their next ride will be Nov. 17 at the Taber Agri-Plex from 1-3 p.m. The horse project is also selling Springbank Cheese as a fundraiser to cover the cost of their rides at the Agri-Plex. If you are interested in buying some cheese, please contact our general leader, Dorthea Mills at 403-894-8322 and place your order before Nov. 19.
Members from our club will be competing at the 4-H Consumer Decision Making Competition. Every day we are faced with countless decisions such as what we are going to eat, wear, and listen to. Consumer Decision Making helps 4-H members learn about what to consider when purchasing consumer items so they can make educated decisions. Explaining your choice and the reasoning behind it is also a critical life skill. This year there is also a Provincial Competition at the end of November at 4-H Centre at Battle Lake. Good luck to all our members who are participating in these events.
Our club will be donating $5 per member to the Vauxhall Foodbank to help to stock the shelves. Our members also voted to Adopt a Family from the Vauxhall Foodbank this Christmas instead of doing a gift exchange. Each member will bring $20 (the amount they would have spent on a gift exchange) and we will pool our money together and buy Christmas dinner and small gifts for a Vauxhall family who is in need this Christmas. Our members will meet and help wrap the gifts and organize the food for our adopted family. Our members put out a challenge to other families, groups and clubs to consider donating to the food bank this Christmas.
Invitations are in the mail for our Annual Banquet and Awards Night on Dec. 7, at 5:30pm at the Enchant Hall. This should be an excellent evening starting with supper, and then our award presentations. Thank you once again to all our trophy donors. If it was not for your continued support, we would not be able to recognize our member's achievements at this banquet. We would also like to once again thank all our buyers from last year who purchased our beef and sheep projects. We appreciate your ongoing support of our club.
We are excited for another year of fun, community service and most of all, "learning to do by doing."