Temperature concerns at Vauxhall Curling Rink
Posted on November 22, 2018 by Vauxhall Advance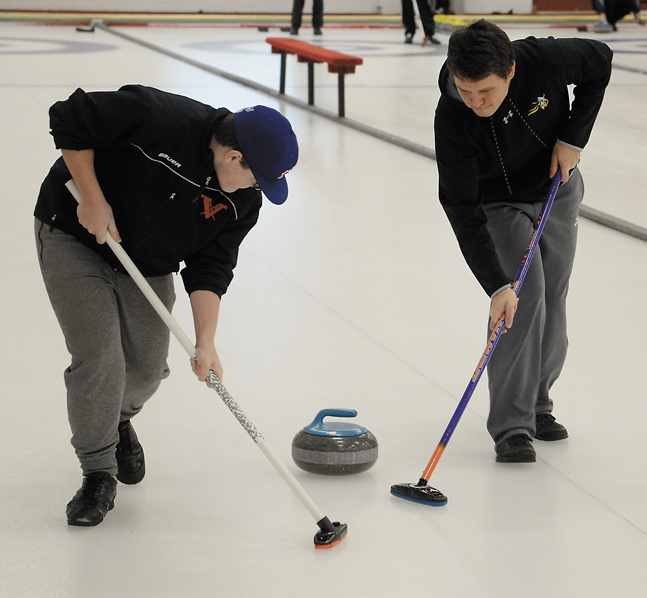 ADVANCE FILE PHOTO
By Cole Parkinson
Vauxhall Advance
cparkinson@tabertimes.com
With curling season in full effect, the Vauxhall club has come forward with a request for Vauxhall town council.
During their regular meeting on November 6, council discussed the club's ask around raising the temperature in the facility and what affects that could place on the equipment in the rink.
"They want to change the thermostats to have a steady low heat which puts stress on the plant and everything else in the arena chilling facility," stated CAO Cris Burns. "The thing is the plant can't keep up. We want it shut down at night when no one is using it so the plant shuts off."
Their ask was to raise the temperature to four degrees 24/7 whereas currently, the heat is turned off at night and Burns stated it has been a constant request by the curling club.
Administration pointed out though, no wording around temperature inside the facility was in the lease that was signed by both sides earlier in August.
"I think the town should still control it, its a town building. They have already agreed to the contract," said Burns.
Smart thermostats are in the facilities and can be controlled by staff through their phones.
Before the curling club games begin, they take control of the thermostats and can raise the temperature but staff was still hesitant to keep the heat on throughout the night when the facility wasn't in use.
Another concern from staff was the fact technicians for the ice plants aren't anywhere near Vauxhall so if something were to happen, they would have a sizeable wait until someone would arrive.
"I don't fully understand it, so to make a decision to increase the temperature without understanding the benefits for them," stated Mayor Margaret Plumtree.
Council asked what other municipalities had done in these types of situations when a curling club asks to raise the temperature in a town-owned rink.
"I've called a lot of different places now. It seems every town run arena that I've phoned, they don't allow it. Every curling rink that has their own building, they have heat on it," explained Loewen. "I like the heat being off. For us, we run the plant, we are the ones dealing with problems. For us, I like the heat off because it gives us time and we need time. We are far away from our mechanics. It's a lot easier on our plant and on our budget."
With no one on council being avid curlers, a suggestion was made to get in contact with the curling club to hear why they want to raise the temperature 24/7.
"I think we need to bring them here and have a conversation with them," said Coun. Linda English.
A motion was made to invite the curling club to a future meeting and was passed unanimously.
During council's regular meeting on November 20, the curling club was able to present their case.
A bit of miscommunication had formed as the curling club had a chance to explain what they wanted, even though it wasn't exactly described in the letter to council.
In reality, the curling club was after a more stable temperature in the facility rather than having it fluctuate between extremes.
"Essentially, the thermostats there go to plus seven which is as low as they go. It is a little too warm for ice. What we want to do is put thermostats on each individual heater to control each individual heater," said Kim Egeland, secretary of the Vauxhall Curling Club. "If we could have heaters to control temperatures a lot better in there, I think it would help the plant. It would help our ice not crack when it gets extremely cold and maintain a temperature rather than having such big swings."
As southern Alberta winters can vary, the curling club was hoping to have a steady temperature of no less than minus 10 in the rink, no matter the temperature outside.
"We don't need five or seven degrees when it isn't in use. If we have heaters that will maintain minus 10 rather than a minus 20 when it is minus 40 out, that is essentially what we are looking for," continued Egeland.
When the rink is in use, the curling club stated they like the temperature in between plus two and plus five. They also stated they were willing to cover the cost but were just seeking permission from council to go ahead.
A motion was made to allow administration to go ahead with the purchase if the thermostats are acceptable to administration and operations and was passed unanimously.