Bench shows going on 2019 hiatus
Posted on November 29, 2018 by Vauxhall Advance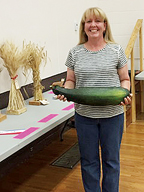 KAREN PHILLIPS
Submitted by
Vauxhall Ag Society
The bench shows are complete for 2018 and there will be no bench shows in 2019.
Participation in the shows has decreased during the past few years and the Ag Society has decided to take a break from the shows for now.
The Farmer's Market committee is planning some new activities and competitions to take place during the coming year. Check the Ag Society's Facebook postings and newspaper ads for details.
Thanks to Dixie Plettl, Rose McLean, Bernice Stamp, Karen Phillips and Jodi Lillico for their work in organizing the shows.
Bench Show No1-
1st Karen Phillips
2nd-Tanya Strydon
3rd-Bernice Stamp
Bench Show No 2
1st-Karen Phillips
2nd-Bernice Stamp
3rd-Cheryl Dutchak
Juniors-Cason Van Hal
Bench Show No 3
1st-Karen Phillips
2nd-Kathleen Klemen
3rd-Pat Coad
Juniors
1st-Cason Van Hal
2nd-Brynlee Van Hal
3rd-Jessica Strydon
Bench Show No 4
1st-Karen Phillips
2nd-Pat Coad
3rd-Lien Van Hal
Juniors
1st-Cason Van Hal
2nd-Brynlee Van Hal
Aggregate winners are Karen Phillips and Cason Van Hal for juniors.