Peace officer program evolving
Posted on December 6, 2018 by Vauxhall Advance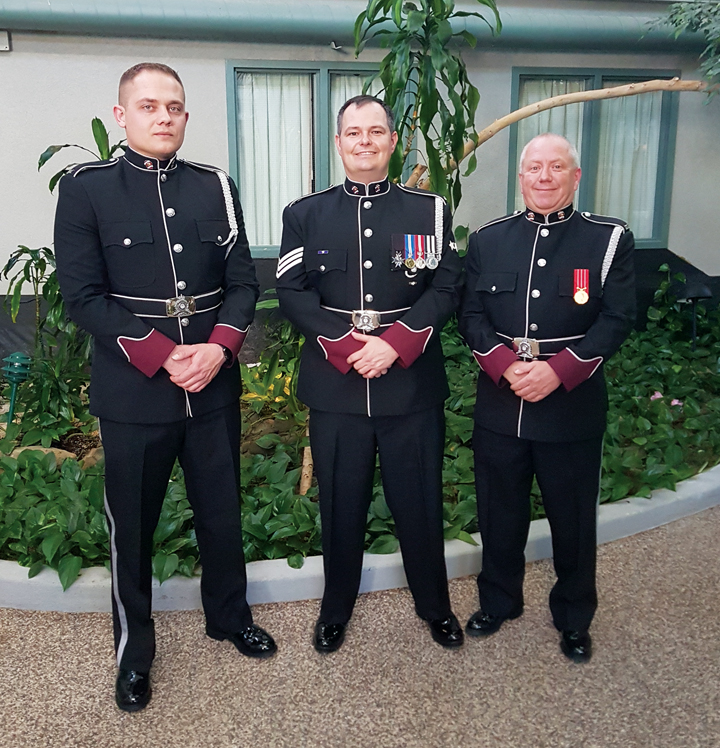 SERVE AND PROTECT: M.D. community peace officers Henry Peters, Kirk Hughes and Dana Butler expect 2019 to be as successful as they hope to expand on their first year of service. ADVANCE PHOTO SUBMITTED
By Cole Parkinson
Vauxhall Advance
cparkinson@tabertimes.com
Last September saw the introduction of the Municipal District of Taber community peace officer program and after a year of operation, they are continuing to see a steady stream of positives.
Kirk Hughes, director of community safety and peace officer sergeant and CPO's Dana Butler and Henry Peters have been out and about all over the M.D. for the past year and looking back over the past year, the program has gained tons of momentum in the community.
"We started last September but really got off the ground and fully operational by January. Any time you start a branch of municipal government, everything is regulated by the Solicitor General in Alberta. So our policy had to go through them right down to what colour our uniforms are, what colour our trucks are and that's all regulated," explained Hughes in a recent interview with The Advance. "When we started our program we were fully aware we were operating in an enforcement rich environment. We have the RCMP, we have the Taber Police so to have a third law enforcement agency on top of the Alberta Sheriffs and Commercial Vehicle Enforcement and Fish and Wildlife, you want it to be similar to them but you want to be recognizably different so no one confuses you with a Mountie or the Taber Police. The last thing you want is for someone to approach you with a serious concern that you don't have the authority to deal with. That said, our guys are always very good and know how to contact the appropriate police force of jurisdiction. Our guys help out anytime they can."
When the council of the day originally announced the CPO program in 2017, no one could have predicted how things would shake out but Hughes credits his staff as the biggest reason for the community's positive reaction to the peace officers.
"We hired the right people. You hire someone like Dana Butler and someone like Henry Peters. Peters is a local kid who grew up here, an RCMP auxiliary officer, Mexican Mennonite and he can connect with a whole group of population that may have felt they were under-represented in law enforcement. To have one championing their causes and concerns and the cultural differences, that I didn't know, he can explain to us," he said. "Butler brings a wealth of knowledge from the OPP (Ontario Provincial Police), as an RCMP officer he brings knowledge from there. His personality is suited for community policing, that's what he does. He gets into the schools and talks to kids and talks to senior citizens. He can get an irate person to calm down really quickly just by talking to them."
As with any new endeavour though, the first few months of the CPO's had a few minor rough patches but over time things have been ironed out by the group.
One thing on the mind of both M.D. council and CPO's is area visibility.
"The first couple of months had growing pains, we were growing and learning as a group. We had a new council elected so we idled for a bit so they could indicate to us what were our objectives. There are a lot of different purposes for community peace officers in Alberta and one of the main ones I got from this council was — perception. Rural crime is an issue and this council and the previous council recognized that. One of their objectives to us was they wanted our guys to be seen, they wanted to hit every back road in the M.D. and everybody who had never seen a law enforcement vehicle on their road. Get into the schools and talk to the youth, target the Mexican Mennonite population in the sense of engaging them and that's why Henry Peters came aboard. Getting him to speak the language and break some of those barriers and sometimes it was simply they didn't understand it," stated Hughes.
Another focus of council directed to the peace officers was around speed enforcement on M.D. roads.
After setting up shop at a few different problem areas in the M.D., they have noticed a good decline in motor vehicle crashes.
"Another was, we had five fatal MVC's last year before the peace officer program was stood up. Council had asked 'why do we have so many fatal MVC's?', so working in partnership with the RCMP, Alberta Sheriffs and other community agencies, we really focused on different areas for speeds. Red Trail was notorious, people going 140 km/h on Red Trail so we had officers setup there for speed enforcement, the same thing with the Wal-Mart Road (Range Road 16-4). Working with the RCMP, we have managed to do some pretty good enforcement on that road. This is the first year, since the program was stood up, that on an owned and operated M.D. road, we haven't had any fatal MVC's," said Hughes. "Most of that came from education. For every one ticket we wrote, I bet we gave out six warnings. Sometimes it was a matter of educating young drivers, sometimes not so young drivers but having that message out there that we are patrolling and looking for speeders, that was a huge message for people. Sometimes education is the way to go."
As the M.D. is a massive agriculture area, another objective highlighted by council was around weight and measures.
"One of the other issues that came up from council was there is a lot of different farming trucks operating on these roads, some are potentially over-weight and some are beating our roads up pretty bad. So we sent Peters and Butler to get trained at Lethbridge College to do weights and measures on the road. Once people know you are out there enforcing weights and measures, every truck in the M.D. is thinking 'I could chance it but maybe I won't fill it to the top because those guys are going to be on the road' and that's important for education because we know they are getting the message. We're also seeing less damage on roads and safer driving conditions," explained Hughes.
This spring presented a great opportunity to highlight the need for CPO's in the M.D. as overland flooding ripped through the area.
"It was the first real test of the community peace officer program. All of a sudden we had a vast amount of roadways that were closed and barricaded, we had people cut off from roadways and didn't know if we could get ahold of them. The fire departments did a fantastic job as always but being able to pull out a law enforcement agency and say 'start patrolling these areas' and 'can we get to these people?' The flexibility and the overtime that both of those peace officers put in, was not only a testament to their professionalism but their dedication to the M.D. You couldn't have asked for two better guys at that point in time," said Hughes.
The sheer size of the M.D. may also be looked at as a challenge for the CPO's but Hughes reports they have been able to manage it as best as they can.
Having a good game plan for day to day activities also helps control the amount of mileage they can cover throughout the week.
"Anytime you have a vast geographical area like the M.D. of Taber, it is a challenge. We are fortunate that we aren't the police force of jurisdiction, the RCMP are so they do all the urgent stuff. The truth of the matter it is challenging, that's why there are about 50,000 kilometres on those trucks this year," said Hughes. "If you can plan ahead and we have really good guys so it is manageable and we picked up the Barnwell contract recently. You could never have enough officers to cover the entire M.D., it's so vast. That said, it's time management and doing the regular patrol routes."
Over the next year, the CPO's will continue to go about their business and adapt as needed.
"The last year has highlighted the strengths of (our) officers and moving forward what will it look like? That's a good question. Our mandate is set and we have support of council. Expect to see us out of roadways patrolling just as always. Speed enforcement, vehicle weights and measures, youth are one of our priorities and we have been active in all of that," said Hughes. "As the M.D. changes and goes through different growing seasons and innovations, having a safe place for people to grow, raise families and build businesses, that's huge pillars of economic development."