Vauxhall Queens upend Chinook to take tournament title
Posted on October 16, 2014 by Vauxhall Advance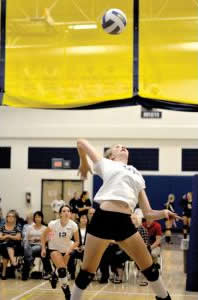 They just keep scraping out the wins.
The Vauxhall Queens girls volleyball team put another tournament title under its belt by winning its home tournament this past weekend.
"We were up and down like we have been all year with a bit of inconsistency where at times we score points fairly easily and then there are other times we can't score points to save our soul," said Scott Reiling, head coach of the Vauxhall Queens girls volleyball team.
"At the end of the day though, we are finding ways to win. I guess good teams have to be able to do that too. But it's still a bit of a head scratcher."
Reiling took stock of his Queens' season so far and his team's record is an impressive 37-4 which as the head coach examines all those wins, none have been of the too dominating variety, but are wins nevertheless of the never-say-die attitude of the Queens.
"We are at 37-4, but we are not dodging any competition. When we need to up our game, we are getting there and squeaking our games out," said Reiling.
The Queens did play Chinook JV in the championship final after a round-robin record of 8-2 in matches against W.R. Myers, Fort Macleod, Kate Andrews, McCoy and Chinook JV in pool play.
The Queens dropped the first set in the championship 20-25, only to bounce back in a big way with dominating sets of 25-12, 15-5 to earn the tournament title.
"That's kind of the way things go for us. We go through these struggles and the girls turn around and bounce right back and don't shut it down and quit. They can leave the last game behind them," said Reiling.
Reiling can not expect his Queens team to play their best game every time they go out.
"But what we are trying to do is when things go bad, what are you going to do to help the team? Some of them are starting to figure that out. I don't know if our best players were our best players all week, but some of the kids that were struggling with unforced errors were starting to clean it up this week," said Reiling.
"They weren't throwing away as many points, and it kept us in matches when our best players weren't our best players."
As Reiling takes stock of Vauxhall Queens teams past that have medaled regularly in 2A provincials, nothing really stands out about any aspect of the game for the 2014 Queens girls volleyball team. But it does not need to, as there is no discernible weakness in the team either where maybe every other Queens team had that one Achilles Heel to its game.
"At the end of the day, I look at this team and they are not the best hitting team, they are not my best serving team, and it goes like that right down the line," said Reiling. "But, they are not bad at anything. They hit really well, they pass really well, they play defence well, they serve well. They do everything at a level that is causing teams issues. You are going to have to earn points when you play Vauxhall. With high school girls, most teams are still going to hit some balls out the back and into the net and miss some serves and they are giving us too many points."
The Queens are off to the Double Blue Tournament at St. Mary's in Taber this weekend. The Queens battle Picture Butte at St. Mary's at 2 p.m. on Friday before switching over to the W.R. Myers gymnasium for a 3 p.m. match against Senator Gershaw before a 5 p.m. tilt against Didsbury. Saturday's games are based on Friday's results.
"There is a tournament we traditionally do well in. We are going I there with the mentality someone is going to have to beat us for the title," said Reiling.
"Another tournament close to home that the Queens have done well at so we are excited to head in and try and keep this train rolling down the tracks."