Vikings earn tournament title in Taber
Posted on January 22, 2015 by Vauxhall Advance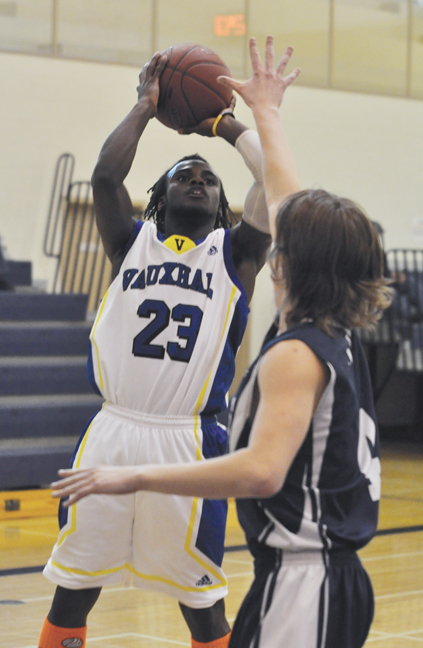 By Greg Price
Vauxhall Advance
gprice@tabertimes.com
In a tournament run that had its share of drama for the Vauxhall Vikings boys basketball team, the squad nevertheless came out champions, Saturday in Taber.
The Vikings won the championship final 77-72 over St. Michael's from Pincher Creek.
"It was quite competitive where they have a couple nice guards who can shoot pretty good," said Daryl Johnson, head coach of the Vauxhall Vikings boys basketball team.
The Vikings had a good shooter themselves in sniper Matt Melnychuk who hit from all over on the way to carrying his squad offensively on his back with a 41-point performance.
"He carried us a lot that game. Our defence was all right, but the offence wasn't that effective. But he was hitting from three, four feet back from the three-point line. They had a pretty tough time guarding him," said Johnson.
"The whole weekend was good defence for over three quarters of each game. We had small lapses, but they didn't kill us. Our offence is coming along, but it's still not where we want it to be. It's our defence that is giving us a chance to win each game."
There was plenty of intrigue in the Vikings semifinal game that had the team well into a double-digit lead through the third quarter, only to see Hanna storm back to tie it with under 10 seconds left.
"We ran a pick and roll and missed the shot, but Alex VanderStoel got the rebound on the weak side and put it in, so we were up two with 1.5 seconds left," said Johnson. "They still had a time out, so they were able to advance the ball and get a three-pointer up, but it bounced out."
Both the Vikings opening game against Fort Macleod and the semifinal saw big leads evaporate, but the Vikings were able to persevere and earn wins.
"Physically we were a little tired. Our intensity was fairly good, but basketball is all about runs where we made our portions and they made their portions. It was back and forth all weekend," said Johnson.
While still having things to work on, Johnson added he is pleased the team is continuing to take steps going forward in its overall game.
"The previous weekend we were in close games, but we were on the losing end. This weekend, we were in close games, but we were able to stay on top and withstand the other team's momentum," said Johnson. "It was good to see."
The Vikings are off this week with students having diploma exams, but return to River Ridge Basketball League play next week with a road game against Foremost before heading off to Three Hills for a tournament on the Jan. 30 weekend.