Vikings bow out of zone quarter-finals
Posted on March 19, 2015 by Vauxhall Advance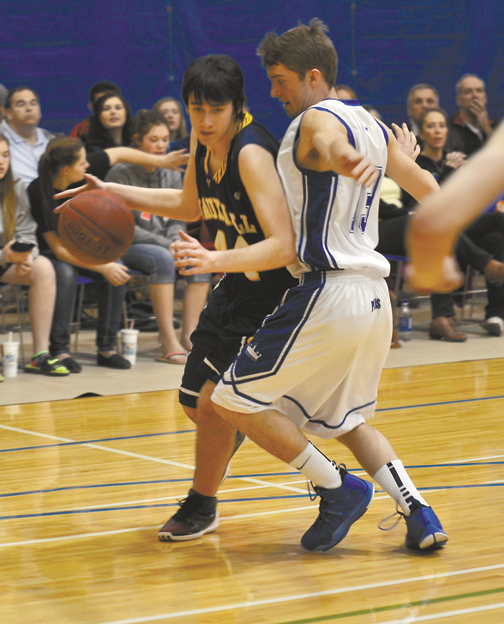 By Greg Price
Vauxhall Advance
gprice@tabertimes.com
Vauxhall Vikings boys basketball team concluded its season last week with a 71-50 loss to the Picture Butte Kings last Tuesday in 2A boys south zone competition at Lethbridge College.
Matthew Melynchuk hit for 18 points for the Vikings. Jordan Dray poured in 11 points and Alex van der Stoel had nine.
"They ran what I thought they would run . They mostly stayed with man-to-man defence. It was tight and we were keeping ourselves in the game at the free-throw line," said Daryl Johnson, head coach of the Vauxhall Vikings boys basketball team.
"But in the second quarter we only put up six points and so we're in a hole. We battled, but we could never recover after that. They would score and we would score and we couldn't make a push. That one bad quarter was a killer. We were still getting to the line and running what we wanted to do, but our free throws went cold and our shots weren't falling. We used them all up on Monday."
The Monday game Johnson was talking about was an 110-39 drubbing of Matthew Halton in the Vikings' opening south zone game last Monday.
Melynchuk poured in 33 points.
Matthew Ojala and Josh Burgmann each potted 12 points and Dray and Erik Anderson each chipped in 10.
VIKINGS PLUNDER: Melynchuk, Ojala and Cody Sorensen have seen their basketball careers in Vauxhall come to an end after a very long run.
"They have been with the Vauxhall program since Grade 5-6, it's been quite the journey for them. It was tough on them losing that game, hoping to get into the semis," said Johnson. "We achieved right around where I thought we were."
Melynchuk got MVP of the River Ridge Basketball League which the Vikings own. Ojala and Burgmann got all-star selections.
"It was a good group of kids. They were there working at practice and I like what I saw all year," said Johnson.