Hall of Fame induction team effort; Tilleman
Posted on March 26, 2015 by Vauxhall Advance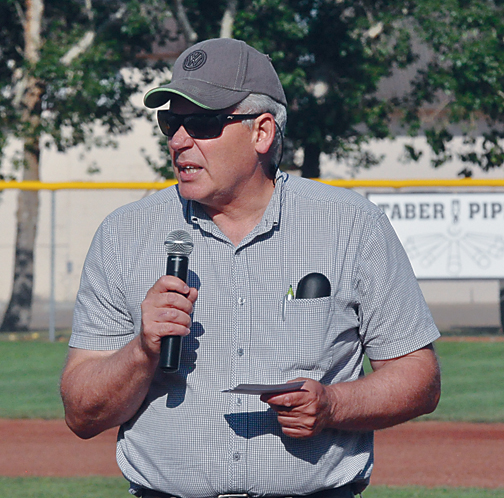 By Greg Price
Vauxhall Advance
gprice@tabertimes.com
Dale Tilleman will be entering the Taber and District Sports Hall of Fame in April in both the athlete and builder categories in baseball, but the humble southern Albertan noted the recognition should be heaped far further than him.
"First, as a player, you don't get in there unless you play with good teammates and coaching, and your parents sacrificing so that you can play," said Tilleman.
"As a builder, if it wasn't for the fact that at that time it was the Taber School Division who was enthusiastic about high school baseball and if it wasn't for parents out in the Hays, Vauxhall, Enchant areas, the Vauxhall Spurs never would have happened. It may be me winning the award, but there are lots of people behind the scenes who deserve the recognition too."
That humbleness Tilleman possesses shines through in his self-depreciating sense of humour, wondering who was kind enough to nominate him for consideration by the Taber and District Sports Hall of Fame committee.
"They hadn't had anybody for a few years, so I think they must have lowered their standards," said Tilleman with a chuckle.
From pretty much the time Tilleman was able to walk, he had an appreciation for baseball starting with his father anduncles.
"We played hockey and baseball. That's al there was back then, there weren't any computers or anything like that back then which is all good," said Tilleman.
"My dad and his brothers played out in Schuler, and that was four brothers which was almost half the team. I got my inspiration from them."
Tilleman played for the Canadian national baseball team in 1978 and 1979 along with playing in the College World Series 1978 as a first baseman.
"I always thought squaring up a baseball and hitting it was a great feeling. That's not an easy thing to do and that's what appealed to me most as a player," said Tilleman.
"As a builder, just watching the kids play. If I see a team hustle and play hard, listening to their coach, that always appealed to me."
With all the intricacies involved in baseball with the multiple skills that have to be taught, Tilleman encourages people to watch a game live.
"When you watch it live in person, it appeals to me more than it does on television. Television does not do baseball justice," said Tilleman.
"What appeals to me in baseball is the competitiveness between the pitcher and the hitter. It's not an easy sport to coach either in which you have to go ahead and work hard to make your practices good. It shows character too, where not everybody can be an infielder or not everyone is tough enough to be a catcher."
When Tilleman started as a teacher, there was not very much high school baseball be playing, with the Lethbridge Elks about the only program of note at the time.
"When we started the high school league, we started everything behind that. We got the high school league and then kids wanted to play during the summer, so then there was the Vauxhall Spurs and then a second Legion team in Lethbridge," said Tilleman.
"After that we had the Legion team in Medicine Hat and a Legion team in Fort Macleod. Now, I think we have 25 teams that play high school baseball. I'm happy to see that."
Sometimes as Tilleman admitted, it can be difficult to get kids into baseball given the various skills that are required to play the game.
"Soccer has certainly taken some kids away. I can't dismiss that. I think it's easier for a parent to have a kid in soccer.
In baseball, you have to go out and teach a kid how to throw, how to catch, how to hit and it takes more time and effort," said Tilleman. "It takes more effort, but it's still a fun game to play. I see kids come back to it once they get to high school and the numbers in Alberta have been going up. We have a college program in Lethbridge and a college program at (University of Calgary). Those are all good."
Tilleman's baseball coaching career spanned 22 years in Taber and Vauxhall, including the Vauxhall Spurs for four years.
A fond memory Tilleman recalls with the Spurs where Havre had not lost in 24 games. Playing them in the district tournament in Bitterroot, Montana, the Spurs proved victorious 6-4.
"I remember from a coaching side of it, we really played well that game, beating a good team. They (Havre) won State eventually," said Tilleman, adding another good coaching memory was beating McCoy when Tilleman was coaching in Taber, once again managing to halt a long winning streak. "They were 20-0 and hadn't lost a high school game and we beat them in provincial playoffs."
Highlights in Tilleman's baseball career involved getting two doubles against in the College World Series against the second-ranked team in the nation. Playing for the Canadian national team, Tilleman also ripped two doubles off of former Major Leaguer Craig Lefferts.
"When you put that uniform on with the Maple Leaf, it just feels different. It's a big thrill," said Tilleman
Another former Major Leaguer Tilleman had some success against was Jeff Lahti (St. Loiuis Cardinals). Playing for North Idaho, Tilleman launched a home run against him.
"It feels good when you know you've had a good day against someone who played in the Big Leagues," said Tilleman with a chuckle.
Not liking a lot of attention brought to himself, Tilleman is nevertheless thankful to be recognized by his nominator and the Taber and District Sports Hall of Fame committee when they hold the induction ceremony on April 11. at the Heritage Inn in Taber.
"I do reinforce that if I did not play with good teammates or had the support of parents and a big school division board to work with at the time, we certainly wouldn't have succeeded in building baseball in the area," said Tilleman. "The fact the Spurs are still going strong, and the high school league is still going strong, those are things I'm proud of."
Tickets are available for the Taber and District Sports Hall of Fame induction ceremony are available at the Town of Taber administrative office, the Town of Vauxhall office or the Vauxhall High School.
Tickets are $35 each with cocktails at 6 p.m. with dinner at 7 p.m. with the induction ceremony to follow on April 11 at the Heritage Inn.