Banquet celebrates minor hockey
Posted on April 9, 2015 by Vauxhall Advance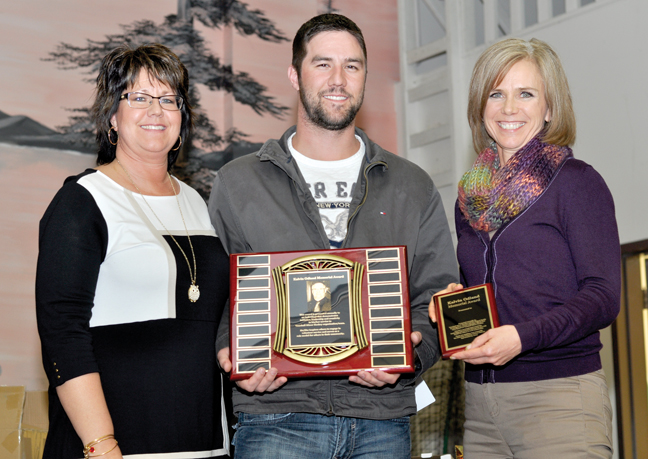 By J.W. Schnarr
Vauxhall Advance
jwschnarr@tabertimes.com
It was an opportunity to celebrate the successes of this past year's hockey season.
Last Wednesday, teams (and their families) from Vauxhall Minor Hockey came together to share a meal and hand out their awards at the Vauxhall Auditorium. This year's winner of the Kalvin Odland Memorial Award was Lynda Unruh.
Unruh has been a member of the hockey board for a number of years, even continuing after her child no longer played in the league. She was commended for her level of volunteerism and dedication to growing the sport locally. In accepting the award, Unruh was thankful and humble.
"I don't think I do any more or less than about 50 per cent of you in this crowd," she said, noting hockey families are often forced to take on numerous roles and multitask in order for their children to enjoy sports. She said she continues to work with the board as a way to give back to the community now that her family has gotten so much from the sport.
"I truly believe in small-town hockey," she said.
"This is such a special day, I appreciate it," she added.
In addition to participation awards for the youngest teams, the following awards were also handed out:
Awards for Vauxhall atom Sabres
Most Dedicated, Scout Sidam;
Most Sportsmanlike, Ashlynn Retzler;
Most Improved, Senise Retzler.
Awards for Vauxhall pee wee Sabres
Most Dedicated, Wyatt Broderson;
Most sportsmanlike, Cole McClelland;
Most improved, Quinn Odland.