Spurs looking for consistency at districts
Posted on July 23, 2015 by Vauxhall Advance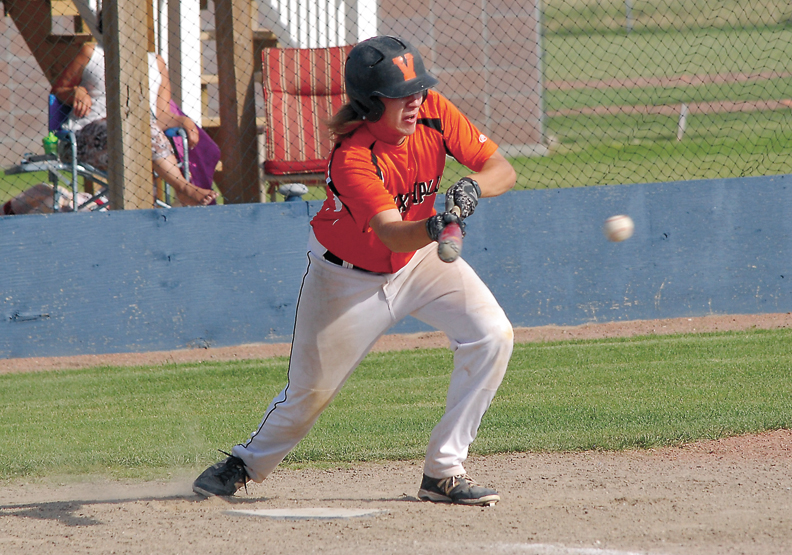 By Greg Price
Vauxhall Spurs
gprice@tabertimes.com
The last week of American Legion 'A' baseball regular-season baseball has been played by the Vauxhall Spurs, and it still has head coach Joel Blake wondering what team is going to show up when districts start in Lethbridge on Thursday.
Having finished the season two games above .500, the Spurs at times have shown its utter dominance, only to fall to teams they should easily be beating in the exact same week.
That trend proved no different this past week in a couple of wins sprinkled in with losses.
The team split its two games against the Fort Macleod Royals last Wednesday.
"They threw their best arm against us and we were banging him around pretty good, and we were down one heading into the sixth inning, then we couldn't crawl back into it," said Blake, of the Spurs loss. "Then Adam Kress came out and tossed a complete game win the second game, and threw very well."
Saturday's slate against the Lethbridge Miners, Blake did not mince words, calling his team's play 'atrocious' as the Spurs booted the ball everywhere at Jets Stadium.
"We got mercied in about 55 minutes and then lost another one. Lethbridge played good, fundamental baseball and we didn't," said Blake.
"We committed nine errors in five innings (the first game) and 14 errors on the day."
Sunday's slate had the Spurs looking like a whole other team against Havre in make-up games from Friday that were rained out.
"That's been the frustrating part, it's been like that all year. We obviously have the talent to play like that every day, but we don't for whatever reason," said Blake, adding a win against Havre involved Blaise Unruh tossing a three-hit shutout in a called game after five innings in which the Spurs pounded out double-digit runs.
"Second game, we still played well, their guy just kept us off balance. Putting up 10 runs before, I thought we should have been a little hungrier at the stick. It wasn't a horrible game, but it was a lot better than it has been."
The uneven play is reminiscent of the Spurs team in 2014 that saw Vauxhall struggle to hover around .500, only to go on an eight-game win streak which included a District title in Fort Macleod. Blake is hoping the Spurs catch lightning in a bottle once again in 2015 in peaking at the right time.
The Spurs are scheduled to play Fort Macleod on Thursday at Spitz Stadium in Lethbridge at noon to start Montana American Legion 'A' Northern District tournament play. If the team wins, they play again on Friday, with a loss bumping the team to Saturday.
"It is anybody's game. I would really not be surprised if we won it all and went undefeated and I wouldn't be surprised if we went two and out," said Blake.
"It all depends on what team shows up and it's been like that all year. I told our guys that at this point we've said all we are going to say. It's up to you guys how you want to play and dictate your season."