Queens limp to tourney final with injuries/sickness
Posted on October 22, 2015 by Vauxhall Advance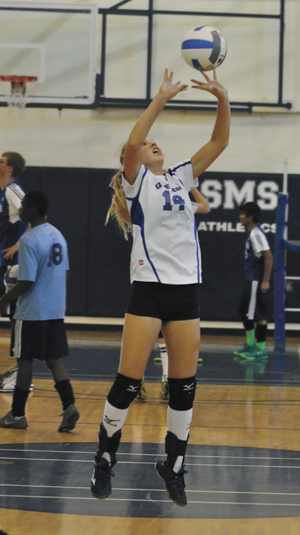 Advance photo by Greg Price
By Greg Price
Vauxhall Advance
gprice@tabertimes.com
Vauxhall Queens girls volleyball team literally gutted out a finals appearance at the Double Blue Volleyball Tournament at St. Mary's in Taber this past weekend, almost taking the title in the process.
"We lost in three really tight games to F.P. Walshe (Fort Macleod)," said Scott Reiling, head coach of the Vauxhall Queens girls volleyball team. "We fought pretty hard, being pretty banged up. I finished the tournament with seven girls and I had a back-up setter playing middle, I had a libero playing right side. But we did that all day (Saturday) and it's quite amazing with the girls' resilience being phenomenal."
However the Queens managed with their patchwork lineup, the Queens showed their pluckiness, a trait the team has had all year with its attention to defence and ball control.
"It goes back to that 'won't lose attitude. We had every excuse between sicknesses and injuries with a bunch of the starters out. At the end of the day it's still volleyball, it's still don't let the ball hit the floor and keep it on their side and good things can happen," said Reiling. "It was one of those cases where I was quite prepared to be back in Vauxhall for my kid's hockey game which was one in the afternoon, but we kept winning and winning and winning."
Those wins included against host St. Mary's Auroras, which is always tough going against the home crowd.
"St. Mary's Taber is a very good team this year. Their program has come a long way in one year where I thought they struggled at times last year with consistency," said Reiling. "Were we lucky to win that match? Absolutely. They are a team that outmatched us, but we did the little things well. Our ball control and defence was outstanding, so teams that hit the ball out the back or into the net, we will keep digging it until you make a mistake and that's what happened."
The Queens won its home tournament the weekend before against McCoy in the championship, but that was when the injuries started flaring up with knees, ankles and shoulders according to Reiling.
But as the team continues in march to hosting provincials in late November, the injuries have allowed Reiling to see exactly what kind of depth he has with the Queens.
"We are not playing to be seeded number one at zones. Losing to any of the 2A is not going to affect us down the road. There were a lot of learning opportunities at St. Mary's," said Reiling. "It never hurts to throw Grade 10s into situations where they have to produce to win and let's see what happens. It doesn't always work out, but that's good too. If it always works out then they start thinking the game is too easy."
The Queens will be having to battle this weekend with a tough field at a tournament at Picture Butte.
"There are a lot of good teams there. There's CASH from Lacombe, there's Calgary Christian that battled us really hard at provincials last year. F.P. Walshe is there and Picture Butte has a decent team. Acme always seems to be winning 1A provincials," said Reiling.
"I wish I could tell you I'm healthy, but I'm not. We are going to have to go in and battle again."