Vikings earn two wins at Claresholm tourney
Posted on January 14, 2016 by Vauxhall Advance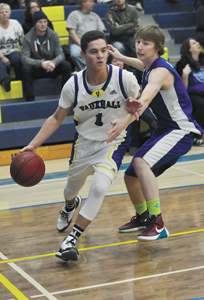 (Photo by Greg Price) ACE OF BASELINE: Damiano Palmegiani of the Vauxhall Vikings boys basketball team beats his St. Mary's Celtics defender baseline during River Ridge Basketball League competition last Wednesday.
Greg Price
Vauxhall Advance
gprice@tabertimes.com
Vauxhall Vikings boys basketball team earned a bronze-medal finish at a tournament in Claresholm over the weekend, after cruising to a lopsided win over St. Mary's Celtics in league play last Wednesday.
The team began its tournament run with the Raymond JV squad.
"It wasn't a super competitive game, we won easily," said Daryl Johnson, head coach of the Vauxhall Vikings boys basketball team.
The team was pushed to the third-place game with a familiar foe in Lundbreck, a team they fell to previously as well at a tournament in Kate Andrews.
"They ended up beating us by 10. We got up on them quick with a nice start, then we went cold and couldn't finish shots," said Johnson.
"We were down by 20 at one point and battled back to a five-point spread. We were hoping to even up the series. We just weren't sharp. We had that strong start and then we got complacent."
The team then cruised to an easy 15-point victory over Coalhurst.
"They were not an overly strong team and I played everyone a lot," said Johnson.
While it has now been two losses to Lundbreck so far this season, Johnson is confident if the two teams were to match up again down the road, that the opposition is beatable.
"We just have to fix a few things. With our defence, there was breakdowns for sure. When we quit hitting shots, our defence suffered because our effort wasn't there," said Johnson.
"One of our biggest problems in our close games is we miss two or three easy lay-ups or easy shots and that kind of affects the psyche of the whole team. One guy will miss a couple of shots, and then the intensity seems to drop down. It's just our mental toughness we have to work on."
The Vikings hosted Foremost on Wednesday with results unavailable at press time. The team travels to Taber for the St. Mary's Celtics Invitational Basketball Tournament on Friday and Saturday.
The team''s first game is on Friday at 2:30 p.m. against Willow Creek. A win has the team playing at 11:30 a.m. on Saturday with a loss having the Vikings play at 8 a.m. Saturday. The championship game goes at 8:15 p.m. on Saturday.
"I think that first game will be our toughest game. I haven't seen a lot of those teams (this year) but historically, I would say that first game is probably our toughest."