Vikings split to open season
Posted on April 14, 2016 by Vauxhall Advance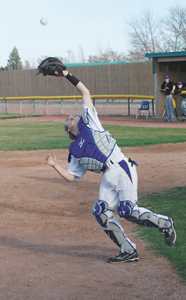 (Photo by Greg Price) CAMPING OUT: Catcher Marshal Enns of the Vauxhall Vikings baseball team tracks a Foremost Falcons pop up during Southern Alberta High School Baseball League play on Tuesday evening at Jets Stadium.
Greg Price
Vauxhall Advance
gprice@tabertimes.com
The two biggest opponents the Vauxhall Vikings faced to kick off its high school baseball season were not physical, but rather mental in splitting two games.
The Vikings played McCoy last Thursday at Jets Stadium and suffered an 11-5 loss.
"We made five errors and got picked off twice on base. Mentally, we were not there. There was a little rust, but maybe we were a little overconfident (from the success of last season)," said Rob Virginillo, head coach of the Vauxhall Vikings baseball team. "We were sort of acting like we were all high and mighty. I think that was good for us, because it grounded us a bit, knowing we are not as good as we think we are going to be. I told the guys last year means nothing. It's only going to happen when it happens this year."
The Vikings bounced back on Tuesday as the team started its official schedule with a 20-3 win over the Foremost Falcons at Jets Stadium, as both squads had to battle extremely windy conditions where anything hit in the air became an adventure defensively.
"That first game was rust and overconfidence…a little bit of both. Experienced guys who shouldn't be making the mental mistakes, did, and guys who should be fielding cleanly, didn't," said Virginillo. "Then the second game we were fighting the wind and our starting pitcher not making it through the first inning (due to tightness) and we recovered from that. I knew we were going to be able to hit the ball and score runs, I just wanted to see better defence and base running and we got it. The competition wasn't as high, but at least we stayed focused and made some good plays in the field. We also got five pitchers in which was good because we are going to need that, playing four games next week."
The Vikings play two games in Medicine Hat next Tuesday and then return home on Saturday, April 23 to Jets Stadium for an 11 a.m. game against Eagle Butte and a 4:30 p.m. game against Maple Creek as squads look to get in multiple games on single days to lessen the risk of rainouts from Mother Nature in the condensed high school baseball season.
"It also saves travel and helps when we book umpires. We started doing it last year and it worked well," said Virginillo. "It makes life easier on everybody."