Vauxhall Jets take three of four
Posted on April 21, 2016 by Vauxhall Advance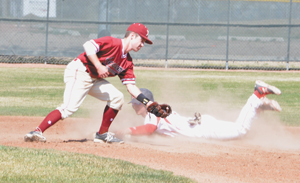 (Photo by Trevor Busch) CLOSE CALL: Second baseman Liam Vulcano of the Vauxhall Academy of Baseball Jets applies a tag to a Prairie Baseball Academy runner during doubleheader action at Jets Stadium on Sunday afternoon. The Jets took three our of four games from PBA over the weekend.
Greg Price
Vauxhall Advance
gprice@tabertimes.com
It was Home Sweet Home for the Vauxhall Academy of Baseball Jets who returned home after a long spring road trip.
The team was able to take three out of four games on the weekend against Prairie Baseball Academy, losing the fourth game due to a last-minute pitching change.
"It was definitely nice t be back at Jets Stadium after playing 21 games on the road to start the season," said Les McTavish, head coach of the Vauxhall Academy of Baseball Jets.
"It was a pretty good weekend where we came from behind twice in Games 2 and 3 and Game 4 was certainly interesting," added McTavish with a chuckle.
After 11-7 and 7-6 victories on Saturday, the Jets earned a 7-6 victory in extra innings to start the Jets' doubleheader on Sunday was disaster struck.
"Our starting pitcher for Game 4, pinch ran in Game 3 because we had a guy with a bad hamstring. There was a pick-off attempt where he slid back into first base and dislocated his finger," said McTavish. "Basically we went into our post-game meeting after we won Game 3 and asked if anybody pitches and guys put up their hand."
The result was a 17-4 loss where only eight of the runs were earned as fill-in pitchers recorded two strikeouts and four walks.
"It didn't go as well as I had hoped, but tip of the hat to the kids that stood up and filled in and gave it their best to help the team," said McTavish.
"We still got guys away with Team Canada with four bodies there and two guys that are hurt, so that's a lot of players down."
The Jets travel to Great Falls, Montana on Saturday to battle the Great Falls Chargers and Missoula Mavericks before returning home to Jets Stadium on Sunday to play a doubleheader against Calgary Jr. Dinos at 1 p.m.