Vikings still looking to pillage top competition
Posted on April 28, 2016 by Vauxhall Advance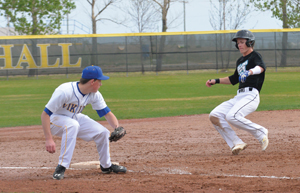 (Photo by Nikki Jamieson) TAG, YOU'RE IT! (OR OUT): Dylan Wolosuk of the Vauxhall Vikings gets ready to tag out a baserunner during Southern Alberta Baseball Baseball League play at Jets Stadium on Saturday.
Greg Price
Vauxhall Advance
gprice@tabertimes.com
We are made wise not by the recollection of our past, but by the responsibility for our future — George Bernard Shaw
It is similar words of wisdom Rob Virginillo, head coach of the Vauxhall Vikings baseball team is still trying to instill in its players, as the team is still searching for the consistency it has had in years past that have featured league banners.
"I think our players are still too overconfident, and we're not playing to our potential, so we are not playing consistent ball," said Virginillo. "We're not making the plays that we should, we're not positioned right. Maybe guys have some overconfidence from past years. I've never said we're going to repeat as (league) champs, they all think we can. I'm hoping now they are a little more awakened now that this is not going to be easy, and we're going to have to work harder."
That realization came in the form of a 9-6 loss to Eagle Butte at Jets Stadium on Saturday. Eagle Butte is now 5-0 on the season with the Vikings looking up at them in the standings.
"Eagle Butte is a good team and I told them they'd be good. They had a good pitcher and they put the ball in play. They did a great job with two strikes putting the ball the opposite way to the open field and we just didn't make the corrections," said Virginillo. "Our pitching and defence was inconsistent. We hit the ball OK where we did have a lead. Our play has been up and down. We beat up on the weaker teams where we beat Maple Creek 12-0 (also on Saturday). We beat Crescent Heights 16-0. But with the stronger teams, it's a battle every inning and you can't have a fall asleep inning. It's not like these teams are struggling to score runs. You have a bad inning against Eagle Butte, Medicine Hat High or Brooks, they'll score four runs against you which is what happened to us against Eagle Butte."
Virginillo hopes losses against Eagle Butte and earlier against non-league McCoy will serve as awake up call that a strong Vikings high school baseball program cannot rest on its laurels of past successes.
"It's about working hard every single inning no matter who you are playing against," said Virginillo. "You need to play the same every inning no matter who you are playing. Your intensity level should be the same where you're not playing up or down to your level of competition. It's having that mental toughness where we have to find a consistent stride."
Due to weather and field conditions, Tuesday's home game against W.R. Myers Rebels was canceled.