Jets navigate through hostile skies in dog fight of a four-game set
Posted on May 19, 2016 by Vauxhall Advance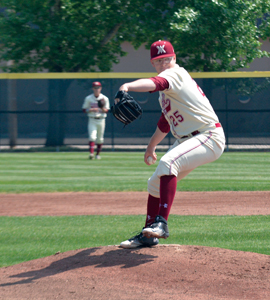 ADVANCE FILE PHOTO
Greg Price
Vauxhall Advance
gprice@tabertimes.com
Vauxhall Academy of Baseball Jets split its four games over the weekend, as two Jets seniors bid adieu to their Vauxhall playing careers.
"We played well this weekend, where we definitely could have won all four games. We lost two tight ones, won a tight one and ran away with another," said Les McTavish, head coach of the Vauxhall Academy of Baseball Jets. "Looking at the weekend, I thought we played fairly well in all three assets of the game (hitting, pitching, defence)."
Wesley Moore helped beat Okotoks 2-1 on the road on Saturday, pitching seven innings, allowing two hits, one unearned run and striking out 10.
The Jets would lose its following game to Okotoks, 10-9 in 12 innings.
Offensively, Shawn Grandmont was 2-for-4 with an RBI. Jordan Dray was 1-for-5 with a double and two RBI. Brett Resch was 1-for-4 with two RBI.
The academy returned home to Jets Stadium on Sunday for the last two games in a Jets uniform for seniors Josh Burgmann and Carsen Perkins, as the players were the starting pitchers for a doubleheader against the PBA Dawgs. Burgmann and Perkins later joined teammates Victor Cerny and Moore with Team Canada in the Dominican.
Burgmann started Game 1, going five innings, allowing six hits, one run and struck out nine to take the no decision in a 5-4 loss where the Jets left the bases loaded in the bottom of the seventh inning.
Offensively, Jordan Malainey was 4-for-4 with two doubles. Grandmont was 2-for-4 with a double and an RBI. Dray was 1-for-3 with a double and two RBI.
Game 2 saw the Jets win 10-2 where Perkins started on the mound, going five innings, allowing one hit, two unearned runs, to go with five walks and six strikeouts.
"Josh and Carsen have been two of our best guys. Josh has been here for three years and been one of our best pitchers, throwing a no-hitter as a Grade 10. Carsen has been here for two years and they are certainly going to be missed around our program," said McTavish.
"They left an impression on the baseball program and the community as well."