Southern Alberta Summer Games go until Saturday
Posted on July 7, 2016 by Vauxhall Advance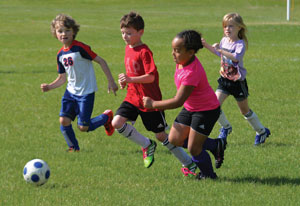 (photo by Nikki Jamieson) CHASE IS ON: (left to right) Carson Becker, Chase Sronge, Trinity Alcala and Lexie Stolk chase after the soccer ball during U8 soccer tryouts for the Southern Alberta Summer Games in in Taber in May. The SASG go this weekend in Lethbridge.
Greg Price
Vauxhall Advance
gprice@tabertimes.com
A late surge in registration has ensured the Town of Taber and Municipal District of Taber will once again have strong representation at the Southern Alberta Summer Games, which started yesterday in Lethbridge with opening ceremonies.
"We did really well in the end. Typically, it's 275 that we shoot for. Last year we were a little lower in Claresholm in the low 200s, but we are at 287 this year with 264 athletes and 23 coaches," said Aline Holmen, recreation director for the Town of Taber. "We got some really nice numbers. It was a struggle to get those numbers at first where it was typical Taber fashion where a lot of our numbers come right near the end (of registration). The other side of that though is we are still not gettIng our full team numbers. In years past we would have two U8 and two U10 soccer teams, and we haven't been getting that the last few years. I think last year we didn't even have a team in one of the age groups. For us to have a team in every age group is huge this year."
The M.D. of Taber/Taber region has historically had strong participation in the Games, as apparent by medal count and point count overall.
"Because of the variety of events that are offered, we seem to have people in every single event. It's unfortunate there was a big archery event in Medicine Hat the same week, or else we would have had quite a few archers going as well," said Holmen. "Overall our numbers at the Games in Lethbridge are as high as they have been since 2013 when we hosted."
Participation is always strong in soccer, with approximately 30 competitors expected in the swimming events.
"We are kind of holding course across events. We have cyclists, photography, we have equestrian, baseball. We two ball hockey teams going," said Holmen. "I'd say our two biggest sports this year besides soccer may be beach volleyball and badminton. St. Mary's School has a strong badminton program."
More than 2,500 participants are expected to take part in the 47th Annual Southern Alberta Summer Games, which go until July 9, a multi-sport, grassroots game open to athletes of all ages. A total of 13 regions, stretching from Medicine Hat in the east to the Crowsnest Pass in the west, will take part in more than 20 events. Athletic competitions will be hosted at venues across the city.
"What I love about these games is the spirit of inclusivity they embody, with all ages and abilities to take part in such a diverse offering of good-natured competition," said Eric Sharp, 2016 Games co-ordinator in a press release.
Opening ceremonies went yesterday at 7 p.m. in Galt Gardens that featured an athlete march, the lighting of the SASG torch and a variety of entertainment. Prior to the start of the ceremony, there was entertainment, a BBQ for SASG athletes and a disc golf demonstration. Follow at http://www.southernalbertasummergames.com.