Vauxhall Queens dominating junior high volleyball
Posted on October 27, 2016 by Vauxhall Advance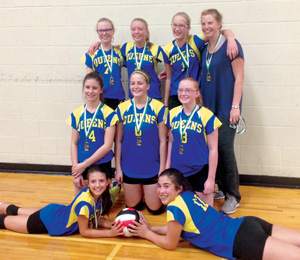 (Photo submitted by Tara Brummelhuis) GOLDEN GIRLS: Vauxhall Queens Tier II girls volleyball team have earned gold medals in two tournaments this year, along with being nearly flawless in league play.
By Greg Price
Vauxhall Advance
gprice@tabertimes.com
Vauxhall Queens Tier II girls volleyball team have indeed been playing like royalty in the ranks of junior high volleyball.
The team has won the gold medal at two different tournaments, one in September in Medicine Hat and this past weekend in Claresholm.
Those results are on top of an utter dominant run in regular season play, where the Queens have won every match along the way to take the top seeding, dropping a mere set along the way.
"These girls learn incredibly quickly. Every time a do a drill with them, they have it down," said Kelsey Garber, head coach of the Vauxhall Queens Tier II girls volleyball team. "I've coached volleyball at the college level at a small college before, and these girls pick up on things faster than those girls did."
Not bad for a group of Grade 7/8 athletes.
"It's their complete athleticism that is God given and they are so positive and so sweet. I have them all on Instagram and social media and they are as good to each other off the court as they are on," said Garber. "It is very encouraging to see. They never come down on each other about anything."
Often at the junior high level you can see many broken plays on the volleyball court, but Garber noted her Queens are often delivering crisp offence and defence that you commonly see at the high school level.
"Even when they shank the ball, they all know how to set the ball up to make the attack most aggressive," said Garber. "Our motto is to show our fierceness."
The Queens compete in its league playoffs this weekend with zone playoffs scheduled for the Nov. 4 weekend.
While the team has been designated as Tier II, it will be competing in Tier I zones due to finishing first in league.
The Queens Tier II girls volleyball team is comprised of the following players: Setters – Jessica Brummelhuis, Caylee Crowson, Payton Sandau. Middles – Erin Haag, Ashlyn Mack, Emma Vissers. Powers – Brittany Kambeitz, Shenise Retzler, Kyla Reiling.