Tier I Queens prove royalty in Horizon league play
Posted on November 17, 2016 by Vauxhall Advance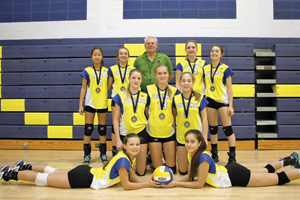 (Photo Submitted) SILVER LINING: Grade 9 Vauxhall Queens girls volleyball team concluded a very successful season recently, including a silver-medal finish at its zone tournament. The team is comprised of Cherry Park, Alanna Howg, coach Dale Tilleman, Savanah Vanderwielen, Spencer Banman, Kennedy Cawley, Kianna Kuipers, Jami Blokker, Laci Quiring and Christy Hammersley. Missing is Mckinley Broderson.
By Greg Price
Vauxhall Advance
gprice@tabertimes.com
In all the years Dale Tilleman has coached various sports in southern Alberta, this past season with the Grade 9 Tier I Vauxhall Queens girls volleyball team was one of the most enjoyable.
"The strength of the girls was they were such a great practice team. I've coached quite a few teams over the years, and I've had very few teams, I don't think I've had a better team, that works so hard in practice all the time to make themselves better," said Tilleman.
"We were by no means the biggest team, but we were pretty athletic which helps. They had that lunch-pail mentality where they came out to work every day."
A string of solid Horizon School Division League and tournament play culminated in a silver-medal finish at the South Zone Junior High Athletic Association tournament, losing to Foremost.
"We had a lot of bridesmaid finishes. Foremost beat us in the gold-medal game, but we beat them two times in round-robin. It wasn't like they were the better team by far," said Tilleman. "They just served better than us that last match which was pretty much it. They got hot at the right time serving better than us, that was the difference. We played just as well at the net, we hit just as much as them, and our back row, ball-control play was just as good as theirs."
The team finished first in Horizon School Division League divisionals to go along with several second-place finishes in tournaments in Vauxhall, Brooks, and Irvine to go along with zones.
"The girls were good to be around. They were as good to be around on a daily basis as any team I've been on coaching basis wise," said Tilleman. "I got excited for tournaments and practices, especially with a group like this."