Elite Japanese baseball players make their way to southern Alberta
Posted on January 19, 2017 by Vauxhall Advance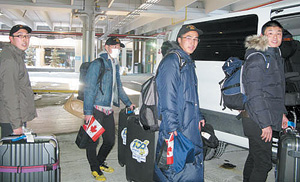 (Photo submitted) AIRPORT PICK UP: Vauxhall Academy of Baseball head coach Les McTavish and academy supporters Yukio and Barbara Kitagawa picked up four baseball players from Sendai, Japan and their interpreter and chaperone from the airport. The academy will be sending some of its players to Japan in June as part of a cultural/baseball exchange.
Diamond exchange: Vauxhall Academy of Baseball strengthening international relations with cultural exchange
By Greg Price
Vauxhall Advance
gprice@tabertimes.com
It is a cultural exchange with the Land of the Rising Sun.
While there may be language barriers at times, there is the love of baseball that binds Japan with southern Alberta, as four elite youth baseball players have made their way to Vauxhall from Japan.
Les McTavish, head coach of the Vauxhall Academy of Baseball Jets, went to Japan three years ago and visited one of the nation's top baseball programs for a week, touring and meeting with the coaches and players. McTavish helped with practices for the team several times.
"Some of the players came from this high school in Sendai and have been some of the top draft picks in the Japanese professional league," said McTavish.
Sendai is the capital city of Miyagi Prefecture, Japan, and is the largest city in the Tohoku region, and the second largest city north of Tokyo. Students in the education system in Japan enter later than Canada, so a Grade 9 student in Japan is the equivalent of Grade 10 in southern Alberta.
"When they get to high school, they can't have any Western influence, or Major League Baseball or academies, so our relationship we have with their program is kids who are going from Grade 9 to Grade 10," said McTavish.
Visiting from Sendai, Japan are four student-athletes which feature a shortstop, a third baseman and two outfielders.
"They are their four top players that have come to visit and train with us for two weeks," said McTavish.
"They are very, very talented. Our vision moving forward, is we have developed a really good relationship with these guys and we are going to send two players and a coach to Japan in June and that will be a new scholarship."
The two Jets players selected from Grade 10 or Grade 11 to go to Japan will be by committee rather than the coaches. Grade 12 players are excluded because of exam schedules in June.
"They will spend 10 to 14 days to train and learn their culture and we hope to build a very successful cultural/baseball exchange," said McTavish.
Part of the cultural exchange for the Japanese athletes is attending two Lethbridge Hurricanes games along with trying ice skating.
"They are never seen hockey or skating before," said McTavish.
"They quite enjoyed (the first) Hurricanes game."
Keeping up with the winter wonderland theme are the baseball players from the Far East trying out curling for the first time at the Vauxhall rink on Friday. There will be a tour of the Royal Tyrrell Museum of Palaeontology in Drumheller and the Nikka Yuko Japanese Gardens in Lethbridge, with a possible plan to go snowshoeing in Waterton if the weather co-operates, or rock climbing.
"They are fully engulfed in our program. They don't go fully to class with our players, but they do go to a couple of classes," said McTavish. "They train with the team, they do the strength training, along with early-morning conditioning. They are a part of everything. We have a couple of players assigned to each one of the boys to make sure they are looked after, and they are living in the residence with our players."
When players from the Vauxhall Academy of Baseball Jets go to Japan, they will do the same training along with visiting various temples. They will also watch a professional baseball game featuring the Tohoku Rakuten Golden Eagles.
"That is where Masahiro Tanaka with the New York Yankees played," said McTavish.
"It's a really neat cultural experience. It adds something to our program where with them visiting here, the kids have really enjoyed it and want to learn about their culture. There is such a great Japanese heritage and culture here in southern Alberta, and we have a lot to offer."